Feel the Beat Reminded Sofia Carson Why She Fell in Love With Dance: "It Felt Like Home"
Sofia Carson is no stranger to dancing — having starred in Disney Channel's widely popular musical franchise Descendants — but there's something extra special about her latest film, Feel the Beat. The Netflix movie follows an aspiring Broadway dancer named April, who finds herself back in her hometown in Wisconsin after an audition goes terribly wrong. As she takes on a job teaching young students at her former dance studio, she eventually finds a way to pick up the pieces and reconnect with herself. In a similar way, filming the movie reminded Carson why she fell in love with the arts in the first place.
"I fell in love with dance when I was 3 years old," the 27-year-old told POPSUGAR. "I remember the moment when I stepped into my first pair of ballet shoes and walked into my first dance class. I remember the moment so vividly when I first walked onto a stage. It felt like home, and I felt free. All of those things that April had forgotten because she was so caught up in trying to be better, which is something that I struggle with, I have felt those things so vividly. Something about her story just felt so real for me. In the dancing moments and the more emotional moments, I felt like I was almost telling my own story. There's something really raw and honest and vulnerable about that, and it was a really incredible sensation."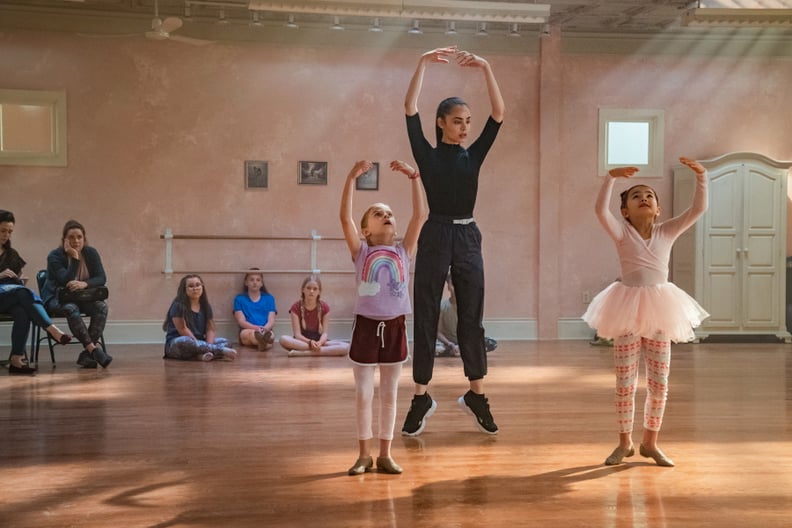 While Carson deeply relates to April's story, she also loves how much her character learns from the young students she teaches. "April's so caught up in trying to be something other than herself, something better and different, because she didn't think that just being herself was enough. These girls never tried to be anything else but exactly who they are, and we celebrated them and all their quirks and imperfections in all their glory."
"This cast, we became like sisters," she continued. "I loved to see how they loved and supported each other and how every day on set was more magical than the day before. For me, even though I'm an adult and I've been doing this for a few years, I try to never lose the magic of being on set every day, but that magic was even more heightened being around them because it was like everything was so special to them. They were just these old souls trapped in the bodies of these young girls. And I love to see their commitments to their characters and how honestly they wanted to tell their stories."
"Your quirks and your imperfections are what make you beautiful."
Coming from Disney Channel, Carson added that she's incredibly grateful to have a platform to inspire the next generation. "It's still surreal," she said. "Everything starting from Evie, and how that changed my life and gifted me with a platform and a story that touched so many. I have the gift of being able to influence and truly impact a young girl or young boy's life. And to do that for the positive and to help them feel seen and loved and accepted and hopefully empowered is the greatest role that I'll ever play. A lot of these young girls, when they met me, they knew me from Evie and from my work before Netflix. And they would tell me themselves what Evie meant to them and what Descendants meant to them, and that's something that I'll carry with me for the rest of my life."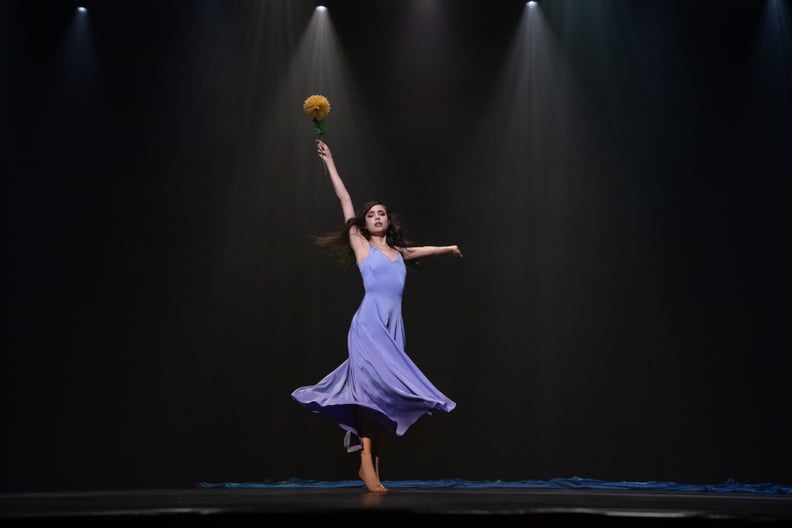 In a similar way, she hopes her character in Feel the Beat helps fans feel seen. "I hope you're inspired by April's relentless determination and absolute love of what she does," she said. "She never let anything get in her way. And I think that's something truly inspiring, but most importantly, I hope that they feel seen in her. I hope they feel seen in all of our beautiful characters and in the heart of our story, which is you are enough. Your quirks and your imperfections are what make you beautiful. We have to celebrate who we are in all of our imperfect glory. That's such an important message to never lose hope in ourselves and that we'll always find it coming home."