Sophie Turner Hopes Her New Show Helps People With Depression "Feel Less Alone"
Following the end of Game of Thrones last year, Sophie Turner is stepping into new territory with Quibi's Survive. The thriller — which is part of the streaming service's "movies in chapters" — follows a young woman named Jane (Turner) who suffers from depression, anxiety, and PTSD. After getting released from a rehabilitation facility called Lifehouse, Jane makes the decision to end her life during her plane ride home. However, after the plane crashes and leaves her and another passenger named Paul (Corey Hawkins) stranded in the snow, she must fight to stay alive.
After starring on Game of Thrones for eight seasons, Turner had no qualms about jumping right back into another series. "My background and my heart always lies in television," the 24-year-old actress told POPSUGAR. "Since I started on Thrones, television has been elevated to another quality level that we hadn't really seen before, so there's a huge appeal in continuing to do TV because the material that there is to work with is just so delicious now."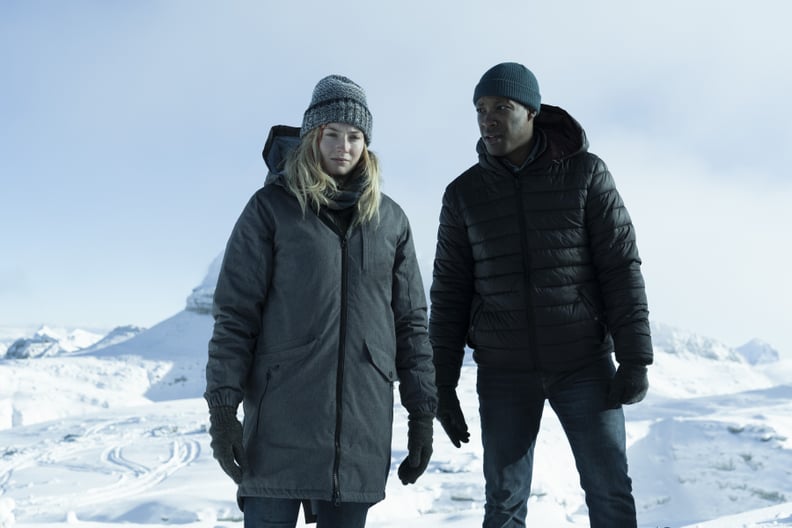 When it comes to Survive in particular, Turner added that the show felt like a new challenge because of Quibi's bite-size format. "I think simply the fact that Survive is shown in 10-minute episodes, which is certainly a challenge for any project to convey enough story, enough emotion in those few minutes to keep a person entertained," she said.
"This girl who wanted to die so badly ends up fighting for a life that she never wanted to live in the first place."
Additionally, she was really drawn to how the show depicts mental illness onscreen. "What drew me to the script was the way that mental illness was written so accurately in my opinion," she said. "It felt real to me. I also loved the notion that this girl who wanted to die so badly ends up fighting for a life that she never wanted to live in the first place."
Just like her character, Turner has been very open about her own battles with depression and anxiety. While she admitted that playing Jane wasn't "necessarily therapeutic for [her] illnesses specifically," it was comforting knowing "that the more accurately we depict mental illness in film and TV, the more people it will help." She added that she hopes her character and the show make "people feel less alone, but not only that, I hope that the story of this girl finding something to live for helps others find the ability to do that, too."