Everything You Need to Know About "Squid Game" Season 2
Netflix Officially Renews "Squid Game" For Season 2: Here's Everything We Know So Far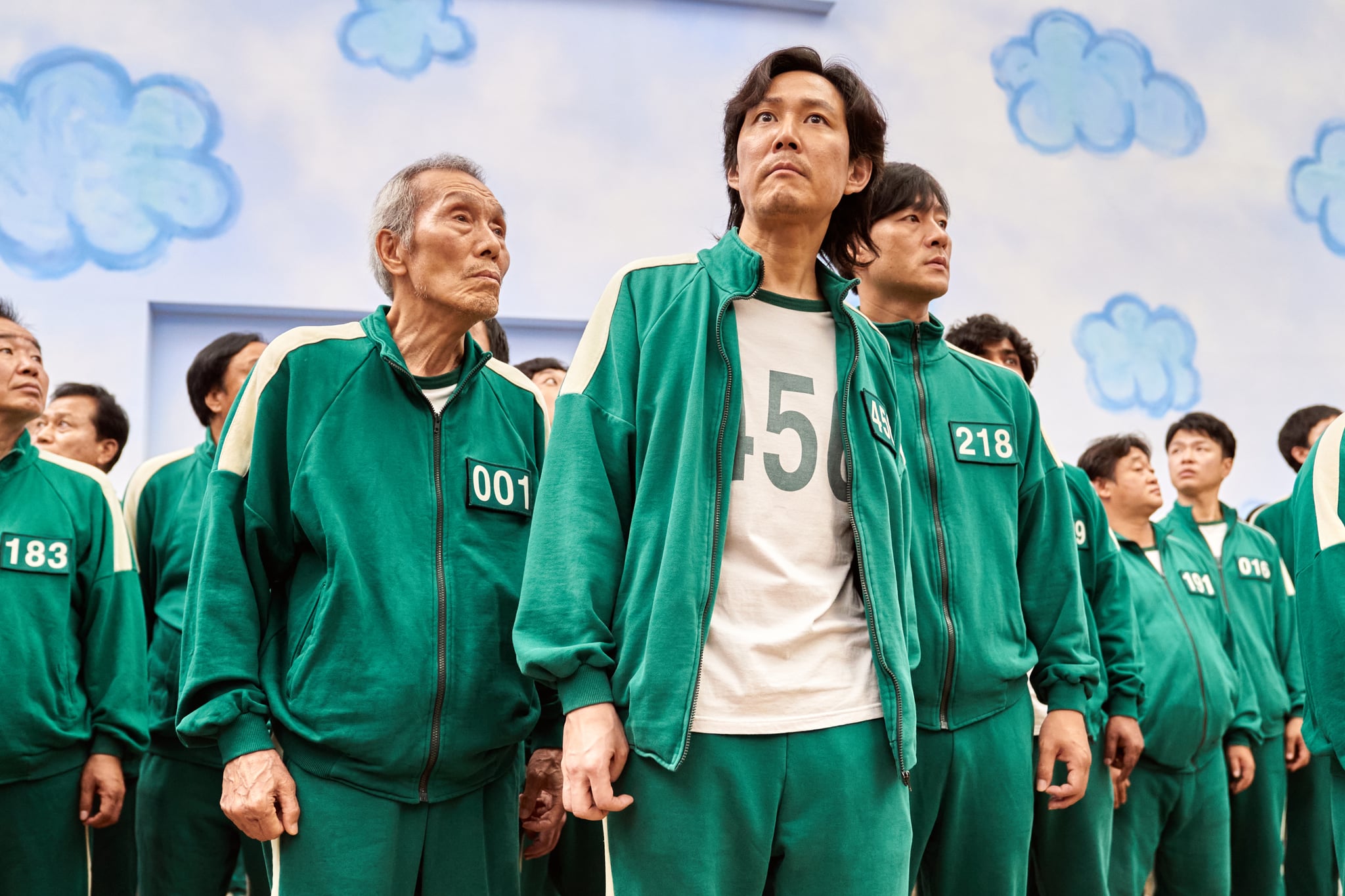 This is not a game; a second season of Netflix's hit series "Squid Game" is officially happening! More than eight months after the show's creator, Hwang Dong-hyuk, confirmed the exciting news during a Nov. 9 interview with The Associated Press, Netflix has officially given season two the green light. The streamer confirmed the news on June 12 with the release of new teaser art featuring a close-up of an animatronic eye on Twitter and Instagram.
"On your marks. Get set. Greenlight. Squid Game continues, only on Netflix," the streamer tweeted. Netflix also released a note from Hwang, which includes a few details about what viewers can expect to see in season two. The show's executive producer wrote, "It took 12 years to bring the first season of 'Squid Game' to life last year. But it took 12 days for 'Squid Game' to become the most popular Netflix series ever."
Hwang previously teased season two to The Associated Press in Nov. 2021. "There's been so much pressure, so much demand, and so much love for a second season, so I almost feel like you leave us no choice," he said at the time. "Gi-hun will come back, and he will do something for the world."
The first season of the show was packed with surprises, life-or-death situations, and moments that had viewers at the edges of their seats. So what can we expect from the follow-up season? Hwang and Netflix are keeping mum on the specific details for now, so it looks like fans of the one-of-a-kind series will be left with a laundry list of questions about the second season, like when it's returning and what direction the series will take. Luckily, Hwang has teased certain plot points for "Squid Game" season two, and of course the season one finale also gives fans some clues about what to expect next. With that in mind, here's everything we know so far about season two of "Squid Game."
Squid Game Season 2 First Look
On your marks.
Get set.
Greenlight.
Squid Game continues, only on Netflix.#SquidGameS2 pic.twitter.com/spH30iRDO4

— Squid Game #FYC (@squidgame) June 12, 2022
On June 12, Netflix released teaser art for season two featuring an animatronic eye that may or may not belong to Young-hee.
What Is the Plot of "Squid Game" Season 2?
Judging by what Hwang said about Seong Gi-hun, it seems season two will be about him trying to put an end to the games once and for all. The season one finale teases this when Gi-hun calls the number on a Squid Game invitation card and tells the person on the other end: "I'm not a horse. I'm a person. That's why I want to know who you people are and how you can commit such atrocities against people." He then decides not to board his flight to see his daughter and instead walks toward the camera, hinting he'll try to get answers about the games and the people behind them so he can stop them from hurting more people. Who knows, Gi-hun might infiltrate the games himself to take down the system from the inside.
During a virtual SAG panel in Dec. 2021, director Hwang hinted at what could be next for Gi-hun. "I'm not really in the right place to be discussing season 2 in an official setting, but if there were to be a season 2, in the first season that we saw Gi-hun is a character whose humanity is shown through or exposed in certain situations," he told Entertainment Weekly's editor in chief, Mary Margaret. "As for the Front Man [Lee Byung-hun] who was also a past winner but became a Front Man, it's like Darth Vader," he added. "Some end up Jedi and some become Darth Vader, right? I think that maybe Gi-hun will go through a certain critical point where he is put through a test as well."
When Will "Squid Game" Season 2 Premiere?
Netflix has yet to reveal a premiere date for season two, and Hwang has been similarly cagey about the matter. He previously told Variety that he wasn't in a rush to develop another season, so fans shouldn't expect "Squid Game" to return for a while. "I don't have well-developed plans for 'Squid Game' [season two]," he said. "It is quite tiring just thinking about it." However, that was before Hwang and Netflix confirmed a second season was actually happening, so he may be a bit further along now. Still, season two is unlikely to arrive before 2023.
Who Is in the "Squid Game" Season 2 Cast?
In his note to the show's fans, Hwang confirmed Gi-hun (Lee Jung-jae) and the Front Man (Lee Byung-hun) will both return. He also teased, "The man in the suit with ddakji might be back." That's good news for anyone eager to see more of the mysterious recruiter played by Gong Yoo. Still, the most exciting reveal so far is that the terrifying robot, Young-hee, is getting a boyfriend. "You'll also be introduced to Young-hee's boyfriend, Cheol-su," Hwang wrote.
While that's all of the confirmed casting news so far, fans have a few theories of their own about how season two will play out. Though police detective Hwang Jun-ho (Wi Ha-jun) is presumed dead at the end of "Squid Game" season one, it's possible we'll see him in flashbacks to learn more about his background and relationship with his brother, the Front Man. There's also a fan theory Jun-ho is still alive and will return to help Gi-hun stop the games. If Gi-hun does go back into the games as the season one finale suggests, chances are high we'll see a lot of new faces in season two, as there will have been new players recruited into the games.
Who Is the Villain of "Squid Game" Season 2?
Despite being shot in the eighth episode, the Front Man is still alive at the end of "Squid Game" season one. He's the main antagonist of season one, so he'll probably be the villain again in the second season. Seeing as the creator of the games, Oh Il-nam (O Yeong-su), is dead, someone will have to step up to keep the operation going, and there's a good chance that person will be a clear villain.
Will "Squid Game" Season 2 Take Place in Korea?
One of the most interesting aspects of "Squid Game" is seeing the players participate in a series of Korean children's games. The seventh episode hints that other countries hold similar games, which is why some fans believe the second season could take place in a brand-new location and will focus on famous children's games in that country. It's an interesting theory, but nothing has been confirmed just yet.
Where Can You Watch "Squid Game" Season 2?
Just like season one, season two of "Squid Game" will be on Netflix, so we'll be keeping an eye on the streaming giant to release more details about the show as they come up.
— Additional reporting by Sabienna Bowman.
Image Source: Noh Juhan/Netflix