Steve Martin and Martin Short Are Friendship Goals — See Their Biggest Moments
Imagine starring in countless extremely successful creative projects of your choice, all alongside your best friend. That's the reality for Steve Martin and Martin Short, who play neighbors who bond over their love of true crime in "Only Murders in the Building." In real life, Martin and Short have an actual long-term friendship that stretches back decades, and their bond has been incredibly fruitful creatively, spawning comedy tours, films, and many "Saturday Night Live" appearances. They also seem to genuinely love spending time together and can often be seen goofing off at red carpet appearances and speaking lovingly about one another in interviews. In short, their relationship is friendship goals, and if anyone wants to be best friends while working on amazing creative projects together and absolutely not taking fancy public occasions seriously, I'm currently taking applications.
One of the best parts of Short and Martin's friendship is that they genuinely seem to respect one another for who they are, regardless of talent. "Steve's best quality is who he is as a man. He's very moral, he's very loyal, very, very ethical. And this is beyond all that talent. You can be working with the most talented, funniest human being in the world, but if you don't have those other things, you don't really want to tour with someone," Short said in a 2019 interview with People. Martin echoed those sentiments in the same interview. "He's kind of the perfect person. He's smart, he's funny. He has many friends. He's the most popular guy at your dinner party," he said of Short. "If he's coming to a dinner party, it's a better dinner party. If Marty can't come, you cancel the party."
Of course, in addition to being great people (at least according to each other), both are extremely talented, and their relationship has generated a variety of projects across mediums. Honestly, it's hard to imagine a better way to spend time than making the TV show, movie, or Netflix special you want to alongside your BFF of multiple decades, which is exactly what Martin and Short have gotten to do many times over. Hollywood and fame, in particular, can famously be isolating, so finding an equal in the industry with whom you have creative and real-life chemistry seems ultra rare and valuable. (Though Ayo Edebiri and Rachel Sennott recently did the same with "Bottoms," so maybe they'll be Gen Z's Martin and Short?) Ahead, check out some of Martin and Short's biggest friendship milestones over the years.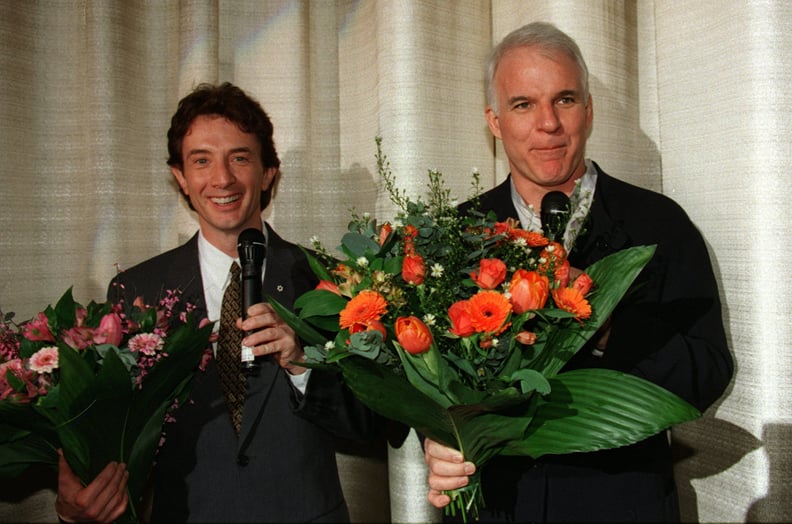 1984: Steve Martin and Martin Short Meet
Fittingly, the hilarious duo met during the filming of a new version of "Saturday Night Live." "I met Steve, the first time, backstage at 'The New Show,' an hour-long version of 'Saturday Night Live' in prime time that Lorne Michaels was producing for NBC," Short told InStyle in 2021. "Steve was the guest host that week — this is in '84 — and Catherine O'Hara, my old friend, was doing the show with Steve." However, they apparently only interacted briefly and didn't get to know one another until they starred in their first film together.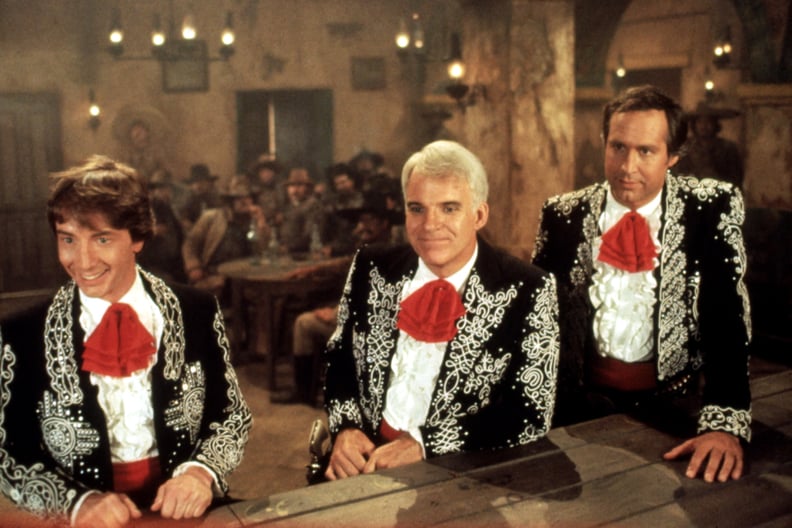 1986: Steve Martin and Martin Short Star in Their First Project Together
The two comedians' first collaboration was "Three Amigos!" in 1986 alongside Chevy Chase. In their interview with InStyle, Martin revealed that they grew close "pretty fast" during filming. Short agreed, revealing that the filming process led to fast bonding. "In the movie we were supposed to be very close friends who live in the same house. So we consciously did that — we'd play Scrabble between takes in someone's trailer," Short said. "And laughter is a great bonding mechanism. If you make someone laugh or they make you laugh, you want more of that," he continued. "When the film wrapped, we started having dinners, the three of us and our wives. And it just continued on. There was never a phase where I didn't see Steve for a couple of years."
1991: Steve Martin and Martin Short Star in "Father of the Bride"
The duo appeared in "Father of the Bride" in 1991 and reprised their roles in "Father of the Bride II" in 1995. Martin played the titular father of the bride, while Short played a very unique wedding planner.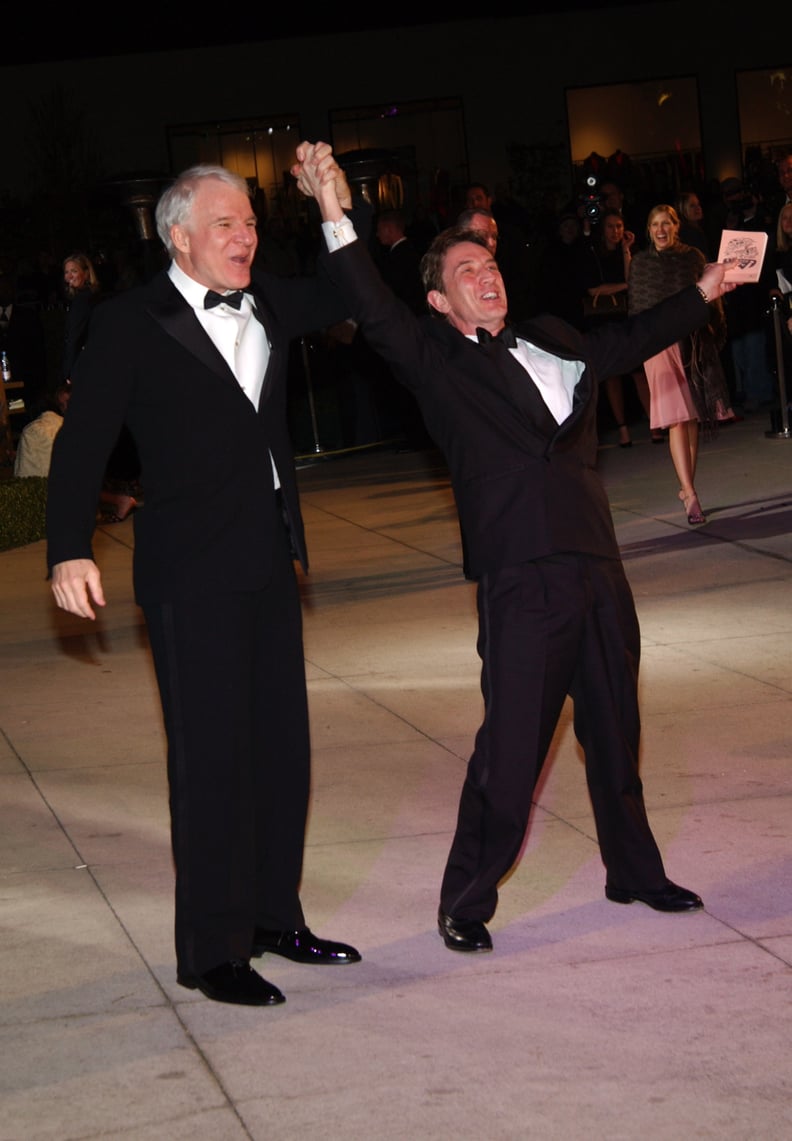 2004: Steve Martin and Martin Short Attend the 2004 Vanity Fair Oscars Party
Martin and Short appeared to have a rollicking good time at the 2004 Vanity Fair Oscars party, beginning a tradition of acting outlandish on red carpets.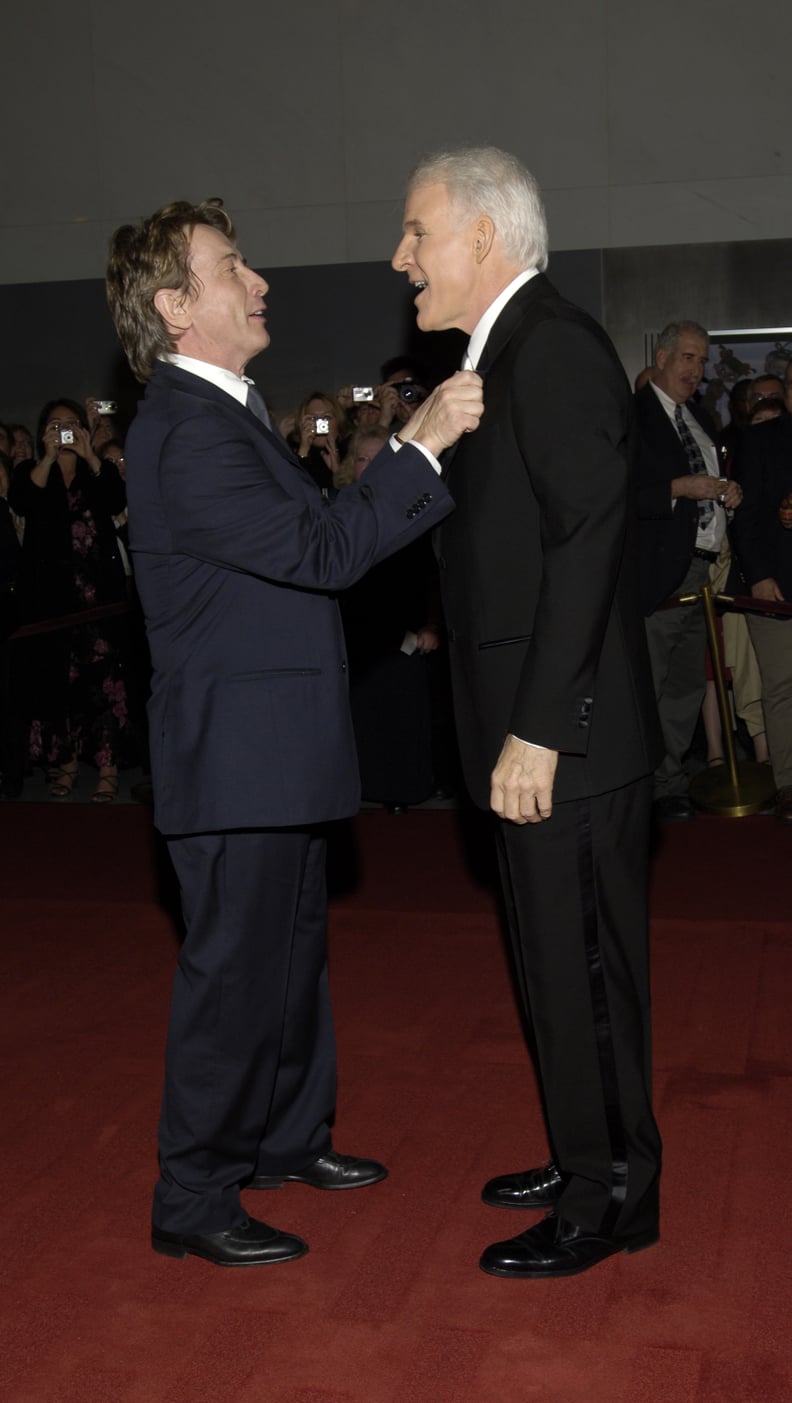 2005: Martin Short Supports Steve Martin as He Wins the Mark Twain Prize For American Humor
Once again, the pair showed off their mutual love of red carpet antics when Martin was honored with the 2005 Mark Twain Prize For American Humor.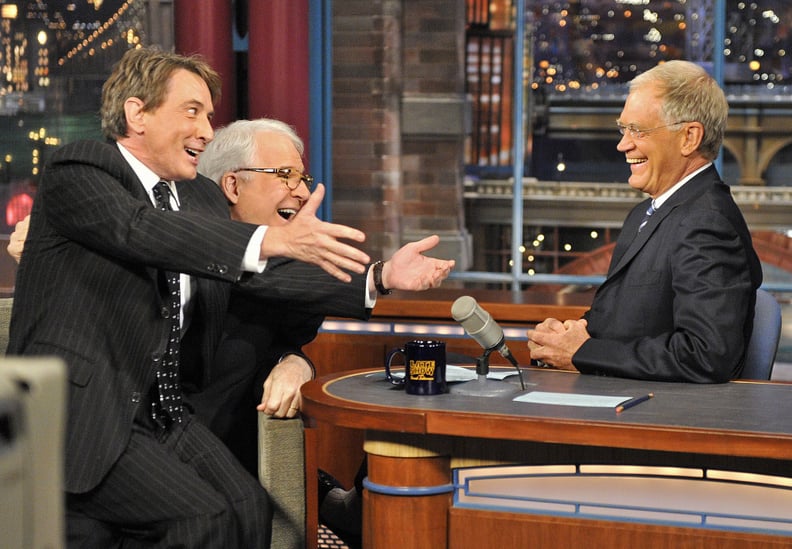 2009: Steve Martin and Martin Short Appear Together on "Letterman"
The pair cemented their status as Hollywood BFFs during a joint appearance on "The Late Show With David Letterman" in 2009. It was the first of many, many joint late-night show interviews.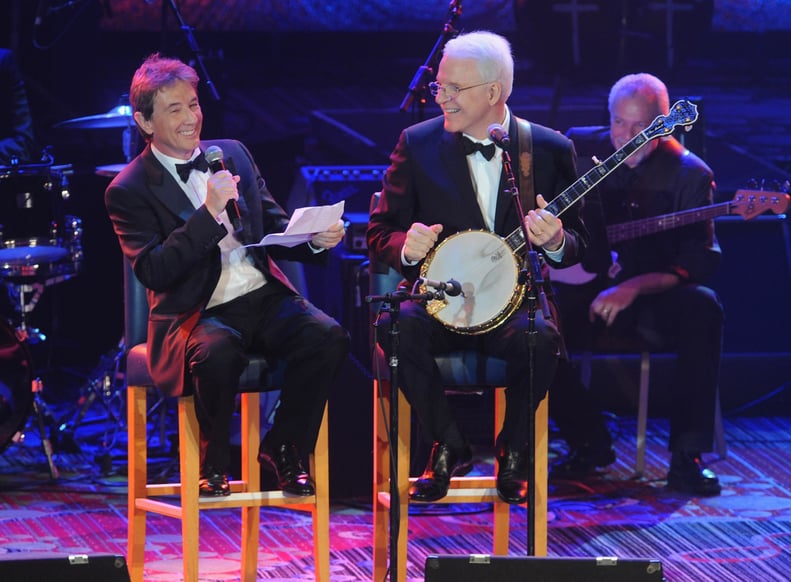 2013: Steve Martin and Martin Short Perform at the Toys "R" Us Children's Fund Gala
The duo took to the stage during the Toys "R" Us Children's Fund Gala in NYC, with Martin playing the piano while Short sang along. They went on to reprise variations on the act in numerous comedy tours to come.
2015: Martin Short Celebrates Steve Martin's Lifetime Achievement Award
Short once again happily celebrated his pal on the red carpet as Martin was honored with a Lifetime Achievement Award.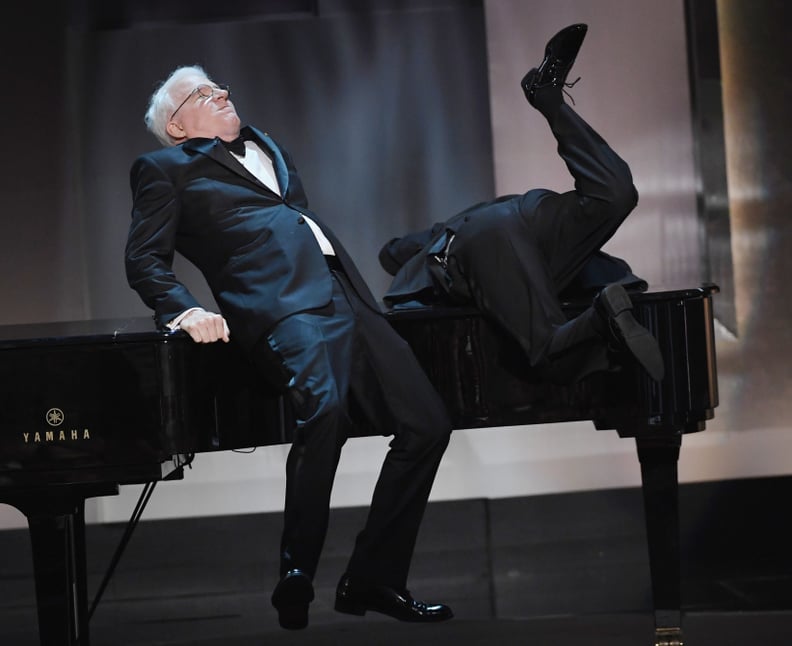 2017: Steve Martin and Martin Short Celebrate Diane Keaton's Lifetime Achievement Award
The duo absolutely hammed it up during a tribute to their "Father of the Bride" costar Diane Keaton at her Lifetime Achievement Award ceremony.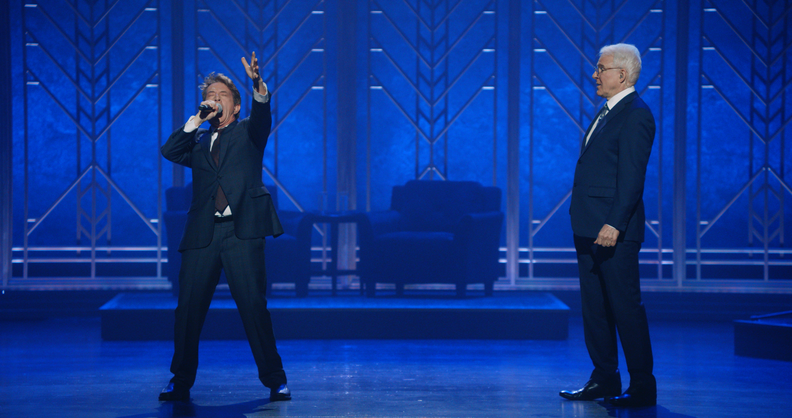 2018: Steve Martin and Martin Short Release a Netflix Special
Martin and Short showed off their comedic genius in their Netflix special "An Evening You Will Forget For the Rest of Your Life." It was far from the first time the pair had shown off their stand-up skills; they toured their show "A Very Stupid Conversation" in 2015 and took a new act called "The Funniest Show in Town at the Moment" on the road in 2021.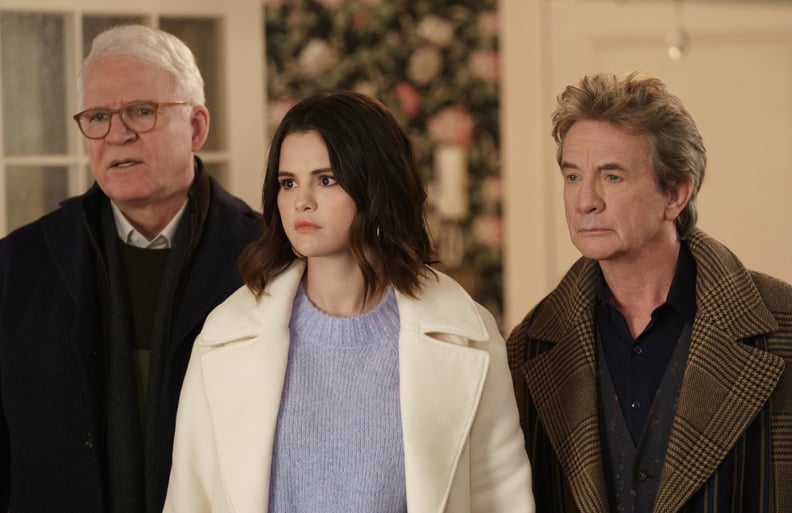 2021: Steve Martin and Martin Short Star in "Only Murders in the Building"
Martin and Short brought their talents together on screen with "Only Murders in the Building" in 2021, starring alongside Selena Gomez in the hit Hulu show. The show was Martin's brainchild, and he told The New York Times that he came up with the idea at a party when a host suggested he write about three older theater actors in attendance. "The idea came almost immediately, that they lived in a building and they all were interested in crime. But they didn't have the energy to go downtown, so they would only do murders in the building," Martin said.
His original idea starred three older men, though he apparently didn't want to play one of them until Short suggested they do it together. Ultimately, Martin pitched the idea to producers Dan Fogelman and Jess Rosenthal and agreed to star in the show only if Short could, too. Eventually, showrunner John Hoffman suggested adding a younger character to the mix, so Gomez's character, Mabel, was born, and the rest was history.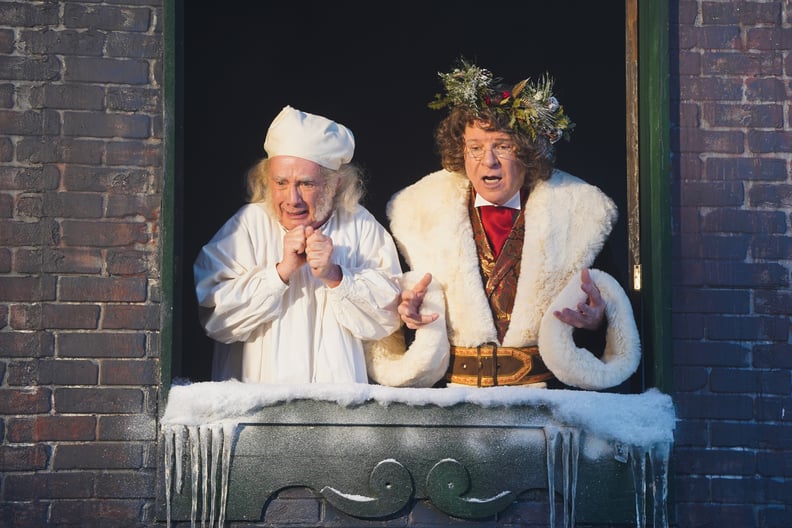 2022: Steve Martin and Martin Short Cohost "Saturday Night Live"
The pair brought their raucous comedy style to "Saturday Night Live"'s 48th season as cohosts, playing everything from Scrooge and a holiday ghost from "A Christmas Carol" to eccentric traveling musicians. The appearance was far from the first time they'd appeared on "Saturday Night Live" — that was in 1986 while promoting "Three Amigos!" — and judging by how things have gone, it definitely won't be the last.