Aisha Dee Calls For The Bold Type to "Walk the Walk" Over Lack of Diversity Behind the Scenes
Aisha Dee is taking cues from The Bold Type's Kat Edison and calling for change on her show. In an Instagram post published on July 15, the actress addressed the lack of diversity behind the scenes of the series, stating that she hoped the open letter would help the show move forward and "really practice the things The Bold Type teaches, by acknowledging mistakes and making commitments to be better in the future."
Dee began the open letter by sharing some of the anti-Black antagonism she faced growing up in Australia and how the experiences led her to become an actress. She expressed her appreciation for how her role on The Bold Type gave her the chance to play a character who "was centered in her own narrative. She wasn't just the white character's 'best friend'. She was empowered and confident, she approached the exploration of her queer identity with an open heart, and was met with nothing but love and acceptance. Kat Edison: unapologetic, outspoken, brave, the woman I always wished I could be."
"I'm proud to be a part of something that has inspired, pushed boundaries, subverted expectations, and started conversations," she added. But after four seasons of holding her tongue, Dee said she was inspired by her character to speak her mind about the issues she saw onset, publicly.
"What would Kat do? She would take a stand and advocate for herself and all other marginalized voices to influence change," Dee wrote. "I am ready to push harder and speak louder for what matters to me: The diversity we see in front of the camera needs to be reflected in the diversity of the creative team behind the camera."
The 26-year-old actress said that in her time as Kat, the series has had one Black woman direct two episodes, it took "three seasons to get someone in the hair department who knew how to work with textured hair," and two seasons to get a single BIPOC in the writers' room, "and even then, the responsibility to speak for the entire Black experience cannot and should not fall on one person." She added that the series has never had LGBTQ+ Black or Muslim writers, even as the series played out the love story between Kat and Muslim photographer Adena El-Amin (Nikohl Boosheri).
"We cannot bring specificity and honesty to experiences we have not lived."
"In season two, Kat is promoted to be the first Black female head of department at Scarlet Magazine. We've never had a Black female head of department on the set of The Bold Type," she wrote. She went on to note that the attention and care given to the stories of the show's "white, hetero characters" is inconsistent with those centering the show's "queer characters and POC."
"I do not believe this to be intentional," she explained. "We cannot bring specificity and honesty to experiences we have not lived. And when there is a lack of representation, the way marginalized characters are treated is even more important because they have the potential to empower or perpetuate damaging stereotypes that have a lasting and real effect on real people."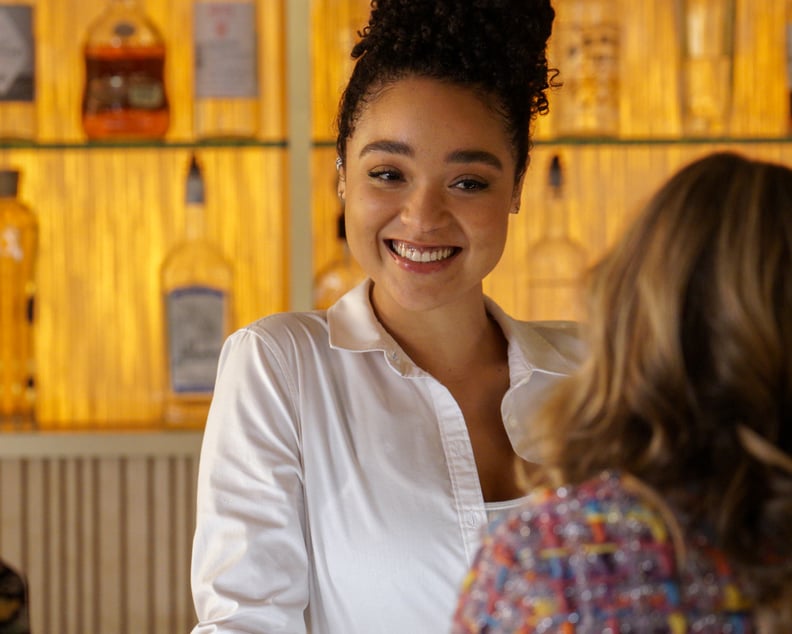 Which brought Dee to Kat's current romantic storyline, in which the former Scarlett employee and now bartender has fallen into a romantic situation with Ava (Alex Payton-Beesley), a woman whose father ran a gay conversion camp which Kat exposed and subsequently lost her job because of. She noted that despite her personal feelings on the decision to have Kat "enter into a relationship with a privileged conservative woman," and how that "felt confusing and out of character," she did her best to tell the story with honesty. "It was heartbreaking to watch Kat's story turn into a redemption story for someone else, someone who is complicit in the oppression of so many. Someone whose politics are actively harmful to her communities."
"The Bold Type has done so much good, but it struggles to understand the intersections many of its characters live in."
Many fans have protested the turn in Kat's storyline (this editor included) and Dee stressed that she was being critical because she truly cared for the show. "The Bold Type has done so much good, but it struggles to understand the intersections many of its characters live in," she wrote. "For a show that frequently uses words like intersectionality, inclusion, discourse, and the various isms, I wonder how its stories may have been elevated had they been told through the lens of people with a more varied lived experience."
Ending her letter, Dee revealed that she has spent the last few weeks having conversations with the show's writers and producers, as well as executives at Freeform and Universal TV. She noted that she's hopeful the show will tell more authentic stories by hiring diverse voices and that this in opportunity for the network to "walk the walk."
"By speaking out, I'm taking a risk," she wrote. "It's scary, but it's worth it. This is not judgment. This is a call to action. We deserve to see stories that are for us, by us."
Read Dee's full letter ahead.
After Dee posted her to her Instagram, The Bold Type executive producers responded with a joint statement with Freeform and Universal TV. "We applaud Aisha for raising her hand and starting conversations around these important issues. We look forward to continuing that dialogue and enacting positive change," the statement reads. "Our goal on The Bold Type is and has always been to tell entertaining, authentic stories that are representative of the world that Kat, Jane and Sutton live in — we can only do that if we listen."
Dee's costars Katie Stevens (Jane) and Meghann Fahy (Sutton) also responded to her letter by sharing her post on their Instagram pages and praising her for speaking out. "Please read what my girl has to say. I am beyond proud of my sister @aishtray," Stevens captioned her post. "I stand by her through thick and thin and am so proud of the woman she is." Fahy wrote, "V proud of my sister ♥️ @aishtray," with her repost.