Watch Brendan Fraser's Emotional Comeback Performance in Latest "The Whale" Trailer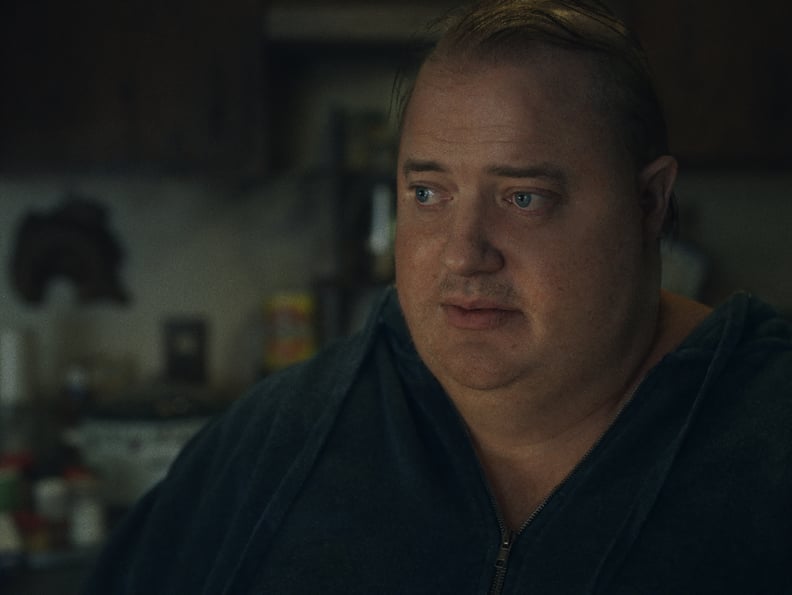 A24
A24
The latest trailer for "The Whale," starring Brendan Fraser in his comeback role, is here. A24 released the first footage of the actor and his costars in the drama on Nov. 8, following up with another clip on Dec. 14 shortly after the movie was released in select theaters. The new emotional preview gives a closer look at Fraser's Charlie and his strained relationship with his daughter, Ellie (played by "Stranger Things"'s Sadie Sink).
"The Whale," directed by Darren Aronofsky, is based on the play of the same name by Samuel D. Hunter, who also wrote the screenplay. A24's description of the film notes, "A reclusive English teacher suffering from severe obesity attempts to reconnect with his estranged teenage daughter for one last chance at redemption." In the film's source material, Charlie left his family for his gay lover, who died, and he then used binge eating as a way to deal with his grief.
"The Whale" premiered at the Venice Film Festival in September and also played at the Toronto Film Festival and the London Film Festival this fall. A video later went viral online of Fraser tearing up at standing ovations from the crowd's response to his performance — which has already snagged him a 2023 Golden Globes nomination for best actor in a drama motion picture (though Fraser previously said he doesn't plan to attend the ceremony).
Fraser told Newsweek in 2021 that he used prosthetics and makeup in order to portray Charlie. "The wardrobe and costume was extensive, seamless, cumbersome," he told the outlet. "This is certainly far removed from anything I've ever done but not to be coy, I haven't seen any of it yet but I do know it's going to make a lasting impression." He addressed the backlash over his use of prosthetics in another interview with Newsweek this October, saying, "I'm not a small man. And I don't know what the metric is to qualify to play the role. I only know that I had to give as honest a performance as I can."
Aronofsky also defended his casting choice to the outlet, saying, "There's no way you can cast someone to play this job, so we had to use makeup to get there." He continued, "Most of the people that are playing critique have not seen the film. So I welcome everyone to see the film because the film is about bringing empathy to characters that you don't expect to feel for."
Fraser was set to appear in HBO Max's "Batgirl" movie, but the streamer canceled the film as a result of the Warner Bros. Discovery merger. The actor will also star in Martin Scorsese's "Killers of the Flower Moon," which was originally scheduled for a 2022 release but has been pushed back to 2023.
In a 2018 interview with GQ, Fraser reflected on why his movie career got derailed for some time. Fraser made a name for himself in action flicks like "The Mummy" and "George of the Jungle," but he told the outlet that all the stunts took a huge toll on his body. "I believe I probably was trying too hard, in a way that's destructive," he told GQ. He had to have many surgeries, including a partial knee replacement and multiple back surgeries. His injuries were part of the reason why he took a step back from the Hollywood spotlight.
Read on for everything we know about "The Whale."
"The Whale" Cast
Joining Fraser in "The Whale" are Sink, Hong Chau, Samantha Morton, Ty Simpkins, and Sathya Sridharan.
"The Whale" Release Date
"The Whale" released in select theaters on Dec. 9 and premieres worldwide on Dec. 21.