There Were 2 Buzz Lightyears at Toy Story Land, So All Our Childhood Dreams Are Coming True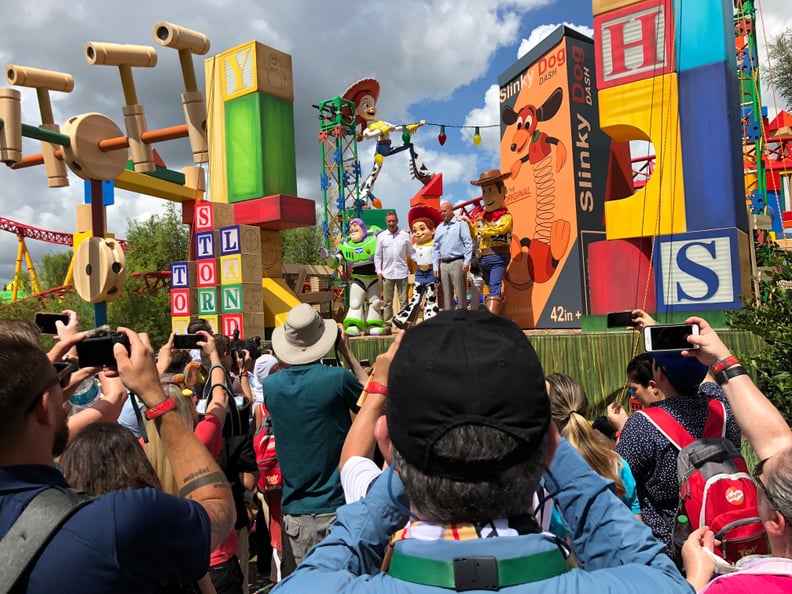 POPSUGAR Photography | Alessia Santoro
POPSUGAR Photography | Alessia Santoro
Walt Disney World's Toy Story Land is only a day away from opening to the public, and we couldn't be more excited! If you're late to the newest addition to Hollywood Studios, don't worry — we've totally got you covered.
What better way to celebrate the opening of the largest land in the park than to unite Buzz Lightyear with the man who's been voicing him for over 20 years? That's right, space rangers — Tim Allen made a special appearance alongside his animated counterpart to help dedicate the land at a ceremony held there Friday morning. Allen has voiced Buzz for all three Toy Story films and will do it again for the upcoming Toy Story 4, coming out June 21, 2019. It's like your childhood dreams and your adult reality coming together in the best way possible!
The actor and Buzz joined Disney Chairman of Parks Bob Chapek (as well as Woody, Jessie, and some Green Army Men) in pulling the lever to start the Slinky Dog Dash ride. The ride set off a burst of confetti that fell onto the crowd, and Toy Story Land was officially open for action! Check out the photos of the Disney legend at the Toy Story Land dedication ceremony, and start planning your trip to play in Andy's backyard ASAP! Apparently the lunch menu is worth the trip alone.