How Does Tinder's Swipe Night Show Work?
Meet the Stars of the Interactive TV Series Tinder — Yes, Tinder — Is Launching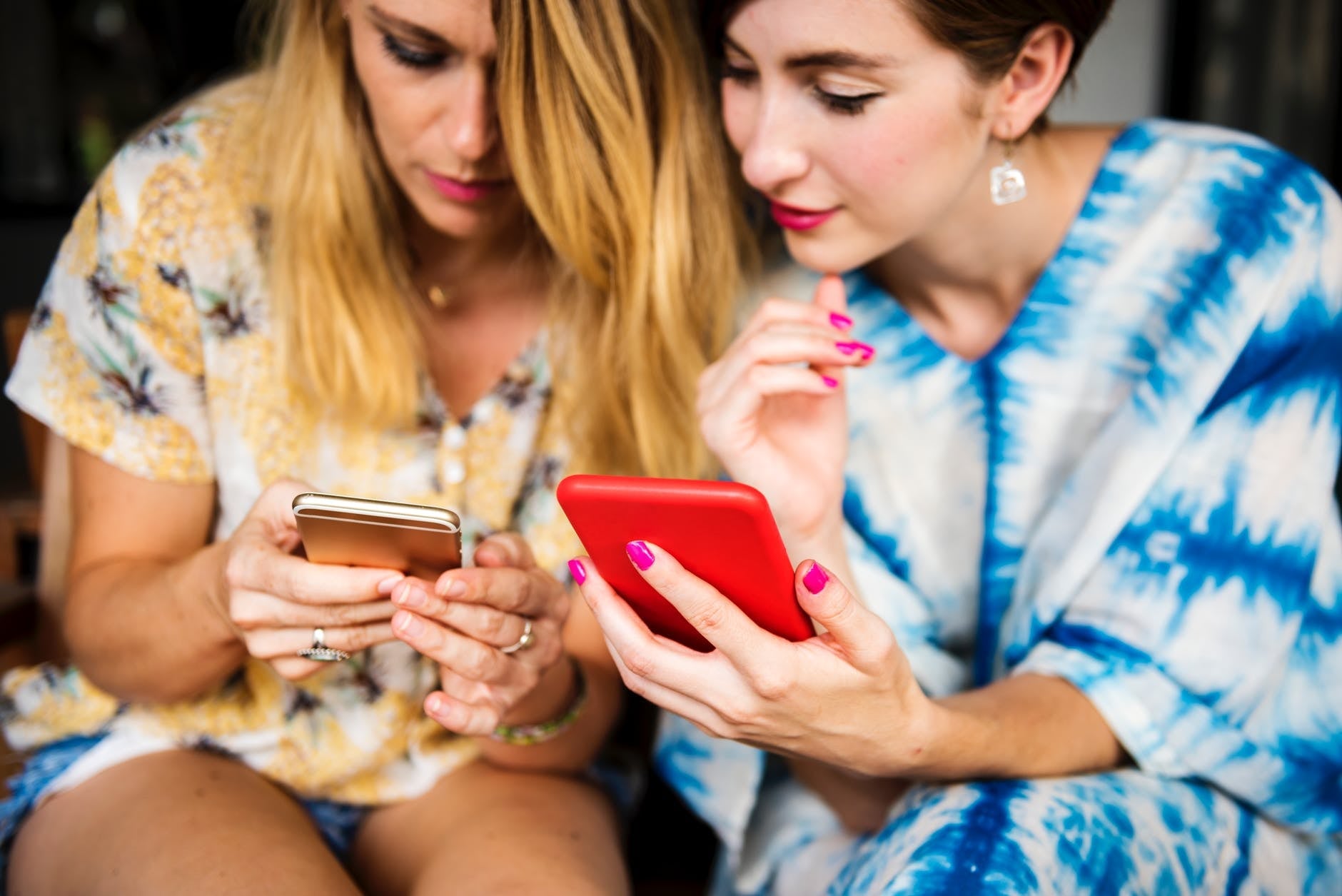 Let's get this out of the way right now: Tinder is launching an interactive TV series about a scary apocalyptic disaster. Yes, Tinder. Yes, it might seem weird. But when you stop to think about how nerve-racking dating is IRL, the idea . . . actually makes quite a bit of sense, no?
The choose-your-own-adventure interactive series (think: Black Mirror: Bandersnatch, but hopefully with less murder) is titled Swipe Night and hails from 23-year-old music video director Karena Evans (Drake's "Nice For What," SZA's "Garden"). The microseries will give Tinder users a whole new way to match, since Evans shot Swipe Night entirely from the first-person perspective. Because of that, members are placed directly into the action-packed storyline, dodging threats and making important decisions along with the cast of three talented young stars.
Before the microseries premieres on Tinder on Oct. 6, you need to make sure you're prepared for the apocalypse. So to get you started, we're breaking down all the details, from who's starring in the show to how (and when) you can watch.
Who stars in Swipe Night?
Tinder's series will follow a group of friends forced to survive an insane night as the world crumbles around them, played by Angela Wong Carbone (Chinatown Horror Story), Jordan Christian Hearn (Inherent Vice), and Shea Gabor. Oh, and technically you'll be a part of the show, too, since you'll be making all the big decisions that move the story along. Below, get a sneak peek of the stars and their characters: Graham, Lucy, and Molly.
Lucy (Carbone): Tinder's press release for Swipe Night describes Lucy as a type-A character who's "pretty, smart, and sweet, but with a lurking fieriness." (Ominous!) She's dating a happy-go-lucky guy named Graham, whom she always planned on getting married to. Unfortunately, their impending doom has thrown a wrench in her carefully constructed future.
Graham (Hearn): Graham is Lucy's boyfriend, and according to a press release from Tinder, he has major "puppy dog vibes." Despite the fact he has "a big heart and people gravitate toward him," he feels "trapped in the life that's always been mapped out for him." Apparently, he doesn't always make the best decisions, but "he'd admit that to your face." Hey, at least he's honest, right?
Molly (Gabor): Rounding out the trio is Molly, who is the "bad girl of the crew." Of course, while she might pretend to be a tough as nails, she's a secret softie who's intensely loyal to her friends.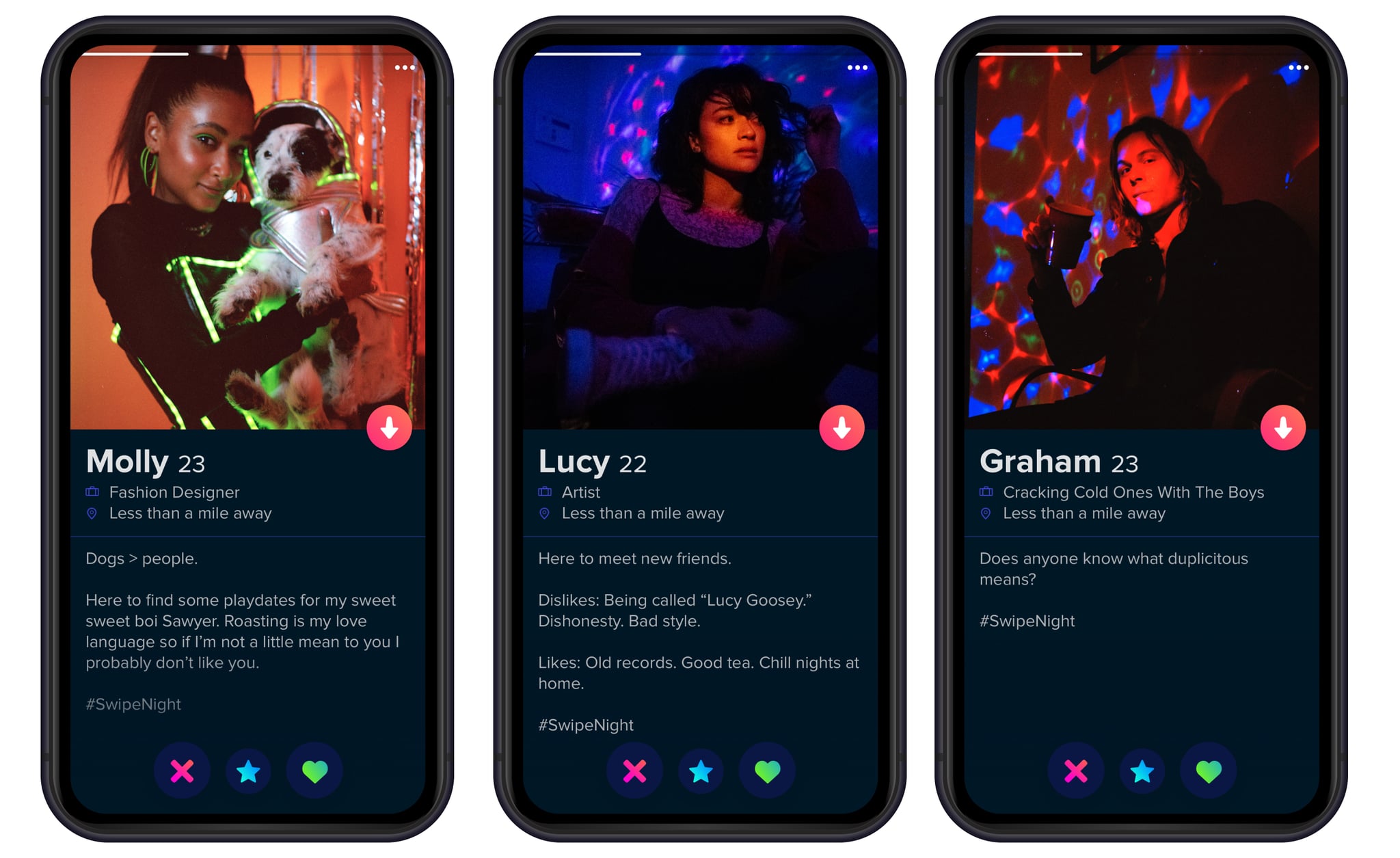 What is Swipe Night about?
The series begins with Graham, Lucy, and Molly finding out they only have three hours left to live now that the apocalypse is upon them. Over the course of four episodes, the microseries will explore the ups and downs of self-discovery and morality, all while forging new connections for the Tinder users watching. The idea is that, by being in the trenches with Lucy and co., you'll learn more about yourself and those around you.
How does Swipe Night work?
Every Sunday night starting Oct. 6, a five-minute-long episode of Swipe Night will air at 6 p.m. local time within the Tinder app. Once it starts, you'll travel through the storyline with Graham, Lucy, and Molly, making decisions at key turning points within the apocalyptic adventure. You only get seven seconds to make your choice, and you can't reverse your judgment once it's done.
The choices you make will do more than keep you entertained — they'll also determine who you're matched with. In other words, if you decide to let a desperate stranger on the side of the road use your phone even though you only have enough battery life for one call, you'll likely end up matched with someone who made the same choice, and so on. The idea of this setup is to not only to give members a fresh way to swipe but also a new way to break the ice with other matches. (Raise your hand if you're sick of being messaged a boring "Hey" over and over again . . . )
The only catch is that episodes of Swipe Night won't last forever! Members will only have between 6 p.m. to midnight to interact with the series and make new matches, and the series will last for just four weeks. Make those choices count, people.
Watch the Swipe Night trailer!
Image Source: Pexels / Rawpixel