We Have All Kinds of Juicy (and Unsettling) Hints About The Conjuring 3
At this rate, there are so many movies in The Conjuring's expanding universe, it's quickly becoming the Marvel franchise of the horror genre. 2018's The Nun was the fifth film under this umbrella, and there are more on the way. Next up, Annabelle Comes Home will haunt audiences in Summer 2019, and then there's a movie about the Crooked Man in the works as well. But perhaps the most highly anticipated addition on the horizon is The Conjuring 3, which will introduce the next chapter of Ed and Lorraine Warren.
In December 2018, I was lucky enough to visit the set of Annabelle Comes Home, where I learned all sorts of exciting tidbits about the third go-round with our favorite possessed doll. While I was there, I couldn't help but ask about The Conjuring 3, and I'm thrilled to tell you that I got a few juicy hints about what's to come. Most of the hints came from my interview with producer Peter Safran, who has been in the role for every single film in The Conjuring's universe. So, yeah, I'd venture to say he's the best source of information on the matter, at least for now.
Safran remained relatively tight-lipped on the whole affair, insofar as he wouldn't tell me exactly which of the Warrens' cases would appear in the third film. He did tell me, though, that it takes place right on the cusp of the 1980s. "Yes, it just tips in," he said. As for the subject matter? "I can't tell you which case it is, but . . . it's another one of their big cases," he teased. "It's a departure from The Conjuring 1 and 2, which were families in jeopardy in a house. So, this is different. We just felt like we didn't want to repeat that or hit that note again. So this is much more of an investigation."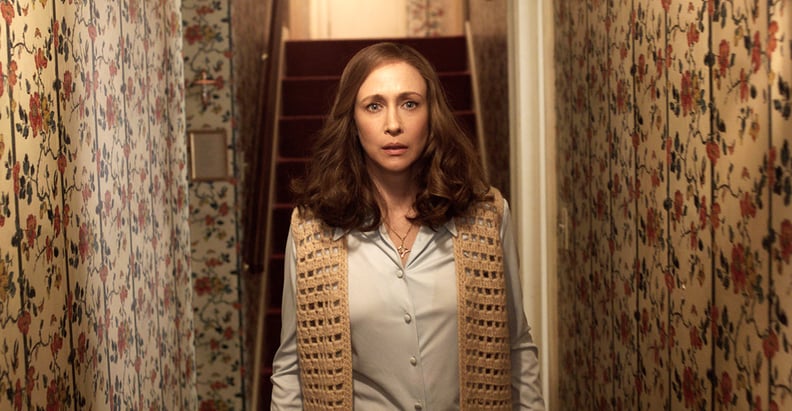 Speaking of investigations, this prompted me to do some sleuthing of my own. Are there any cases that fit the bill and present as strong candidates? Well, in 1980, the real-life Warrens became entrenched in a homicide case in which 19-year-old Arne Cheyenne Johnson stabbed and killed his landlord, Alan Bono. Johnson's lawyer had planned to use "possession" as a defense, claiming a demon had leapt into Johnson and forced him to commit the act. The demon was described as "a man with big black eyes, a thin face with animal features and jagged teeth, pointed ears, horns and hoofs." The Warrens became involved in the case early on, making it prime for the picking when it comes to The Conjuring 3. But that's just speculation!
Another possible case took place in 1986 and may have been culled for the film. The Snedeker house had previously been a funeral home, and the Warrens found it to be infested with demons. That case was actually the basis for The Haunting in Connecticut, but it's possible we could see The Conjuring's own take on the terrifying events that occurred therein.
"I'm not going to tell you what's down there, but it's not good. What do you keep underneath, under lock and key, hidden away?"
Of course, in this universe, it's never just one entity haunting our brave demonologists. For instance, The Conjuring 2 featured a battle with the Enfield poltergeist as well as showdown with the evil nun demon known as Valak. That's why I was particularly interested in a hint from Jennifer Spence, who was the production designer on Annabelle Comes Home and will fill the same role on The Conjuring 3. Spence thinks more danger could be lurking in the Warren household, specifically in a secret trapdoor in the famed artifact room that houses various haunted objects. It begs the question: If the artifact room contains such intense manifestations of evil, what's under the artifact room?!
"I'm not going to tell you what's down there," Spence told me with a grin, "but it's not good. What do you keep underneath, under lock and key, hidden away? Exactly. The things we don't know about people, right? You never really know somebody." Could it be possible that an old ghost from the past once again returns to haunt Lorraine?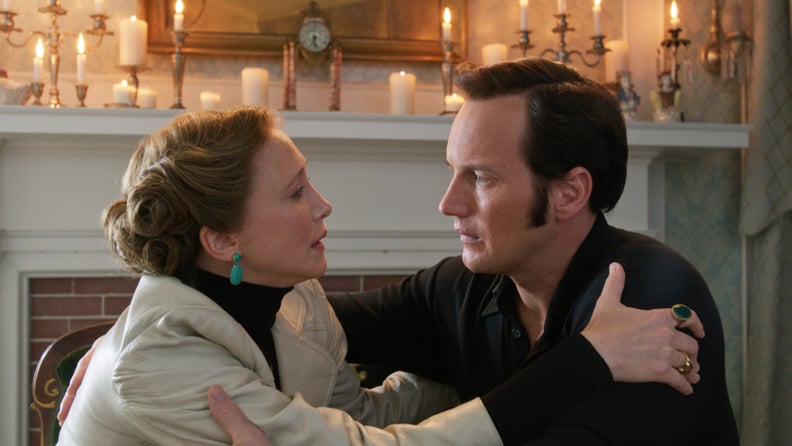 Whatever case they decide to present this time around, one thing is for sure: I am, indeed, very worried about Lorraine (Vera Farmiga), at least in the fictional world. By the end of The Conjuring 2, she's clearly very rattled by everything she went through. "Well, it's interesting," Safran told me. "At the end of The Conjuring 2, they feel like they've vanquished whatever is particularly noxious to them, right? But as we come to discover, there are many more entities out there . . . so you'll see in the next Conjuring movie that there is jeopardy for both her and for Ed."
Whew. I am already white-knuckle gripping my armrest. How am I going to wait until the movie comes out?!