Us: New Details About the Plot Will Make You Wonder Who the Real Monsters Are
Even though the trailer is barely more than a minute long, fans immediately began taking apart every second to form theories about everything. But as fantastically grim as the trailer is, it doesn't give us nearly enough information about the film itself. Thankfully, Peele and the crew at Monkeypaw Productions have come through with an official synopsis for us to pore over!
The story of Us follows Adelaide and Gabe Wilson (Nyong'o and Black Panther's Winston Duke) who take their kids (Shahadi Wright Joseph and Evan Alex) to Adelaide's beachside childhood home for an idyllic summer getaway. Though they've gone to Northern California to unwind, Adelaide is haunted by an "unexplainable and unresolved" trauma from her past and feels her paranoia mount as she grows more certain something terrible is going to happen to her family.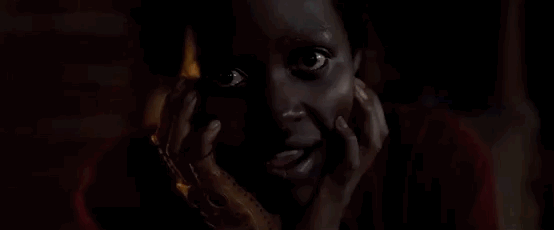 After a day beachside with their friends, the Tylers (Emmy winner Elisabeth Moss, Tim Heidecker, Cali Sheldon, Noelle Sheldon), the Wilsons discover a family of four standing in their driveway that turn out to be menacing dopplegängers of themselves. As we see in the trailer, things quickly go from ominous to terrifying as Us pits an ordinary American family against an "uncanny opponent."
In an interview with Insider, Peele said that much like how Get Out examines race and racism, Us will center around "these innately human monsters that are woven into the fabric of how we think and how we interact." Though he says the movie will follow the same tone as Get Out, it will be a completely different film, not focusing on addressing race. Which leaves us wondering who are the monsters in Us: the Wilsons or their dopplegängers?
However the story takes shape, we have no doubt we'll be poring over ever detail — just like we did with Get Out — when Us hits theaters on March 15, 2019.