A Spoiler-Free Summary of What Sharp Objects Is All About
The July 8th premiere of HBO's Sharp Objects, the latest Gillian Flynn book adaptation, has finally arrived. If you still have yet to read Gillian Flynn's 2006 bestselling debut of the same name, we're here to give you a brief synopsis. The TV show might deviate from the novel — as plenty of books do — and the book definitely doesn't star Amy Adams, but here is what Sharp Objects the novel is all about.
The novel centers on Camille Preaker, a young journalist who writes for a small newspaper in Chicago. Her assignments are dark, often having to do with stories of abuse, neglect, and even murder. This is particularly troubling for Camille, as she spent years self-harming after the death of her younger sister, Marian, and only recently returned from a stay in a psychiatric facility. However, when Camille's boss, Curry, asks her to return to her hometown of Wind Gap, MO, to cover the murder of a young girl named Ann Nash, Camille has no choice but to comply.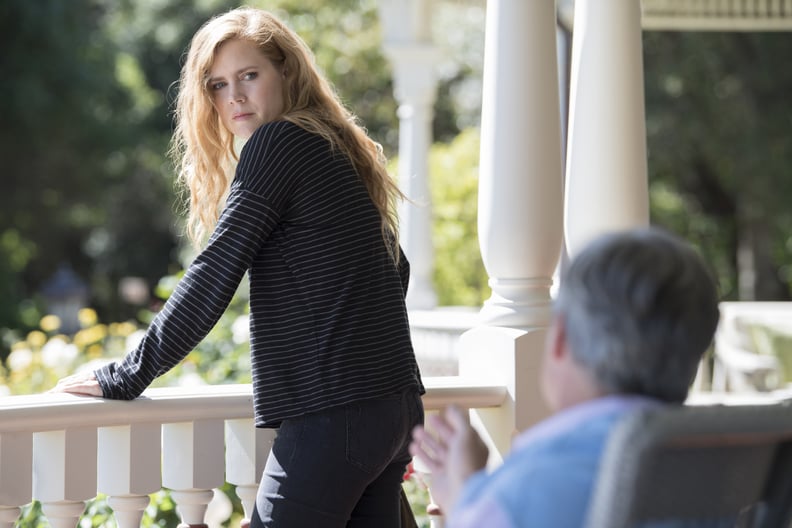 In Wind Gap, Camille finds that the local police aren't willing to divulge much information about the murder, though the town sheriff does confide that he believes that the murder was committed by a Wind Gap native rather than a stranger. Camille learns that Ann was strangled and had all of her teeth removed, and soon after arriving, another young girl, Natalie Keene, suffers the same fate as Ann. Camille puts together a story for Curry based on the information she has learned thus far, but her boss asks her to stay and continue investigating.
As Camille continues to search for more information, she develops a relationship with Detective Richard Willis, a Kansas City detective sent to investigate the case. She also reconnects with her estranged mother, Adora, and her 13-year-old half sister, Amma, a wild party girl whom Camille spends increasingly more time with. After a wild bender with Amma one night, Camille has a strange encounter with her mother and begins to question the mysterious death of her sister years earlier. Strangely enough, Richard seems to have his suspicions about Adora as well.
Sharp Objects is chilling, with the same page turner quality that made Gone Girl a runaway hit. We can't wait to see how HBO adapts this novel for the small screen, but if it's anything like Big Little Lies or Game of Thrones, we have a feeling we're going to be addicted from the first episode.