The Marvelous Mrs. Maisel Season 2 Takes Us on a Journey to 2 Brand-New Cities
Amazon's truly delightful, award-winning comedy The Marvelous Mrs. Maisel has returned for season two, which means your eyes are about to be treated to a visual feast. Not only does Miriam (Rachel Brosnahan) wow us with a deluge of colorful, glamorous ensembles, but the second season also whisks viewers out of the Upper West Side and the dingy comedy clubs in Greenwich Village to some seriously cool locations: Paris and the Catskills (I promise the latter is much more exciting than it sounds).
Note: minor spoilers for season two ahead!
The season begins with Midge and her father, Abe Weissman (Tony Shalhoub), venturing across the Atlantic in search of Rose (Marin Hinkle). It seems she's up and left their cushy life in New York City in favor of a simpler existence in Paris. If you're wondering how the show got all the scenes in the European city to look so authentic, it's because it opted to shoot on location.
"We went to Paris because we had laid in groundwork for it with Rose [Midge's mom] that she had happy memories in Paris where she went to school," executive producer Daniel Palladino explained to The Hollywood Reporter. "And so having [her] become unhappy with her circumstances, we thought she'd run to a place where she was unabashedly happy before she got married."
The production team took the same approach to shooting the back half of the season in upstate New York, which sees the Weissmans making their annual pilgrimage to a resort in the Catskills.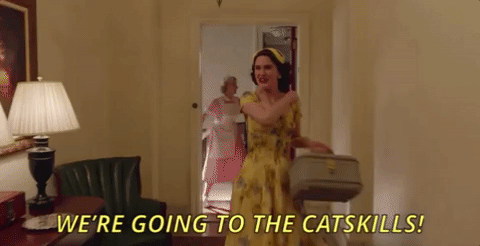 "We shot in this beautiful resort in Deposit, NY," Brosnahan said to Jimmy Fallon during an appearance on The Tonight Show. The resort in question is Scott's Oquaga Lake House, which has been owned by the same family since its opening in 1869. "Rumor has it that years and years ago, the resort turned down Dirty Dancing," she went on. "And so when we came to them, they were like, 'Get on over here! Sign us up. We can't miss our shot!'"
According to owner Patty Holdrege, they were more than happy to let the crew film at their establishment. "They were looking for an old-style Catskill resort, and we were fortunate enough to have what they were looking for," she told FOX affiliate WICZ back in April, before confirming that their resort was, in fact, scouted by Dirty Dancing. "They did come here and look at us for Dirty Dancing. At that time we were extremely busy, and we opted that we just couldn't do it. If we had known where that was going, we might actually have done something about it."
As glitzy as the show's scenes in Paris are — including Midge's heartbreaking stand-up set — the story really blossoms in the Catskills. The area was a popular vacation destination for both families living in NYC at that time, as well as aspiring comics looking to try out new material, so it couldn't be a more perfect fit for Miriam's misadventures.
"We told Amazon pretty much while we were doing the pilot that we wanted to re-create the Catskills in Season 2," Palladino told The Hollywood Reporter. "It's an emblem and a big part of Jewish cultural history here in New York and the surrounding states."
Before you start worrying that your favorite "mad divorcée" has left behind the streets of Manhattan for good, don't — Midge still spends plenty of time making the good people of New York City laugh into their cocktails.