Mindhunter: What You Need to Know About This Infamous Killer
Warning: light spoilers ahead if you haven't yet watched Netflix's Mindhunter.
On Mindhunter, FBI special agents Holden Ford and Bill Tench (who are fictional characters based on real people) travel the country interviewing incarcerated serial killers as they try to implement the use of psychology and profiling in the FBI via the Behavioral Science Unit. While they are conducting interviews with Edmund Kemper III (aka the Co-Ed Killer) and Jerry Brudos (aka the Shoe Fetish Slayer) in the first season, the show intercuts scenes with a young Dennis Rader (played by Sonny Valicenti) in Kansas, who would eventually come to be known as the BTK Killer. Season two opens with another dive into his horrifying psyche.
The BTK (which stands for "bind, torture, kill") Killer murdered 10 people in Kansas between the years of 1974 and 1991. Mindhunter begins in 1977, when the BTK Killer had already killed five people. In 1974, Rader murdered the Otero family in January and then later stabbed a woman to death in April. Then, in 1977, he strangled two women to death; since it appears to be Summer in season one of the show, one of those deaths had likely already happened (unless Mindhunter is taking some creative license with the dates of death), which leaves just one more victim of the BTK Killer in the 1970s — Nancy Fox, who was killed in December 1977.
After that, the BTK Killer went quiet for several years (that law enforcement knows of), reappearing in the mid-'80s to kill two more women, and then murdering his final victim in 1991, though he was not arrested for those crimes until 2005.
One of the reasons Rader, pictured below in 2005, was able to get to his victims is because he worked as an ADT Security installer from 1974 to 1988, which gave him easy access to dozens of homes. Mindhunter shows Rader working for ADT and using that as a method of stalking people, and then it ends the first season with a shot of the BTK Killer burning drawings of naked women tied up.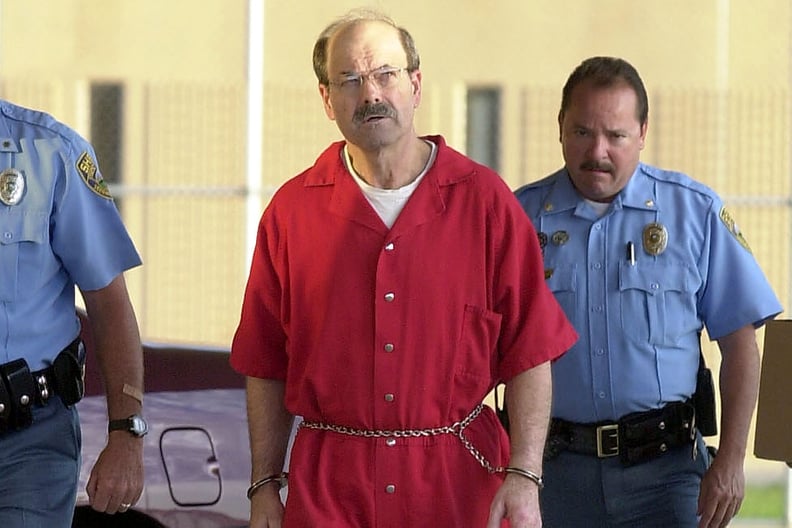 Since Mindhunter has returned for a second season, be prepared to see the BTK Killer once more. The BTK Killer famously liked to send communications to law enforcement and news outlets, taunting them and providing evidence that he committed various crimes. It was through one of these communications that he was identified and arrested, when a floppy disk was found to contain metadata that led law enforcement to Rader.
In August 2005, Rader was sentenced to 10 consecutive life sentences; he was ineligible for the death penalty because Kansas did not have the death penalty at the time the murders were committed. It will be interesting to see how the series weaves these real-life events into Holden and Bill's story.