Who Killed Joffrey? An Update
We're still reeling from Joffrey's murder on Game of Thrones, aka the Purple Wedding, and even with a few revelations in this week's episode, we still don't know who killed the cruel young king. That means we're still trying to figure out who did it, and while book readers may already know the story behind his murder, let's speculate. Taking a look at some of the key suspects, we're breaking it all down with theories on why certain characters could have — or now, couldn't have — killed the king.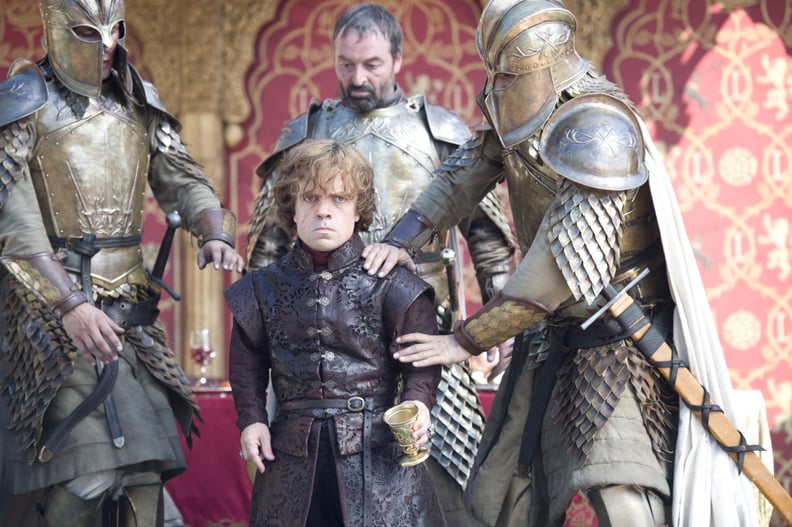 Tyrion Lannister
Why it could be him:
Tyrion is the one who hands Joffrey the glass of poisoned wine, so he's the immediate suspect, and Cersei doesn't hesitate to accuse him.
Throughout his wedding, Joffrey repeatedly takes jabs at Tyrion, offending him again and again. When the little people perform, Tyrion tells Podrick to give each player some money, then adds that he'll find "another way to thank the king."
Tyrion's never seen eye to eye with Joffrey, and he seems to sympathize with Sansa more than ever throughout the wedding. The two share meaningful glances in the uncomfortable moments, with Sansa helping Tyrion and handing him the wine goblet at one particularly awkward turn. Could he have impulsively done it for Sansa?
Why it couldn't be him:
It's unlikely that Tyrion would so obviously murder Joffrey in front of everyone, leaving himself as the red-handed suspect.
In the past, Tyrion's weapon of choice has been his wit, and he typically talks his way out of things rather than acting on his impulses.
The latest:
The imprisoned Tyrion continues to assert his innocence, like when he talks with Podrick. It comes off as pretty believable.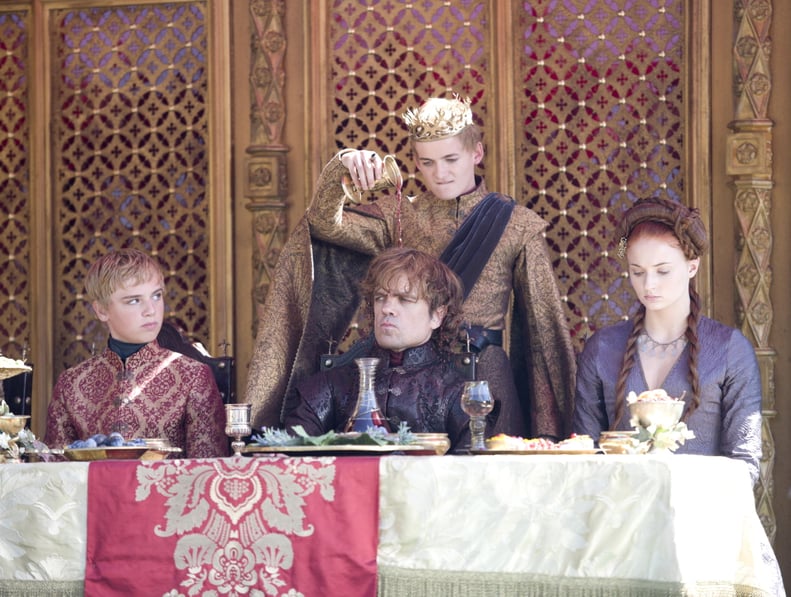 Sansa Stark
Why it could be her:
Sansa has plenty of reasons to hate Joffrey, the biggest being his role in the murder of her family, including her father, her mother, and her brother Robb.
Right after Joffrey dies, Ser Dontos Hollard comes to Sansa's side, urging her to come with him if she hopes to survive, implying that she has some sort of hand in the murder.
After the wine goblet falls, it's Sansa who hands it to Tyrion to give to the king, so she had access and could have added something to the cup.
Why it couldn't be her:
Simply put, Sansa is too obvious a suspect.
The latest:
We see that Petyr Baelish had orchestrated Sansa's escape and that she didn't know about it — and she also asserts her innocence.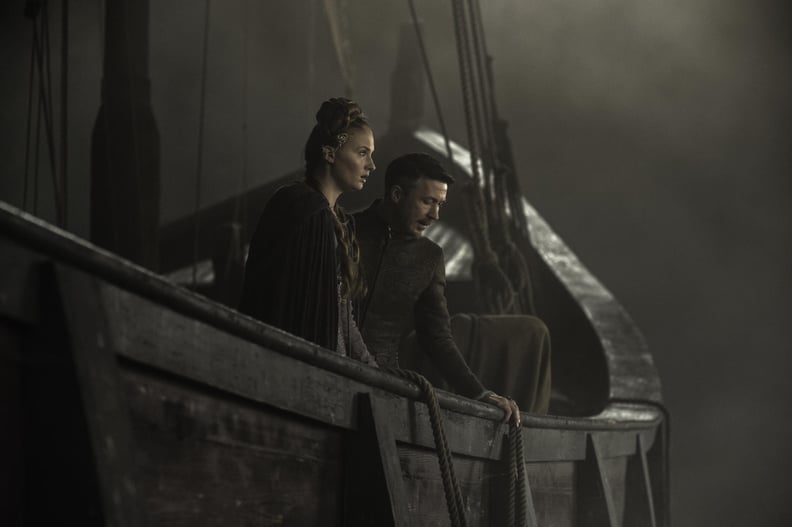 Petyr Baelish
Why it could be him:
Our newest suspect is implicated when he see that he had arranged for Ser Dontos to spirit Sansa away from the wedding (and that little bit where Dontos earns her trust in the premiere with a family necklace was also a ruse, courtesy of Baelish).
Baelish, aka Littlefinger, is a schemer with a weak moral compass. He wouldn't shy away from being a kingslayer for some sort of gain.
Why it couldn't be him:
Aside from him not physically being at the event, there's not a lot to indicate that Littlefinger is innocent, especially since he could have paid someone to do the poisoning for him.
Ser Dontos Hollard
Why it could be him:
In the premiere, Ser Dontos approached Sansa on the castle grounds, thanking her for saving his life at King Joffrey's name-day tournament, where he showed up drunk. He also gives her a family heirloom necklace as a token of his appreciation, saying, "Once I was a knight, and now I'm only a fool. I may be a fool, but I'm a living fool thanks to you."
Right after Joffrey dies, Ser Dontos arrives at Sansa's side, urging her to come with him if she wants to live.
Why it couldn't be him:
When Ser Dontos performs at the wedding, Joffrey offers a gold dragon to whoever knocks his hat off, encouraging people to throw things at him. Ser Dontos leaves after that, though, so it isn't likely he directly poisoned the king.
The latest:
Pretty sure we can count Ser Dontos out, given that Littlefinger has him killed after delivering Sansa. The necklace bit was also part of Littlefinger's scheme; Dontos was clearly just a pawn.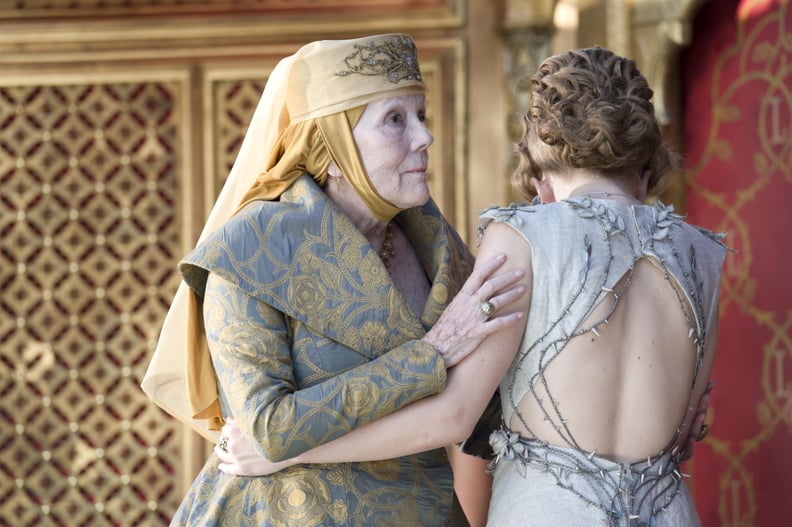 Lady Olenna Tyrell
Why it could be her:
In what may have been foreshadowing, Lady Tyrell approaches Sansa during the reception to say how terrible it is that Robb and Lady Stark were killed at a wedding, commenting on how awful a person would have to be to murder someone during a special occasion.
Lady Tyrell expresses her concerns about Joffrey several times, asking Sansa for her opinion and worrying about her granddaughter marrying such a tyrant. Killing Joffrey would get Margaery out of harm's way.
Why it couldn't be her:
Evil or not, King Joffrey was her granddaughter's new husband, and she rushes to Margaery's side to comfort her after he dies.
The latest:
Lady Tyrell's conversation with Margaery implies that she's too smart to have killed Joffrey — at that point anyway. She explains to Margaery that it would have been better had they consummated the marriage first, this guaranteeing her right to the title.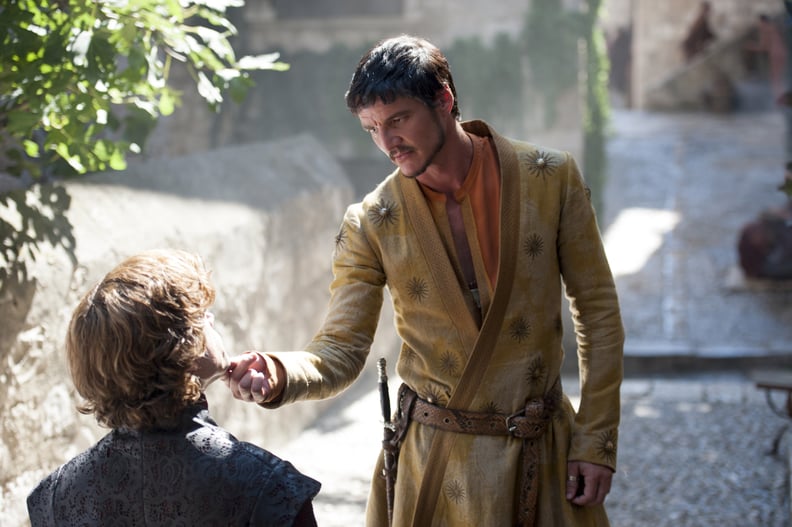 Oberyn Martell
Why it could be him:
He hates the Lannisters. In the premiere, Oberyn makes it very clear to Tyrion that he has reasons to seek revenge against the Lannisters: Tywin's bannerman The Mountain raped and killed Oberyn's sister, Elia, before murdering her children.
Within hours of his arrival at King's Landing, Oberyn shows he isn't afraid to get violent, stabbing his dagger through a man's wrist for singing the Lannisters' song at the brothel.
Why it couldn't be him:
Oberyn gets into a passive-aggressive argument with Tywin and Cersei Lannister at the wedding, but he doesn't approach the head table or have any direct interaction with Joffrey.
The latest:
Tywin confronts Oberyn in the brothel about having studied poisons, a pretty strong case against him. Though Tywin makes a power play by involving Oberyn in Tyrion's jury, Oberyn could still be a suspect.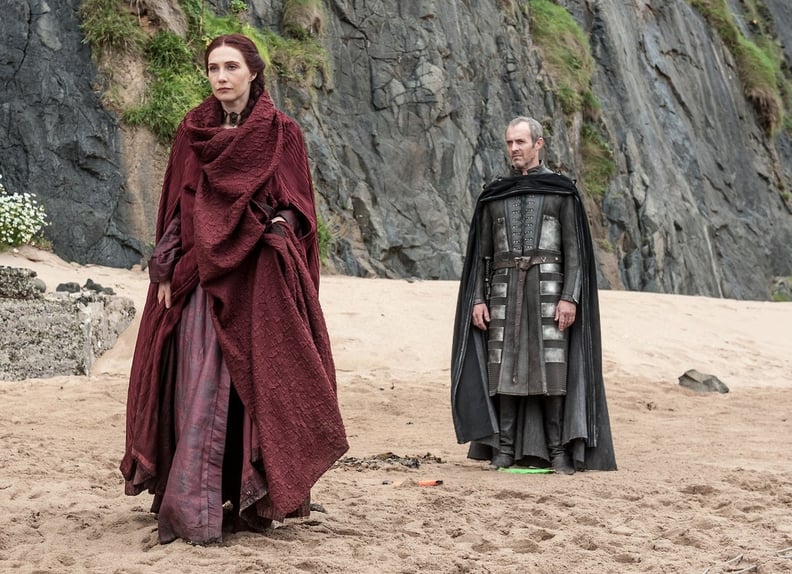 Melisandre
Why it could be her:
Melisandre's spell last season using Gendry's blood and leeches put hexes on Renly Baratheon, Robb Stark, and Joffrey — all of whom are now dead.
Why it couldn't be her:
Do we really believe in her magic?