The Handmaid's Tale Picked the Perfect Actress to Play June's Mother in Season 2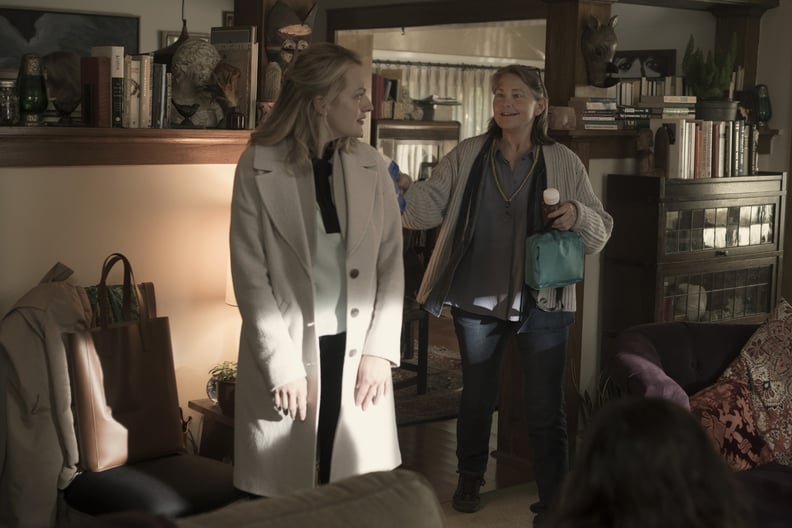 Image Source: Hulu
The Handmaid's Tale expanded its already-impeccable cast for season two, featuring high-profile guest stars like Marisa Tomei and Cherry Jones in small, but deeply important cameos. The latter actress joined Hulu's dystopian drama as Holly, "the feminist mother to June/Offred (Elisabeth Moss) who, up until now, has only been mentioned in passing during flashback scenes." We finally get a glimpse of the woman who raised June in episode three, "Baggage," which delves into her strained relationship with her mother. The two clearly disagree on a lot of things, from what's happening with the increasingly oppressive government to June's decision to marry Luke.
In Margaret Atwood's 1985 novel, Offred mentions her mother a few times in passing. There are brief flashbacks featuring her mom, who was a proud second-wave feminist and women's rights activist before the meteoric rise of the restrictive Republic of Gilead. One such flashback sees her mother, who is unnamed in the book, taking Offred to an antipornography rally and convincing her to toss a magazine in the bonfire (in the show it's a bunch of women burning the names of their rapists on pieces of paper). Offred resists and touches on how she never saw eye to eye with her mother when it came to women's rights.
As the religious regime begins to take over the American government, Offred and her husband, Luke, go to her mother's apartment to check in on her only to find it empty and in disarray. There's no concrete answer as to where she's ended up, but Moira later tells Offred she saw her mother in footage from the Colonies (the harsh, toxic wasteland where some women are sent to be slaves for Gilead until their death). It seems Holly's fate is the same in the TV adaptation, since episode three shows June and Moira noticing a photo of Holly dressed as an Unwoman in the Colonies during a lecture at the Red Center.
Showrunner Bruce Miller had been thinking about incorporating her into the onscreen adaptation for quite some time — he told THR midway through the first season that "It's a story we want to tell," calling her "one of the most memorable characters" — but it wasn't until star and executive producer Elisabeth Moss reached out to Jones herself that the ball really got rolling.
"She's a terrific literary character who's now going to come to life for the first time and so it was important to me who that was," Moss told THR ahead of season two's premiere. "I was obsessed with it for weeks and bothering everybody about it — way before anybody cared to talk about it. Cherry was my fantasy choice. I sent her the script, she wrote me a lovely email back, and she said yes almost immediately."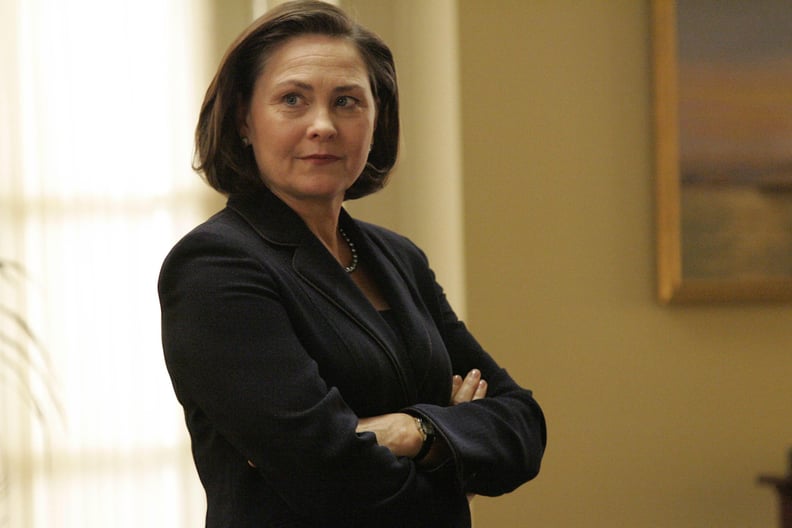 Before being cast in The Handmaid's Tale, Jones made a splash in movies like Signs, The Village, The Perfect Storm, and Ocean's Twelve. She also appeared in two seasons of 24 as President Allison Taylor (above), as well as Hulu's Stephen King miniseries 11.22.63.
According to The Hollywood Reporter Jones has only been confirmed to appear in that one episode, but fingers crossed she returns in some capacity.