Love, School, and Sex Combine in the "Sex Education" Season 4 Trailer
The trailer for the final season of "Sex Education" is here. Netflix released the full trailer, soundtracked with Meatloaf's "I'd Do Anything For Love (but I Won't Do That)," on Sept. 12. In the trailer, the Moordale gang tries to settle into their new school, all while grappling with love, relationships, and sex toys. Netflix confirmed the hit series would be ending after season four back in July when it released the season's teaser trailer. Netflix then released first-look photos on Aug. 2, teasing the ensemble cast's return to their high school dramedy.
Creator Laurie Nunn told Netflix's Tudum she wasn't certain that season four would be the last when she and the writers began crafting it, but "during that process, it just started to feel very clear that the stories were coming to an end, the characters were being left in a place that I felt really good about it."
She added, "I felt happy for them, and I felt like I've said everything that I want to say with these characters at this time."
According to star Ncuti Gatwa, while ending the show was tough, it felt like it was time. "It was very hard; it was such a big show," he told Rolling Stone UK in a July feature. "When you're telling stories that haven't been seen before, there's always a battle as to how to tell them. It wasn't always joyous. I feel like we've outgrown it and we've given everything we can to it."
Not to worry, though, because the final installment of "Sex Education" may be its best yet, with the promise of some new faces joining the beloved show. On Aug. 19, 2022, Netflix announced that a new character named Mr. Molloy will be played by "Schitt's Creek" star and co-creator Dan Levy, via production photos featuring Maeve (Emma Mackey) with the new teacher. But that's not all — fans were given another casting announcement on Feb. 19: Jodie Turner-Smith stars in the final season, too.
Speaking on the 2023 BAFTAs red carpet, the actor revealed, per Variety: "You may or may not see me in a little Netflix show called 'Sex Education.'" And the revelations didn't end there, as Turner-Smith also said she was personally asked to join the cast. "First of all all my scenes were with Ncuti Gatwa who — I DIE for him — and he's my favorite character on the show. So when he called me and asked me to do it I was like, I don't care how much they're paying I'm doing."
The costars were spotted together at the BAFTA afterparties, where Gatwa called her "my flipping QUEEN" on Instagram, with Turner-Smith responding, "obsessed with you." This was the second "Sex Education" photo op of the night, as original cast members Gatwa, Mackey, Aimee Lou Wood, and Asa Butterfield were reunited in a sweet moment, too.
Filming officially wrapped earlier this year, with Wood, who plays Aimee Gibbs, posting a bunch of photos on her Instagram Stories on Feb. 10, captioned, "Wrap on season 4. Everyone has worked so hard. Thank you. Love you." Her post came just after Gatwa, who plays the iconic Eric Effiong, posted a snap of his dressing room, revealing season four will be his last (his announcement came before Netflix confirmed the show would end with the upcoming season).
While we can't wait to see the new "Sex Education" characters come to life and our favorites return, some stars won't be back for season four. Tanya Reynolds, who portrays the quirky Lily Iglehart, said in an interview with Radio Times in July 2022, "I'm not [returning], actually, which is sad, very sad." She elaborated, "It's just the natural progression of these shows — when you have such big ensemble casts and so many characters, I think you have to let a few older characters go to make way for newer ones, which is absolutely the right thing, the way it should happen." Reynolds joins her castmate (and onscreen love interest) Patricia Allison in leaving "Sex Education."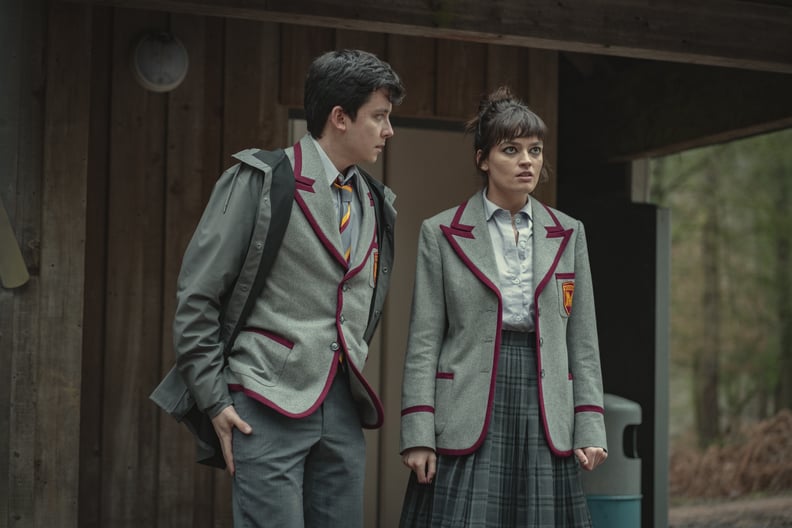 Netflix renewed "Sex Education" for its fourth season on Sept. 26, 2021, after a long wait. The first two seasons premiered only one year apart, whereas viewers waited around 21 months for the third season due to filming delays caused by the COVID-19 pandemic. In the third season, Moordale Secondary School suffered through the presence of a new headmistress who enforced strict protocols that removed the sex-positive environment that had previously existed on campus. But in season four, Nunn revealed that the show will dig deeper into bigger issues like how the characters "are really grappling with the idea of identity and acceptance."
Some of the show's principal cast members were juggling several projects heading into season four. Mackey, Gatwa, and Connor Swindells all appeared in Greta Gerwig's "Barbie" movie, and Gatwa will also star as the Doctor in the next season of "Doctor Who."
Read ahead for everything else we know about "Sex Education" season four.
"Sex Education" Season 4 Trailer
"Sex Education" Season 4 Teaser Trailer
"Sex Education" Season 4 Cast
Gatwa, Butterfield, Mackey, Wood, Dua Saleh, Mimi Keene, Kedar Williams-Stirling, Chinenye Ezeudu, George Robinson, Gillian Anderson, Connor Swindells, Alistair Petrie, and Samantha Spiro are all set to return. Joining the crew in season four are Levy, Turner-Smith, Lisa McGrillis, Anthony Lexa, Felix Mufti, Alexandra James, and Thaddea Graham.
"Sex Education" Season 4 Plot
The logline for season four says, "Following the closure of Moordale Secondary, Otis and Eric now face a new frontier — their first day at Cavendish Sixth Form College. Otis is nervous about setting up his new clinic, whilst Eric is praying they won't be losers again. But Cavendish is a culture shock for all the Moordale students — they thought they were progressive but this new college is another level."
It adds, "Viv is totally thrown by the college's student-led, non-competitive approach, while Jackson is still struggling to get over Cal. Aimee tries something new by taking an Art A-Level and Adam grapples with whether mainstream education is for him. Over in the US, Maeve is living her dream at prestigious Wallace University, being taught by cult author Thomas Molloy. Otis is pining after her, whilst adjusting to not being an only child at home, or the only therapist on campus…"
"Sex Education" Season 4 Release Date
The fourth and final season premieres on Sept. 21.
"Sex Education" Season 4 First-Look Photos