6 Women Who Work at the Same Hospital Are Pregnant at Once
6 Nurses From the Same Hospital Are Pregnant All at Once, and Wow, That's a Lot of Babies!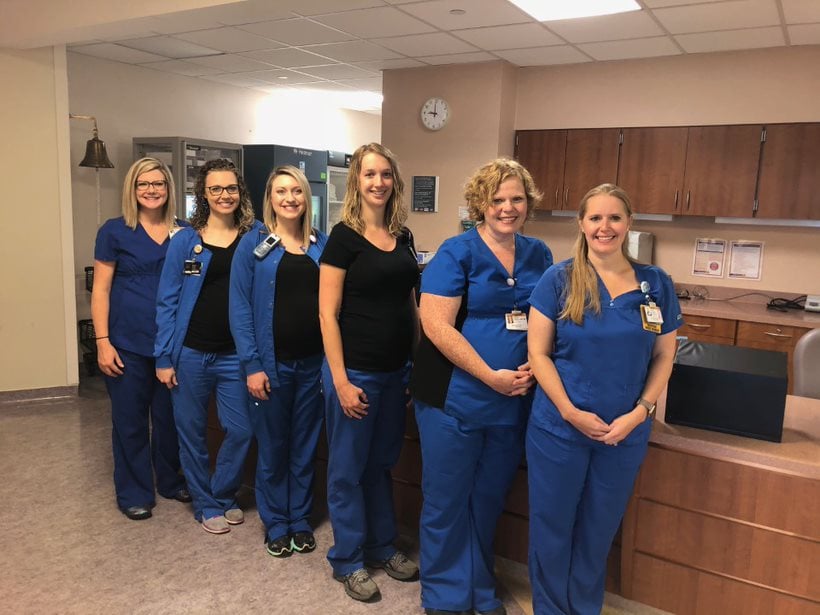 A group of oncology nurses who work at Wake Forest Baptist Medical Center in Winston-Salem, NC, seem to have some pretty impeccable timing. Recently, it was discovered that six women in the department were all pregnant at the exact same time. The group of soon-to-be moms was quickly given the moniker the "Fabulous Six-Pack" — and yes, this is baby fever to the sixth degree.
As for the official pregnancy lineup? Thirty-two-year-old Nina Day found out she was expecting first and is due on July 31 and Bethany Stringer got her good news second and is due on Sept. 8. Emily Johnson is third in line (Sept. 25), followed by Nikki Huth (Oct. 11), Sabrina Hudson (Nov. 13), and last but not least, Katie Carlton (Dec. 12).
According to Today, after sharing that she was pregnant with her second child with her coworkers, Sabrina casually pointed to Katie and predicted she'd be expecting next. And that was certainly news to Katie, who had just started trying for her second child with her husband.
Flash forward a month later, and Katie was officially the sixth nurse on staff with a due date. "I kind of had a feeling, that was really exciting when I found out (Katie) was pregnant," said Sabrina.
Although Katie was certainly taken by surprise at how quickly she had gotten pregnant, she's happy to have a strong support system at her workplace. "Honestly, it is a pretty cool experience," said Katie. "After the fifth pregnancy, I was kind of expecting someone else to get pregnant."
"I don't think that after the pregnancies are over we will stop sharing milestones together."
First-time mom-to-be Emily Johnson, agrees, explaining that she finds comfort in having other women to bounce ideas off of. "I constantly have things running through my mind, 'Is this normal?' and 'What is going on?' Being able to communicate with other nurses helps me feel better."
Naturally, six women being pregnant at once is a popular topic of choice among the patients. "Of course, they say, 'Is there something in the water?'" said Katie. "It really intrigues people and gives them something to focus on when they are there."
But despite all the questions, all the women are excited to navigate parenthood together.
"People being pregnant together may not be a rarity," said Sabrina. "We are just really excited about our babies and being able to share play dates. I don't think that after the pregnancies are over we will stop sharing milestones together."
Image Source: Wake Forest Baptist Medical Center