David Beckham Kissing Daughter on Lips at Soccer Game
Why It Matters That David Beckham Kisses His Daughter on the Lips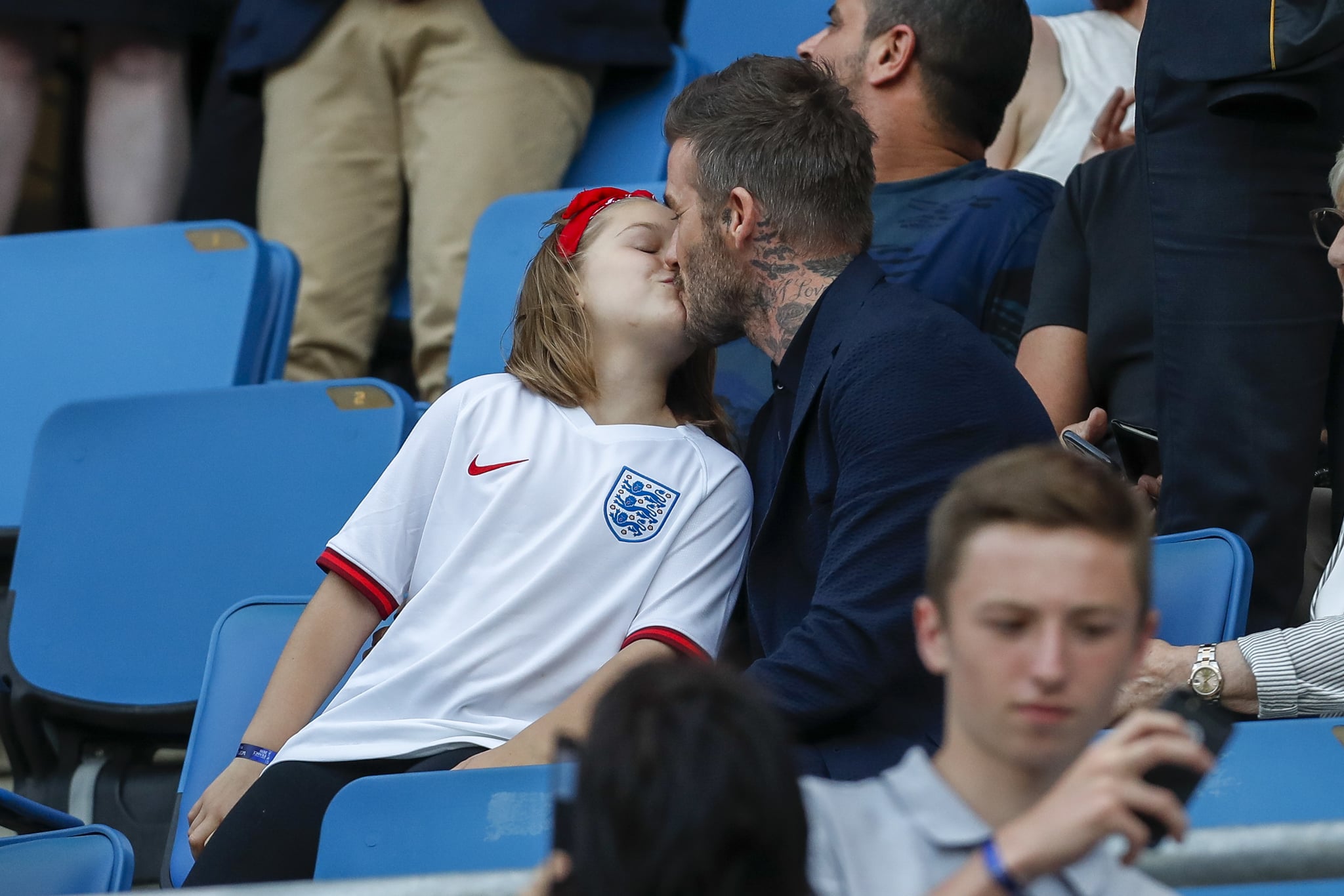 Image Source: Getty / Catherine Steenkeste
There are innumerable perks that come with being world famous, but when the entirety of the internet knows your name, I can't imagine it's easy to stand your ground on an unpopular opinion.
That's why I want to give father of four David Beckham a pat on the back for doing something so simple yet so polarizing: he kissed his daughter in public.
The soccer pro took his 7-year-old daughter, Harper, to watch the Women's World Cup quarter-final match on Thursday, and between cheering on England and chomping down on some Peanut M&M's, he gave his child a kiss on the lips.
As a rather affectionate parent myself, such an act is as benign as they come — the same as giving my kiddos a high-five or cooing "I love you" in their ears. I haven't once had to defend my actions, but David — along with his wife, Victoria Beckham — has been condemned by much of the internet for years over his Instagram posts with Harper. A simple selfie of them kissing while on an ice skating rink back in November 2018 received hundreds of hateful comments, spouting how inappropriate it was.
In fact, earlier this month, Piers Morgan (who also famously condemned Daniel Craig for baby-wearing) attacked David on Good Morning Britain for his "weird" actions and admonished him for his decision to post images of them online: "It's very sweet . . . [but] why would a father kiss his daughter on the lips? Don't get it — creepy . . . You posted that for the world, why?"
But this time, David — who has been made to defend his actions by saying that he was brought up similarly and "it's how we are with our children" — didn't post any image to his personal feed. He was watching a soccer game, kissed his daughter, and then continued on watching the soccer game, all as if demonstrating just how normal and routine it is.
Whether he knew an image of it would make the rounds on the internet today or not, I'm proud that he hasn't let all the naysayers stop him from doing something that is special to him and his family. He could have backed down, but instead he chose love — and a bizarrely unpopular way of expressing it.