Dog Photobombs Wedding Photo
A Dog Completely Photobombed His Owners' Wedding — and This Needs to Be Framed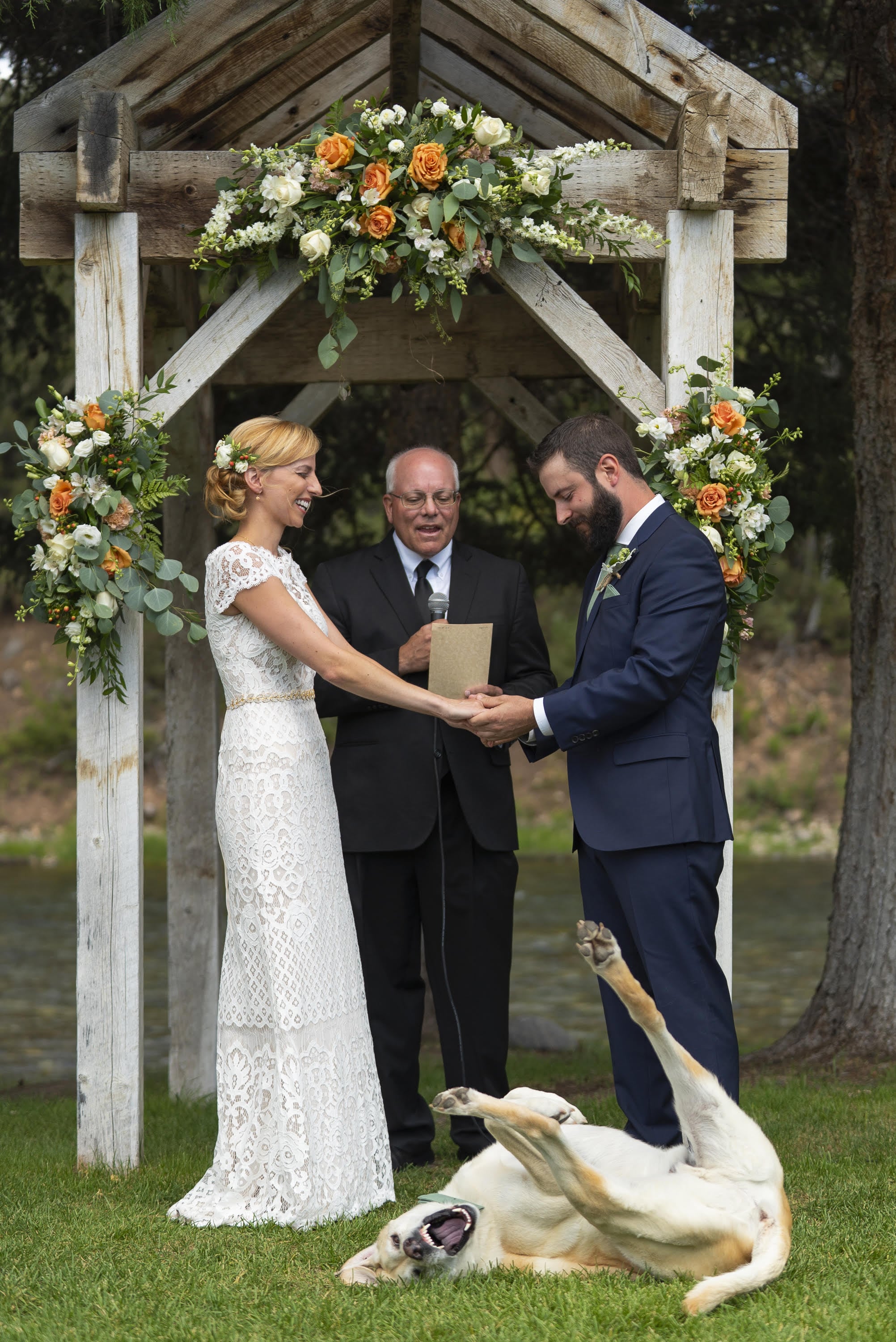 When photographer Chris Davis agreed to shoot his longtime friends' Angie Blumberg and Jayce Conway's wedding on July 28 in Big Sky, MT, he wasn't surprised that the couple requested ample photos of their 6-year-old Labrador Retriever, Boone. But little did the bride and groom know that capturing the perfect shot would be a heck of a lot easier than they imagined.
"Boone is such a good dog and a huge part of Jayce and Angie's life, so I think it would have been more surprising if he wasn't at the altar by their side on their big day," Chris told POPSUGAR.
As soon as the festivities ended, Chris made a beeline back to his room to see how the photos of Boone turned out — and let's just say this shot, in particular, did not disappoint.
"After I got back to my room after the reception, I was backing up my photos and giving a cursory glance at some of the key moments, and this was the first photo that I went to look for and was so excited that it turned out as well as it did," said Chris. "I immediately texted Jayce and Angie this photo, and they later told me that Angie would spontaneously erupt into giggles throughout the night when thinking about the photo."
"He just couldn't resist going over to say 'Hi!'"
Although Boone was the best man on paper, Jayce joked that his brother needed to step in to deliver the best man speech.
"He's a really well-trained dog," Jayce told Today. "I planned for him to stand between me and my brother. Boone was technically the best man, but he couldn't really give a speech, so I thought I should give my brother a shot."
Apparently, Boone was so overwhelmed by the fact that his owners were finally getting hitched, he had to interrupt to congratulate his mama.
"While everyone in the procession walked down the aisle, he stayed in his spot, exactly where he was supposed to be," said Jayce, explaining that, "until he saw Angie, and then he just couldn't resist going over to say 'Hi!'"
Angie added that the pair wasn't at all fazed by Boone's sudden desire to be in the spotlight: "During the ceremony, he decided to walk to the middle and roll happily in the grass a few times."
All we can say is congrats to the happy couple, and keep doin' you, Boone!