Entenmann's Little Bites Recall 2016
Entenmann's Just Issued a Recall of Their Most Popular Lunchbox Snack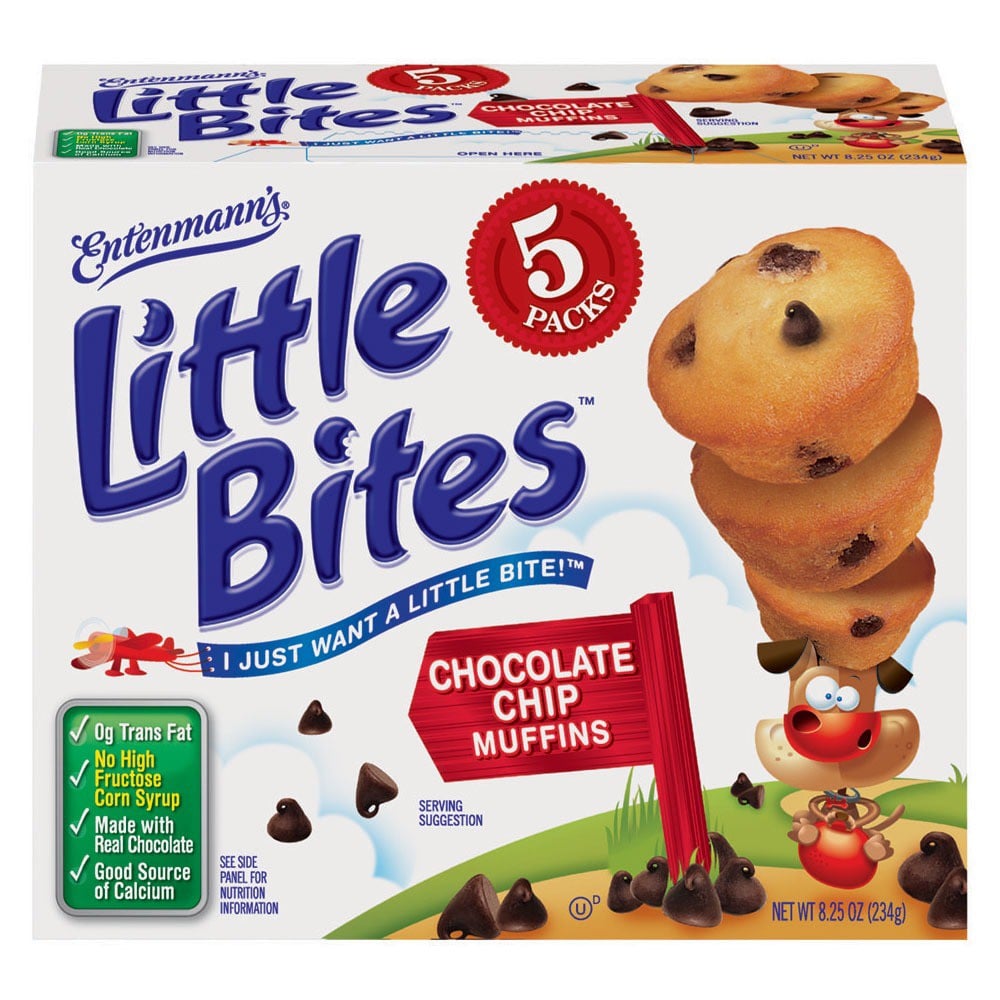 Hold the lunchbox-packing assembly line!
Bimbo Bakeries is issuing a voluntary recall of Entenmann's Little Bites snacks due to small pieces of plastic found within the packages. Caused by a manufacturing failure at one of their bakeries in Illinois, the plastic wasn't noticed until after the products were distributed to retailers and customers began filing complaints.
If you have any boxes of the following snacks in your home, either dispose of them immediately, or bring them back to the place of purchase for a full refund.

| Product | Best By Date | UPC Code | States of Distribution |
| --- | --- | --- | --- |
| Entenmann's Little Bites Fudge Brownies – 5 pack (Net Weight 9.75 oz.) | October 8, 2016 | 7203001342 | AL, CT, DE, FL, GA, IA, IL, IN, KY, MA, MD, ME, MI, MN, MO, MS, ND, NH, NJ, NY, OH, PA, RI, TN, VA, VT, WI, WV |
| Entenmann's Little Bites Chocolate Chip Muffins – 5 pack (Net Weight 8.25 oz.) | October 8, 2016 | 7203001353 | CT, DE, IA, IL, IN, KY, MA, MD, ME, MI, MN, MO, ND, NH, NJ, NY, OH, PA, RI, VA, VT, WI WV |
| Entenmann's Little Bites Chocolate Chip Muffins – 10 pack (Net Weight 1 lb. 0.5 oz.) | October 8, 2016 | 7203002111 | IA, IL, IN, KY, MI, MN, MO, ND, OH, WI |
| Entenmann's Little Bites Variety – 20 pack (Fudge Brownies, Chocolate Chip Muffins and Blueberry Muffins – Net Weight 2 lb. 2.5 oz.) | September 24, 2016 | 7203001799 | AL, AR, FL, GA, IA, IL, IN, KS, KY, LA, MI, MN, MO, MS, NC, ND, NE, OH, OK, SC, SD, TN, TX, VA, WI, WV |
Image Source: Entenmann's