Firefighters Who Had Kids at the Same Time
7 Firemen Became Fathers All Within the Same Year, and Wow, Talk About a Coincidence!
Sarah Hutchinson, a mom from Oklahoma, has a message for any couples who were thinking about swinging by the Glenpool Fire Department: "Don't drink the water."
The mother of two jokingly posted the caption along with a few photos of her husband, Dustin, with six of his colleagues from the station to social media. And interestingly enough, the men had one thing in common: they'd all become fathers within the very same year, and they have some pretty incredible photos to prove it.
Sarah told POPSUGAR that the adorable photo shoot was completely planned, and they can thank Pinterest for the inspiration:
"One of the fire wives saw a picture on Pinterest a while back of babies laying on their dads' fire gear jackets, so we decided that once everyone was born, we were going to get our own picture for our station. So that's what we did!"
As far as the firefighters-in-training go? There are five girls and two boys who make up the next generation: Jovie, Saylor, Henley, Kadance, Gracie, Cohen, and Bodie. How's that for adorable?
And while the end result is nothing short of picture perfect, Sarah admits that when it came time for Avery Dykes, a fellow fire wife, to take the photos, getting all their little ones in the same frame proved to be a bit more challenging than they anticipated.
"Avery got her camera and took the best shots she could get with the babies! It was like herding cats but we got it done, ha! It takes an army!"
Sarah explained that the pictures are just as meaningful to their husbands. "They take much pride in their kiddos! Taking these pictures are great memories to have and to look back on!"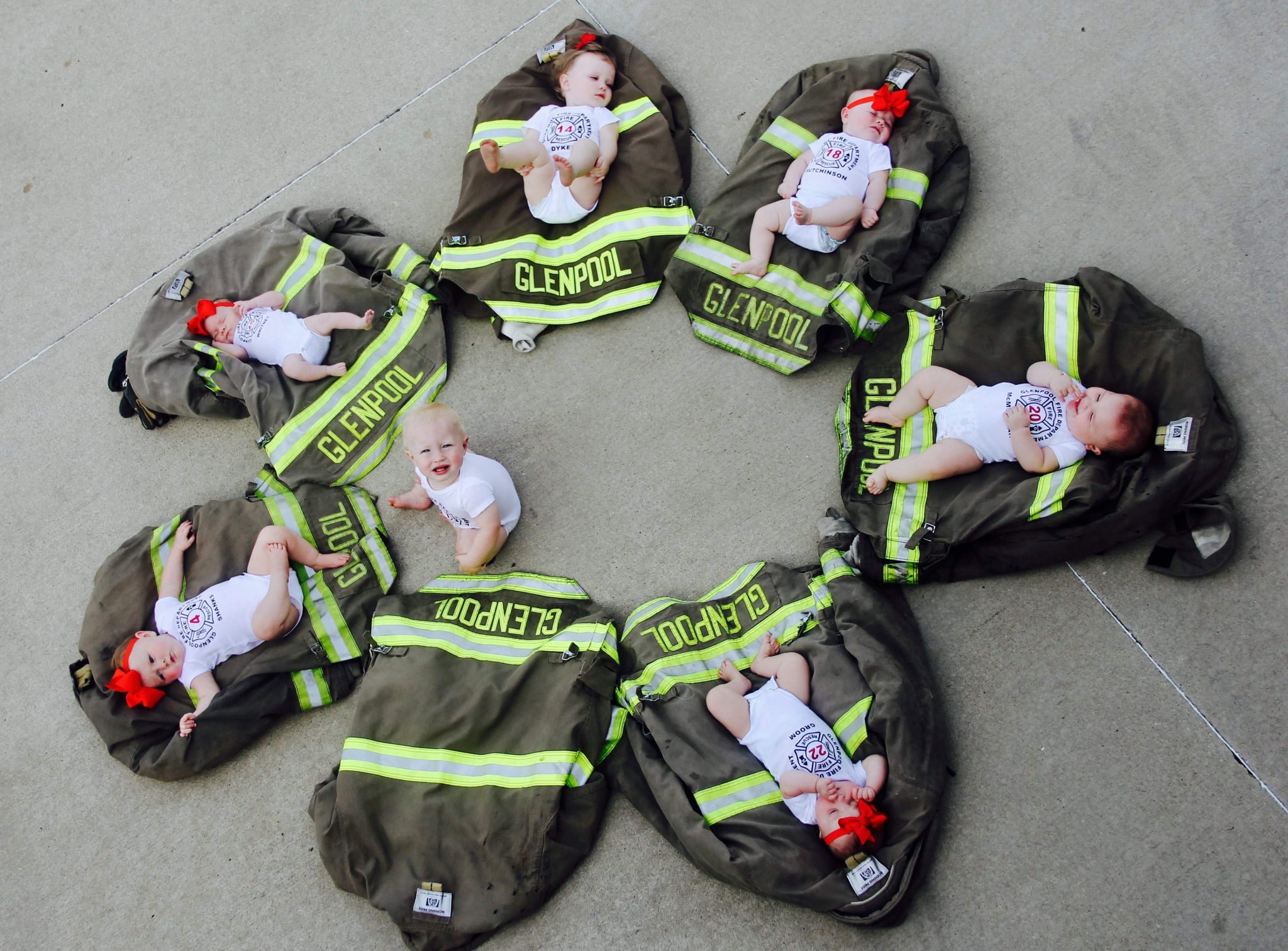 Image Source: Avery Dykes