Haylie Duff's Advice For Feeding Her Baby
Haylie Duff's 6 Best Tips For Feeding a 1-Year-Old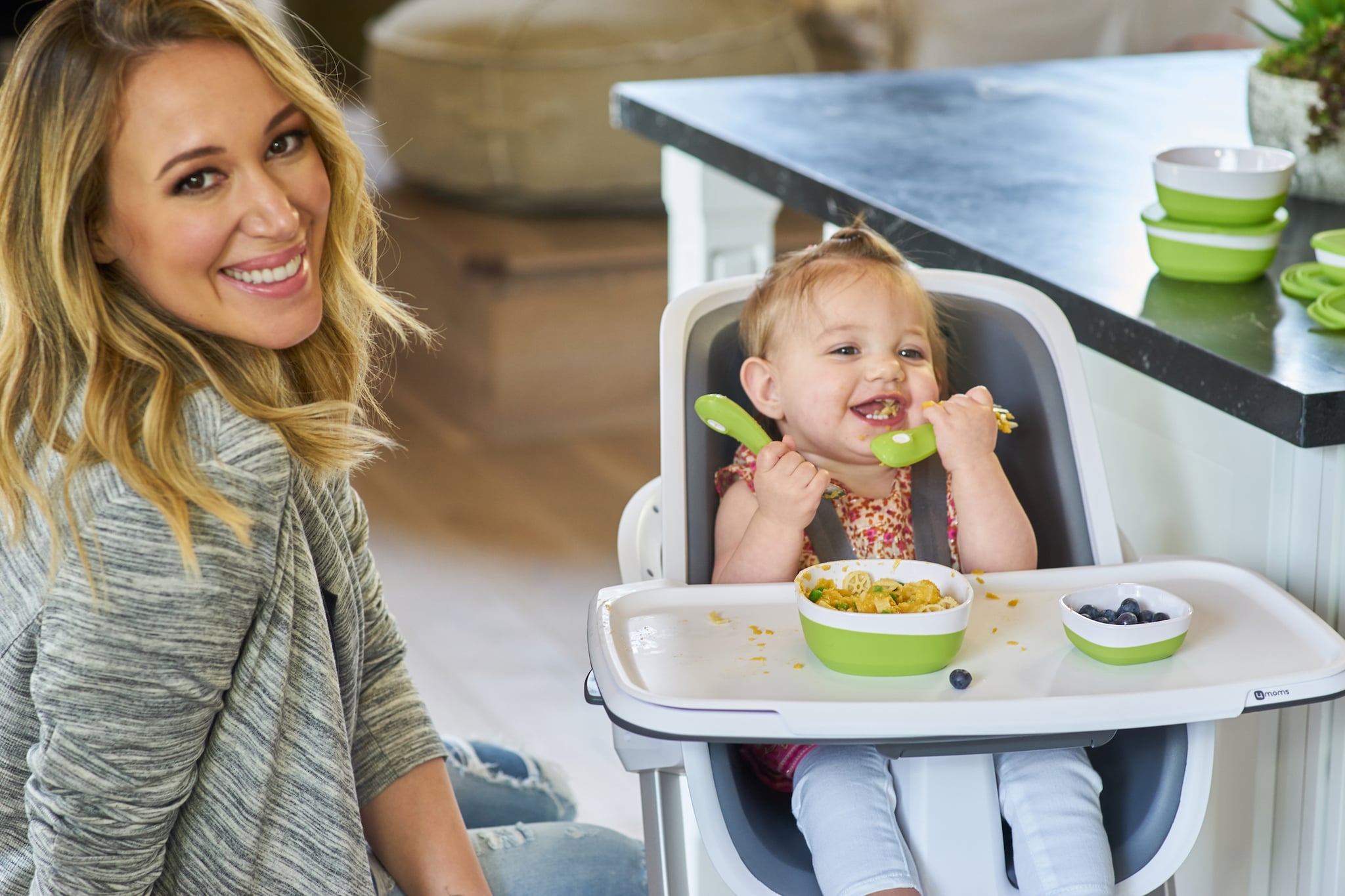 Haylie Duff is passionate about cooking, especially when it comes to making healthy creations for her daughter Ryan. But the actress and creator of Real Girl's Kitchen knows that feeding a 1-year-old can be messy, no matter how tasty the meals are. Luckily for Ryan — and the family's all-white kitchen — Haylie has figured out some tips for getting her little one to try new foods and enjoy mealtime, instead of putting up a sticky fight. Check out Haylie's best advice for feeding her little one!
Get Gear That Works For You — Not Against You: As Ryan is getting older, her messes are growing with her and the 4moms high chair has become Haylie's mealtime hero — and not just because of its sleek look in her kitchen. "The magnet bowl has been really helpful because we're getting to the stage where we're throwing everything," Haylie told POPSUGAR. "I'm trying to avoid the throwing so getting the magnetic plate has come right at the exact right time."
Don't Be Afraid to Do What Works For Your Family: While Ryan recently discovered her love for her dad's lasagna, Haylie admits that it's rare that the family all eats the same dinner. "Ryan still hasn't been getting much seasoning and things like that yet because she's still so new to solids so I'm still guilty of making us a separate meal," Haylie confessed. But in the meantime, Ryan has yet to be introduced to a food that she doesn't like and her parents are still enjoying more adult-friendly meals.
Have a Mom Friend on Speed Dial: Whether it's about when to let your child try different foods or if you should let him or her have that pacifier they're crying for, having an experienced mom in your corner can give you the reassurance to try new things until you learn what works best for you and your little one. For Haylie, that person is definitely 7th Heaven star Beverley Mitchell. "She's an amazing mom and she and her husband have just impressed me every step of the way," Haylie shared. "She just kind of put everything into perspective for me and was never the mom who pushed her way on me so she's always been a good person for advice."
Take Control While You Can: Haylie opted to wait until Ryan's first birthday before she fed her any artificial sugar. Currently, she's trying to avoid processed snacking for as long as possible and is instead sticking to as many whole grains, fruits, vegetables, and poultry as possible because she realizes that once Ryan hits a certain age, it will be much harder to control her diet to the same extent.
Give Them Some Independence: Despite only being able to hold a spoon, Ryan is determined to feed herself — or at least make the attempt. Instead of putting up a fight, Haylie has gotten creative: "One of the things we've been doing with her is we've been giving her her own spoon then she kind of pretends like she's she's putting it in her bowl herself. We sneak in another spoon and as soon as she feels like she's putting the spoon in her mouth — even though she really doesn't have any food on it — we sneak the spoon of food in her mouth. This way she feels like she's feeding herself but she's actually not — it's the only way!"
View Food For Your Child and Yourself the Same Way: Despite her daughter's young age, Haylie tries to think about the way that she feeds Ryan the same way that she approaches food for herself. "My outlook with Real Girl's Kitchen has very much been about balance and never being too extreme in one direction," she explained. "[For Ryan] it's about never going too healthy or never going too naughty either because we aren't going to be the family that's like, 'Our child doesn't get sugar and our child doesn't get dairy.'" Instead, Haylie wants to let her daughter enjoy the fun foods that she had growing up but just in moderation — and excess for special occasions.