Mom Warns Other Parents About Car Seat After Accident
After a Mom and Her 4 Kids Got in a Near-Fatal Accident, She's Warning Other Parents About Car Seat Safety
Sarah Sutton, a mom of four from North Carolina, has a PSA for all the parents whose kids beg to be moved to a booster seat prematurely: don't even consider it. In a now-viral Facebook post, Sarah explained how properly installing her children's car seats saved her kids' lives.
The trouble began while Sarah was driving home in her Suburban with all four of her kids — Alayna, 6, Liam, 5, Ryder, 3, and Aynsley, 2 — from the supermarket. After loading up on groceries, she started to make her way home when disaster struck: a person in a Chevy Silverado pick-up truck ran a red light and slammed into Sarah in the middle of the intersection.
A man ran a light as we were going 45 m.p.h. and crashed into us head-on . . . People had to pull our children out of our vehicle. I was trapped inside. I remember a lady asking me if I had three children as I was screaming, "Get my babies!" Liam could not undo his seat belt and the truck was covered by airbags and filled with smoke. It was hard for them to see him. He did get out. He is now dealing with issues of, "Mommy, I was left behind!"
"All I remember is seeing his truck in front of me," Sarah told POPSUGAR. "I was covered in milk and orange juice when they pulled me from the vehicle. Thank god I put all of my heavy items, like cases of water and soda, in the front seat. Otherwise, it would've projectiled into the back of my kids' heads."
"Please, I am begging you as a mom to really look at this. This could be you! This could be anyone!"
Fortunately, all of her children were properly strapped into their respective car seats, which were equipped with air bags on the sides. And that includes her 47-pound, 6-year-old daughter, who surpassed the legal 40-pound weight minimum for booster seats, was still in a car seat nonetheless.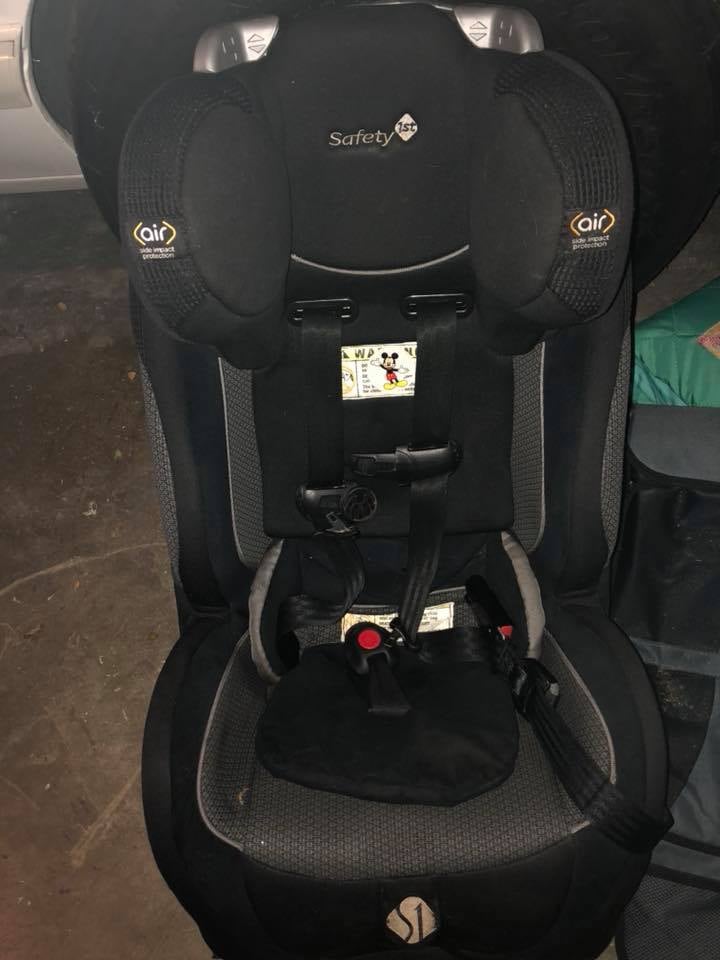 "It was a serious wake-up call for us. I know the importance of car seats. I'm huge stickler about staying in the five-point harness. My 6-year-old complains because she thinks she's a big kid. All of her friends are in booster seats already and she kept asking and saying that car seats were for babies. I was like, 'Listen, I'm your mom, and it's my job to keep you safe.'"
The emergency service workers who rescued her family, upon seeing the aftermath, also encouraged her to buy the exact same Safety First car seats she'd originally used because they were so effective.
An EMT told me that they see accidents all the time and explained that of all the vehicles they've come across that were in a similar condition as mine, people are usually dead. And if there are children in the car, they're rarely ever OK. Usually, the situation is pretty grave. While I was in the hospital, one of the highway patrol officers showed me photos of the [Safety First] car seat the kids were in, and he said they were installed properly and didn't move at all. They protected the kids' head and necks so well.
She added: "As we speak, I have six brand new cars seats on their way to my house in a FedEx truck. I will have two extra at all times just in case my husband or a friend needs to take the kids."
Now, Sarah is making it a top priority to have her story heard so that other parents don't ease up on the rules when their kid begs them to forgo their car seat.
"Please, I am begging you as a mom to really look at this," she wrote. "This could be you! This could be anyone! I would hate to hear about your poor innocent child that died because of a choice that you made for them that could save their life. My children beat the odds and we are very very lucky they are alive."