Roseanne's Reaction to Mark Wearing Pink Clothes
Roseanne Tackled an Extremely Important Parenting Lesson — and the Fans Loved It
Roseanne has returned to ABC, bringing with it huge ratings numbers (and those are just the overnight Nielsen numbers; when DVR viewing is factored in, the numbers will go up even more). Part of the reason the show seems destined to be a huge success is because it brings with it the same Conner sensibility that made the original so popular.
Dan and Roseanne Conner may be brash and more likely to show their affection with sarcasm than hugs, but they're grandparents now, and it seems to have softened them a bit. Case in point: in the second episode of the one-hour premiere, their grandson Mark is shown expressing his creativity by "dressing in more traditionally feminine clothing," said executive producer Sara Gilbert in an interview she did with Entertainment Weekly back in January.
Dan is immediately concerned about Mark being bullied at school and tackles the problem by giving Mark something to defend himself with (a knife), which lands Mark in the principal's office. But what Roseanne and Dan don't do is freak out about their grandson's choices; instead, they're incredibly supportive, backing up daughter Darlene in her decision to let Mark be whoever he wants to be. As Gilbert told EW, Mark is 9 years old. His character isn't meant to be gay or transgender; he's just figuring himself out.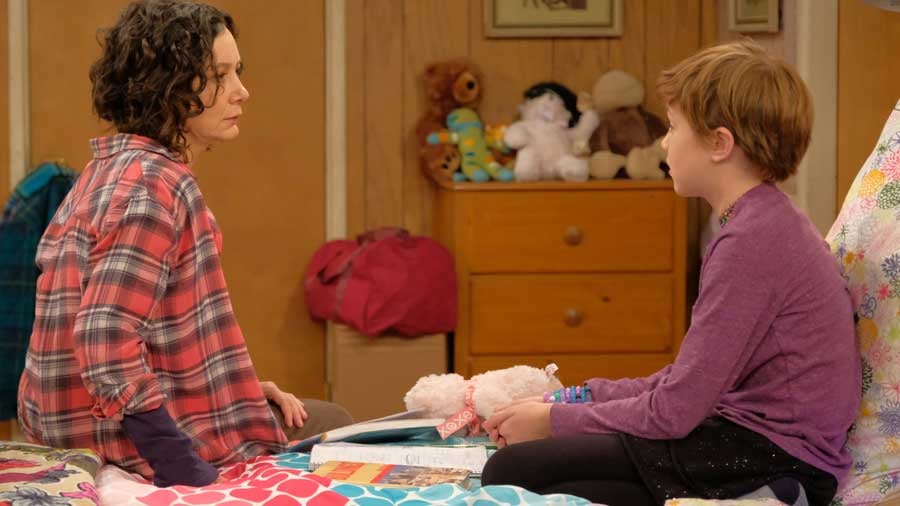 Fans were excited to see how the storyline played out and were touched by the way the show handled every aspect of it, from Dan and Roseanne's reactions to the way Darlene comforted her son when he sadly admitted that no one would play with him at school.
2/2 heartwarming, accessible way. Who else???? No one. #Roseanne no doubt opened minds tonight.

— GumShoeshi (@Shoeshi13) March 28, 2018
Roseanne to her grandson that wears girls clothes:
We know it's going to be tough but we got your back ❤️

Roseanne to students at school:

Mark is going to grow up to be a fancy designer like TJ Max Or that Ross guy 😂😂😂

#Roseanne pic.twitter.com/JAduN8OL6L

— Trump won #Resist (@ExDemLatina) March 28, 2018
YES MARK YOU BETTER WEAR THAT DRESS OR FANCY TOP #Roseanne pic.twitter.com/XAX9a304Da

— 🎅🏾 (@popeyesbiscuitt) March 28, 2018
Last night brought back so many teenage memories ❤️ and props on tackling some major social issues (bigs ups to Mark) #Roseanne @KyleKylewhite

— Eric Rousseau (@SOAismyReligion) March 28, 2018
#Roseanne I'm literally crying right now, for real... 😢😢😢 Loved the scene between Darlene and Mark... Loved how she got choked up.... That's when I got choked up, and haven't stopped since... So glad this box of tissues wasn't a waste to have in my lap... 😢😢😢

— Symphony Orsini (@Aug2nd1986) March 28, 2018
There are still a lot of fans out there arguing about the realism of Roseanne Conner being a Trump supporter and who exactly this show is aimed at in 2018, but either way, it looks like everybody is tuning in.