A Thank-You Letter to My Delivery Nurse
To My Delivery Nurse, Thank You From the Bottom of My Heart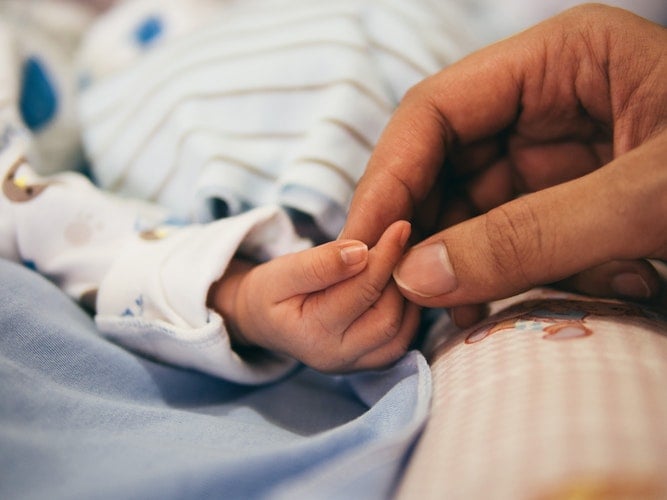 To My Delivery Nurse,
Thank you. From the very bottom of my heart, thank you. I know for a fact I couldn't have gotten through labor without you, and I truly think you're an angel. Not only did you help me deliver a healthy baby, but you also put up with me during my long labor and delivery — something I know wasn't easy. And this is what you do day in and day out. How do you stay so calm, reassuring, and loving? Your strength amazed me.
Right from the start, you knew my experience was not going to be a typical (or easy) one. I have a heart condition and was so desperate for a vaginal birth after a C-section. You knew helping me was going to be a very large mountain to climb, but instead of hesitating or trying to change my mind about my delivery, you pressed on, guiding me every step of the way.
Thank you for keeping my dream alive throughout every second of my 50-hour labor. Because of you, I was able to push through the hardest days of my life to receive the best reward. You never let me give up.
When I was first wheeled into my room, I had already labored for 18 hours at home and was in immense pain. I moaned while you calmly and thoroughly went over some of the details with me. I heard none of it, but you made sure that at least my husband absorbed it. Once my contractions intensified, so did my agony. My groans turned into screaming. I remember the pain was heavy in my thighs, and I was crawling around the bathroom floor in desperate search of some relief when you walked in. "Let me help you," you said. "This f*cking kills!" I screamed in your face. I couldn't think about anything else but the pain, and judging by your cool response, you'd witnessed this many times before. You gently helped me into bed, not once judging my erratic behavior.
A little later, before I got my heavenly epidural, I began pressing the call button like a maniac. My husband tried to quiet me, but it didn't work. When you came into the room, still calm as ever, I threw the call pager against the back of the bed. "I'm dying!" I screamed. "Honey, please don't throw things. I wouldn't want you to hurt yourself or the baby." "Fine," I said. "Just please give me my epidural!" Thankfully, for the entire hospital, it worked quickly. And the next time you entered the room, I apologized for my very bad behavior. "Don't worry," you said with a smile. "I've seen and heard it all."
Thanks to you, I was finally able to calm down enough to deliver my daughter. You helped me push for three hours. You believed in me, even when I had lost all hope and was so convinced I couldn't do it for one more second. You helped give me the VBAC I was so set on having. You didn't let me give up, even after I lashed out at you. You understood what women go through during childbirth, and I know now that it takes someone so special and strong to do what you do. I know I never could.
Thank you for putting up with me and for believing in me. If it wasn't for you, I likely would not have delivered my daughter the way that I wanted to. After she was born, you said, "I knew all along that you were going to deliver her vaginally. I could tell you had the strength and fight within you to do it." I will carry those words with me forever. I still think of them now, whenever I get discouraged, and find the strength to push through. You helped me do that. Only you.
Thank you for doing what you do every single day. Nurses like you make the birth process one to be cherished and loved. I hope you know that you're making a difference with every single baby you help deliver. And you're helping change the lives of the women you support through it. You are amazing.
Sincerely,
Me