Is VBAC Safe?
If You've Had a C-Section, You'll Want to Know More About the New VBAC Guidelines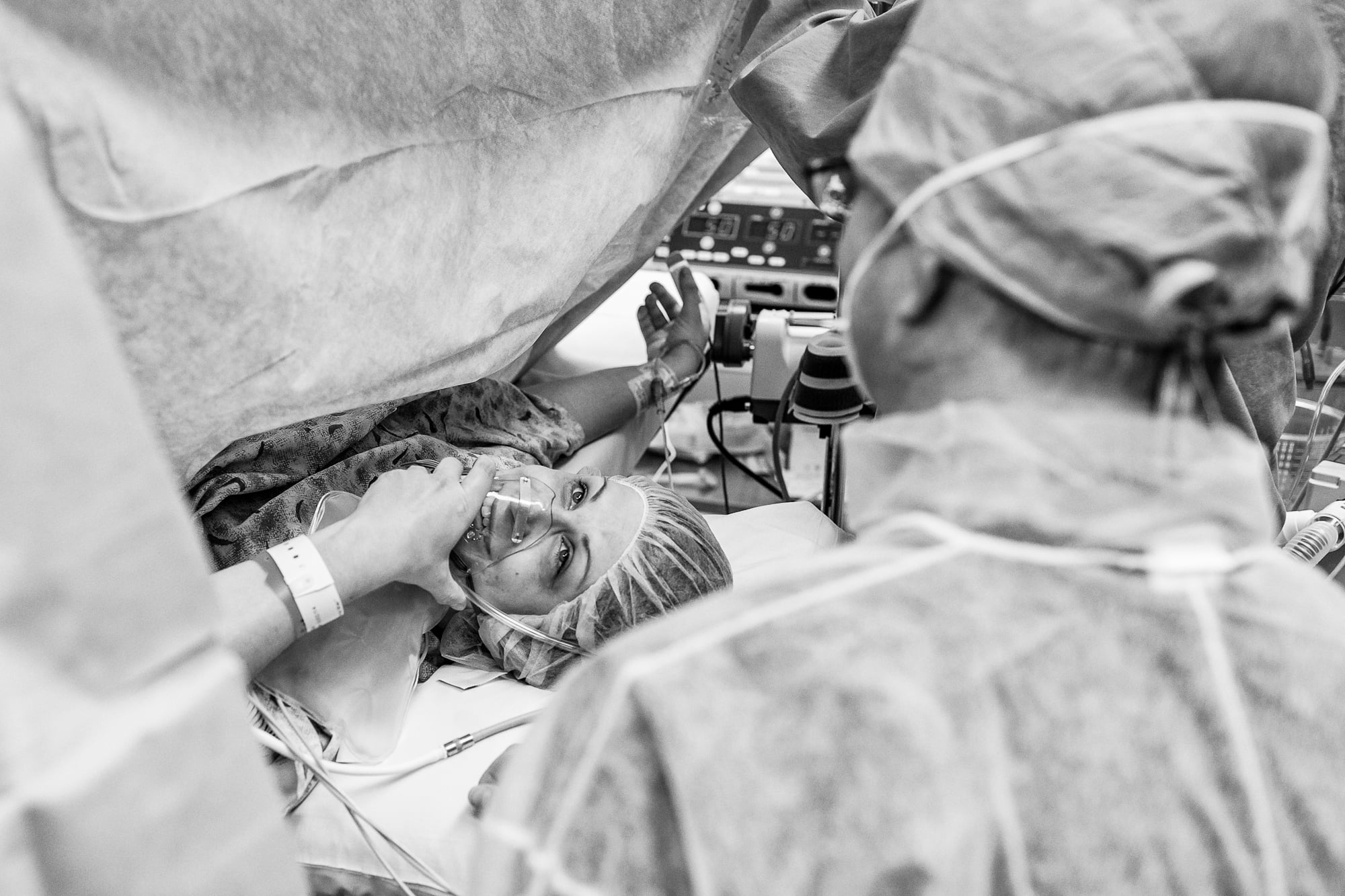 The American College of Obstetricians and Gynecologists (ACOG) published new vaginal birth after cesarean (VBAC) guidelines this week, intended to help facilitate better access to a trial of labor after cesarean (TOLAC) for women with a previous cesarean birth at any hospital in the Unites States. These replace the previous guidelines recommending that a physician be "immediately available," a term that was viewed as confusing and that experts say contributed directly to the decline in VBACs in the United States. So, what do the new guidelines mean for women who want to attempt a VBAC?
Had a Previous Cesarean Birth? You're Not Alone
The new guidelines directly affect more than half a million women annually. According to data from the CDC National Center For Health Statistics, approximately 605,000 women with a history of at least one prior cesarean gave birth in 2016, or roughly 15 percent of all women giving birth.
The proportion of US women that have a VBAC is between 12 percent and 13 percent. While this is up from a 2007 low of 8.3 percent, it's far lower than the rate of 28.3 percent in 1996. In addition, about 729,000 women had their first cesarean in 2016.
What Are the Risks?
ACOG's official stance on VBAC remains the same — that VBAC is a safe and appropriate choice for most women with a previous cesarean birth, including for some women with two previous cesarean births. The organization's Patient FAQs can help you decide what's right for you.
Overall, VBAC is usually a healthier option medically for moms and babies than a repeat cesarean birth — when everything goes well. New moms can lessen their risk of short-term complications from major abdominal surgery, such as hemorrhage, blood clots, and infection, as well as the long-term risk of severe maternal morbidity and death, which increases dramatically after multiple repeat cesareans. Babies have a shorter average stay in the NICU and fewer respiratory problems.
However, a TOLAC that results in an emergency repeat cesarean is associated with more short-term neonatal complications. The absolute risk of complications in both scenarios is very low.
While the intent was to give women with a previous cesarean birth the opportunity to accept a level of risk with which they were comfortable, the previous guidelines' recommendation that a physician be "immediately available" resulted in many hospitals unable or unwilling to staff to this standard. For this reason, ACOG specifically includes the type of birth facility as a part of its recommendation.
Mark Turrentine, MD, chair of ACOG's Committee on Practice Bulletins, Obstetrics, said that the committee's recommendations aren't intended to increase restrictions. "If the necessary resources aren't available, obstetric care providers and patients need to discuss alternative options early in the course of antenatal care, including a transfer to another facility. However, this absolutely should not result in women having limited access to VBAC."
Is It Safe to Attempt a VBAC at Home?
Aaron Caughey, MD, vice chair of ACOG's Committee on Practice Bulletins, Obstetrics, said that there has been concern that lack of access to VBAC in hospitals was driving more women with a previous cesarean to give birth at home. Due to the committee's concern about the risk of uterine rupture in patients with a previous cesarean, the guidelines recommend that TOLAC and VBAC be attempted in Level I facilities or higher, where an emergency cesarean can be performed if needed.
"While many people consider VBAC high-risk, and it does indeed have an increased risk, we want all levels of hospitals to think of how they might provide safe care to women with previous C-sections," explained Caughey. Caughey said that the practice bulletin isn't a mandate, but it affirms the committee's opinion that hospitals of any level, even small and rural facilities, can come together to give women intending to give birth vaginally the resources to try safely.
The bottom line is that if a hospital provides maternity services that include emergency cesarean births, they can offer you a VBAC.
Will More Hospitals and Doctors Support Women Who Want a VBAC?
Message boards and Facebook pages of organizations like the International Cesarean Awareness Network have been full (for years) of stories of women who meet all medical criteria to safely attempt a VBAC and have a strong intention to give birth vaginally yet cannot find anyone to attend their births. For families with resources to spare, this might mean spending several weeks in a hotel near a hospital that supports VBAC birth. Yet for others, who can't afford the time off work, child care for other children, or the expense of traveling to give birth, they have two options: "consent" to a repeat cesarean or giving birth outside of a hospital.
ACOG's current Committee on Practice Bulletins, Obstetrics, establishes that relocating a patient with a prior uterine scar after labor begins is "generally not appropriate," and the new guidelines place a shared responsibility on patients and their care providers to start having these discussions early in pregnancy.
But what if they can't agree? The committee takes an antibullying stance:
Respect for patient autonomy also dictates that even if a center does not offer TOLAC, such a policy cannot be used to force women to have cesarean delivery or to deny care to women in labor who decline to have a repeat cesarean delivery. When conflicts arise between patient wishes and the obstetrician or other obstetric care provider, or facility policy, or both, careful explanation and, if appropriate, transfer of care to facilities supporting TOLAC should be used. Coercion is not acceptable.
While it may still be difficult to find a nearby doctor or facility that will support your TOLAC, the latest AGOC bulletin just opened the door to ensuring risk-appropriate and preference-sensitive care for women with a cesarean scar.
Jill Arnold is a consultant specializing in consumer engagement with maternity care data and a cofounder of the National Accreta Foundation, which aims to eliminate preventable maternal mortality and morbidity attributable to placenta accreta.