How Serena Williams Helped Ashley Graham Accept Her Fears During Her Pregnancy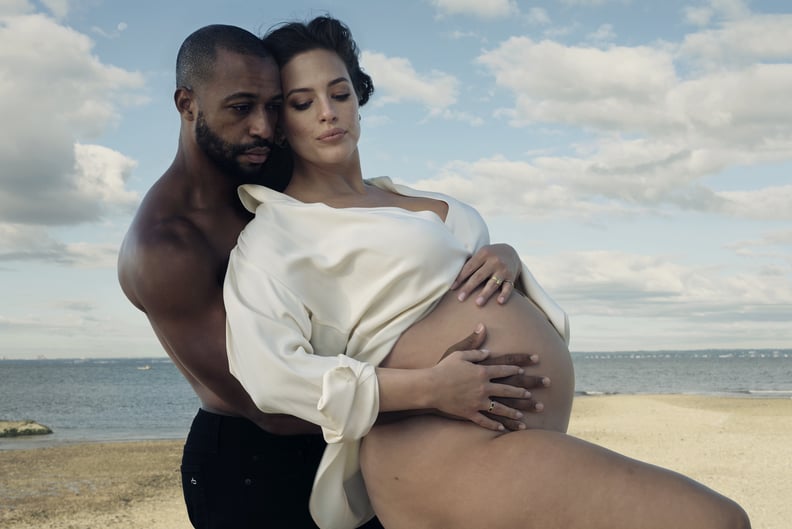 Vogue | Annie Leibovitz
Vogue | Annie Leibovitz
What are the best sex positions while pregnant? Why are her nipples so big? What is happening?! Ashley Graham has had a lot of questions throughout her pregnancy, and she's not afraid to ask them. As one of the four cover stars of Vogue's January 2020 issue, the stunning mom-to-be opened up about her pregnancy journey and how it really does take a village. She and husband Justin Ervin have a baby boy due Jan. 11, and although the date is rapidly approaching, the way her body has evolved throughout these nine months still surprises her. Like, how she started hysterically crying randomly while eating an almond-butter-and-jelly sandwich recently. But that was just the hormones speaking crying, and luckily, she's built a mom squad who she can call during these random and confusing moments.
In the beginning of her pregnancy, Ashley didn't know where to turn. "I didn't have anyone to talk to," she told Jonathan Van Meter in the candid interview. "I was gaining weight rapidly. And I felt alone. And the one piece of advice that my stylist gave me was, make pregnant friends. None of my friends were in relationships, let alone pregnant. Now I have nine pregnant friends." And some of the best pregnancy advice she's received has been from people like Kim Kardashian, Serena Williams, and Amy Schumer.
"I'm just taking in advice from everyone and not putting too much pressure on myself."
"I'm just taking in advice from everyone and not putting too much pressure on myself," Ashley explained. In fact, Serena and Ashley are constantly texting about all things pregnancy. The things that some people might not want to Google, or are reluctant to ask, those are the questions Ashley is asking. "I text her anything that rolls off my mind," Serena said. "I was one of those people who wanted to know every ugly detail of what happens . . . down there . . . what happens everywhere. I wanted to know every single thing and I still love talking about it."
"Because I feel like it's important to kind of change the narrative and be like, it's normal to feel scared, and not be one of those women who are like, 'Oh, it's so great!' Just be scared out of your mind. That's normal," Serena said.
The way conversations change when you're pregnant are inevitable and can be daunting, but it was something Ashley had no choice but to get used to. "I need my alone time, but when I do go out, I'm usually the life of the party. Now all anyone wants to talk to me about is being pregnant," she said. "There's just this camaraderie. It's a secret society that I didn't know about. I was hiding my pregnancy for the first four months. I've always had control over my body — when everyone else wanted to dictate what it should be, I took full control over it — but I had this life inside of me saying, it's not yours anymore, it's mine. And you have to just succumb."
Since announcing her pregnancy in August, Ashley has not only succumbed to her changing body, but she has embraced it and has looked absolutely gorgeous while doing so. She's flaunted her curves, continued to wow us with her workout routines, and yep, she's even still twerking. We can't wait to see how her and Justin's beautiful relationship evolves when their son is born next month.
The January 2020 issue of Vogue is available on newsstands nationwide on Dec. 17.