1 Inspiring Photo Series Celebrates the Friendships Kids With Autism Make, and It's Beautiful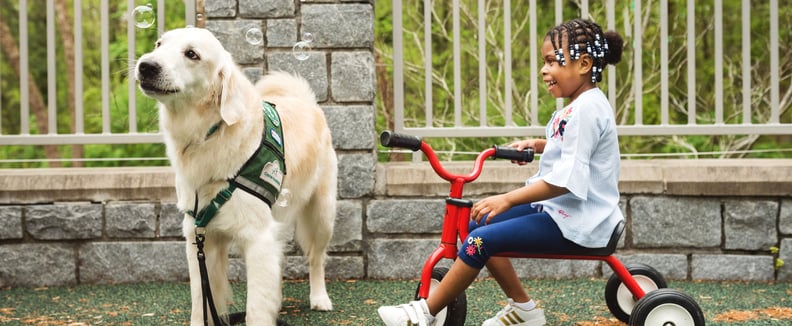 Ashley Berrie Photography | Courtesy of Children's Healthcare of Atlanta
For parents who have children with autism, celebrating what makes our kids unique is one of the best parts of being called "Mom" or "Dad." In honor of Autism Awareness Month, the Marcus Autism Center in Atlanta, GA, put together a stunning photo series called "Likely Friendships," that highlights how wonderful being different is. The photos capture the friendships that children who attend the Marcus Autism Center have made — including a sweet therapy dog named Flip — and they're the epitome of inspiring.
"She doesn't say anything, but Flip seems to understand exactly what she needs."
Chloe (pictured above), a 3-year-old nonverbal program graduate, took a particular shining to Flip. "Chloe is nonverbal and to me, her and Flip speak the same language," said Chloe's mother Karen. "She doesn't say anything, but Flip seems to understand exactly what she needs." The sweet golden retriever also made an impact on 16-year-old Noah (photo 12). "The difference in his behavior and demeanor when Flip is in the room is amazing," said Noah's mother Angela. "It's so calm and loving."
According to Zack — father to 3-year-old son Nigel (photos 1 to 6) who has autism — giving him the chance to interact with his peers at the autism center has made a world of difference. "He's starting to care for other kids and all the other emotions that come with it," he said. "When he does something that makes me sad, he immediately changes his mind and comes and consoles me." The therapy has also helped Nigel bond more closely with his older sister Sydney. "They love to chase each other back and forth," explained Nigel's mother Jenny. "Now they listen to each other and their conversations are so much fun to experience."
Scroll through to get a glimpse at this heartwarming photo series.