Backyard Inflatable and Plastic Kiddie Pool Safety Tips
Keep Kids Safe This Summer by Following These Handy Kiddie Pool Guidelines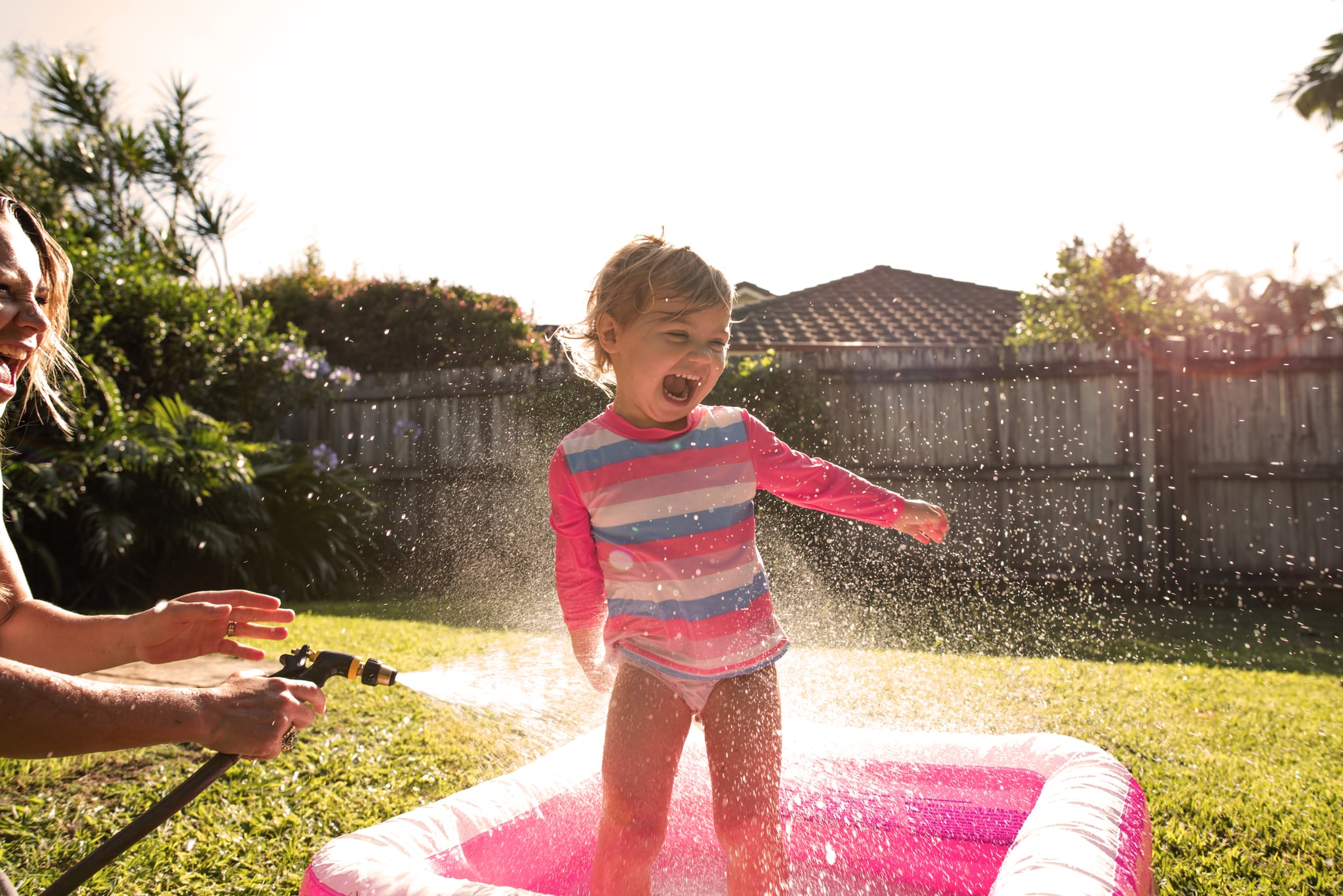 With many summer camps across the United States closed, it's no surprise that parents are pulling out all the stops so that their little ones can have a memorable break — and that often means buying a kiddie pool. A great way for the entire family to cool down on hot days, inflatable wading pools can unfortunately still pose dangers for young children. Parents who need a refresher on pool safety can follow these helpful tips.
Keep Kids Away From the Water Unless It's Time to Swim
Most drownings of younger children occur when they shouldn't be swimming in the first place. Of course, kids should be under constant adult supervision while swimming, but parents should also be vigilant even when the pool's not in use.
"Tragically, we know that about 70% of drownings for younger kids happen when it's not swim time," said pediatrician Ben Hoffman, MD, chair of the American Academy of Pediatrics Council on Injury, Violence & Poison Prevention, in a press release. "Making sure kids can't get to water when they're not supposed to be in the water, is the most important thing for families to consider."
Kiddie pools use far less water than in-ground or above-ground pools do, which makes them a lot easier to drain at the end of the day. "Because of the pandemic, families might be tempted to go out and buy a pool," Dr. Hoffman said, "whether that's a big inflatable pool or a little wading pool. . . . For smaller pools, be sure to empty them right after every swim time."
Changing the Water After Every Use Is Key
Not only does draining your inflatable pool after every use help prevent drowning, it can also keep recreational water illnesses — like Crypto, E. coli, and Shigella — at bay, according to the Centers For Disease Control and Prevention (CDC).
"These pools also do not have filters to remove particles that could prevent the chlorine from working well."
Since we're not exactly sure how clean water from the tap or hose is, it's better to err on the side of caution. "Small inflatable and plastic pools are typically filled with tap water," states the CDC's website. "Some people in the United States have a disinfectant in their tap water but this is not adequate to kill germs that may get into water used for swimming."
Although it may be tempting to clean your children's wading pool with chemicals like chlorine, the CDC warns against it. "Sources of information exist about how to disinfect these pools. However, it may not be practical to kill germs by adding chlorine bleach to small pools," warns the CDC. "This is because the chlorine dose cannot be easily determined or safely monitored to ensure that the right amount of chlorine continuously stays in the water. These pools also do not have filters to remove particles that could prevent the chlorine from working well."
The CDC's Kiddie Pool Guidelines
Little ones can spread germs more easily in a pool that hasn't been treated with chemicals, so parents should be extracareful about how little ones handle themselves before and after taking a dip. Here are the CDC's safety guidelines:
Before Using a Kiddie Pool
Do not allow a child who is ill with diarrhea or vomiting to use the pool.
Give children a cleansing soap shower or bath before they swim.
Talk to parents or caregivers about their children's health before these children use the pool.
While Using a Kiddie Pool
Remind children to avoid getting pool water in their mouths.
Respond to feces in the pool or a child with a dirty diaper. Clear the pool of children, empty, and then clean it. In the case of diarrheal incidents, once the pool has been cleaned and is completely dry, leave it in the sun for at least four hours.
After Using a Kiddie Pool
Drain or empty the pool.
Clean the pool and allow it to dry. Once the pool is completely dry, leave it in the sun for at least four hours.
Image Source: Getty / WANDER WOMEN COLLECTIVE