Virtual Summer Camps For Kids 2021
22 Virtual Summer Camps That Will Keep Your Little Ones Engaged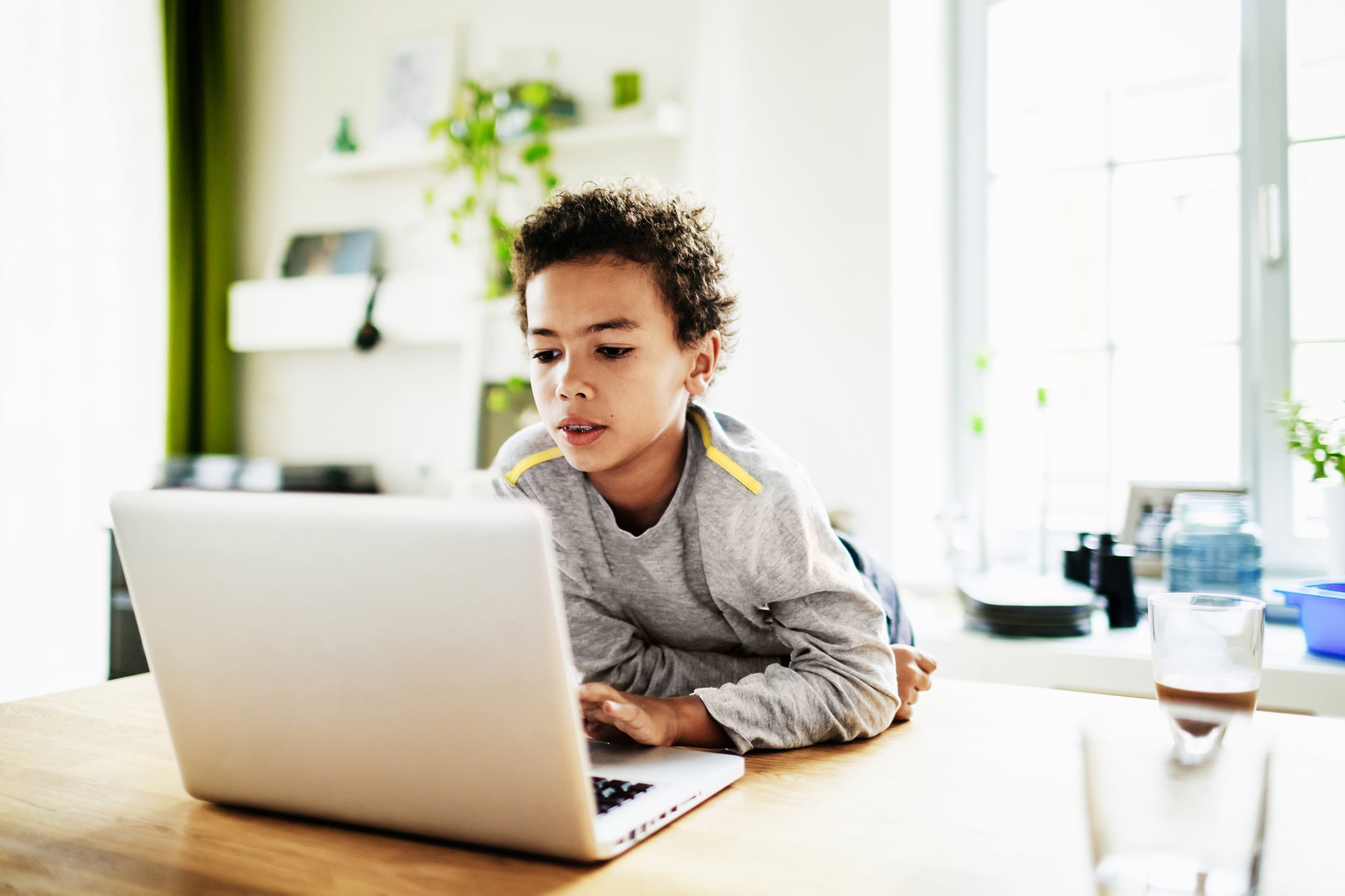 Although our kids will hopefully be able to participate in more activities this summer thanks to the COVID-19 vaccine and other recent health and safety protocols, many summer camps and activities are being held with reduced capacity, making them difficult to get into. And for families who rely on camp during the warmer months, this can mean not being able to send your kids to their activities despite them being open. If traditional summer camps aren't happening for your kids this summer, there are plenty of virtual options that will keep children of all ages entertained.
Whether they're looking to keep their academics sharp (hey, no one likes that pesky summer slide, right?) or just want some good, old-fashioned fun, these online summer camps will deliver.
Bake-A-Camp
Baketivity's Bake-A-Camp is a virtual summer baking camp that focuses on helping kids master baking skills while learning about various cultures around the world. Each Bake-A-Camp session — there's one in July and one in August — includes four individual baking kits (one for each week) with recipes and ingredients, more than 25 hours of instruction, insider baking hacks, activities, and more.
Brain Chase
Designed for kids ages 7 to 14, Brain Chase invites students to go on an academic scavenger hunt by selecting three focus categories ranging from math to yoga to writing to foreign languages. They have five to six weeks to complete their objectives and find the $1,000 missing golden nugget. Send your child on this wild adventure starting at $99.
BYJU'S FutureSchool Summer Program
BYJU'S FutureSchool is hosting an online math and coding program this summer along with former NASA Astronaut Scott Kelly. The live space-focused classes will help kids ages 6 through 18 to learn creative thinking and problem solving skills using math and coding. Parents can book a free class to check out the program now!
Camp Bonkers
Elementary-school age students can take part in fun, imaginative activities at Camp Bonkers. Counselors will share crafts and experiments on YouTube, and campers can collect Camp Bonkers badges online throughout the summer, after the program's launch in July.
Camp by Walmart
Thanks to a top-notch lineup of celebrity talent including Neil Patrick Harris, Drew Barrymore, LeBron James, and Idina Menzel, Camp by Walmart launched in summer 2020. Completely free, families can still access the interactive videos and activities that will keep boredom at bay.
Camp Creatology
Brought to you by Kids Club and Michael's, Camp Creatology "encourages kids of all ages to try a variety of arts and crafts, to help them explore and express their personalities." Camp activities will occur every Monday, Wednesday, and Friday from July 12 through Aug. 6.
Camp OshKosh
Last summer, Camp OshKosh featured a schedule of virtual activities to keep young children inspired. From cute crafts to outdoor relay races and old-fashioned camping, this program is completely free and everything is still accessible now!
Camp PBS Kids
Children between the ages of 2 and 8 can get access to a slew of educational activities all summer long using PBS Kids' website. Parents can download and print a fun summer bucket list, reading chart, and activity book to start things off.
Camp Supernow
Camp Supernow is offering kids ages 5 to 11 the chance to engage with daily live videos and activities for $18 per month from now through the end of its summer season on Sept. 3. "It's like if PBS, Peloton and Sleepaway Camp had a baby," reads Supernow's website.
Camp TV
Beginning July 6, families can tune into Camp TV, a one-hour series that features daily weekday episodes filled with songs and entertainment from head counselor Zachary Noah Piser. The Broadway star will lead children through movement exercises and activities that highlight the arts as well as nature, math, and science.
Camp Wonderopolis
Created by the National Center for Families Learning, Camp Wonderopolis ran from 2014 through 2018 and encouraged kids 7 and older to get creative through free STEM-based and literacy activities. You can still access all of the activities now!
Connected Camps
Tech-savvy kiddos ages 8 to 13 can explore their passions using Connected Camps' week-long, multisession lessons that explore Minecraft and coding.
DIY Summer Camp
Children 7 and older can access tons of classes like, "Drawing Bootcamp," "Build Anything With Lego," and "Strange Science" through DIY's app. To keep learning interesting, they also can earn badges for improving their skills. Although kids can try the classes for free through Aug. 31, there will be additional cost for full-length courses beginning in September.
K12 Inc. Summer Camp
K12 Inc. Summer Camp gives older kids the option to take free classes in coding, health science, business, and IT so they can explore potential career pathways during the warmer months.
MarcoPolo World School
Geared toward little ones ages 3 to 7, MarcoPolo World School's app aims to give kids a better understanding of STEAM topics like math, science, and engineering through more than 3,000 online lessons and 500 educational videos. There are also new lessons being added every few weeks, so consider your summer completely taken care of! Sign up for its free trial to get started.
MDA Virtual Explorers
Geared towards kids with disabilities between the ages of 8 and 17, MDA Virtual Explorers is offering courses that focus on cooking, music, fashion design, crafting, virtual scavenger hunts, and escape rooms. Parents are able to sign up for a week of camp at a time at absolutely no cost.
Nat Geo Family Camp
Last summer, Nat Geo Family Camp offered a free eight-part series for kids of all ages. Meant to help foster the same life skills as traditional camp does, the 2020 activities are still up to view now and will help to keep kids engaged all summer long!
Outschool
Kids ages 3 to 18 can spend all summer long learning through Outschool's virtual camp program, which begins June 21. Whether your children are interested in exploring space, want to learn how to draw portraits, or can't stop thinking about My Little Pony, there's truly something for every kiddo. Sign your kids up for these interactive Zoom classes and keep in mind that class prices vary.
Reading Rockets
Designed for kids ages 6 and up, Reading Rocket's free "Start with a Book" online program lets kids choose their own adventure by offering reading material, vocabulary exercises, and hands-on activities on topics like weather, planets, and stars.
Summer Passport to Digital Fun
Beginning June 1, Microsoft Store's Summer Passport to Digital Fun is bringing kids free and engaging digital skill classes all summer long.
Varsity Tutors
Kids between the ages of 5 and 18 can take advantage of Varsity Tutors's Summer Camp Program, which offers free half-day classes like, "Recycled Art," "Make Your Own LEGO Movie!," "Minecraft: Create Your Own World," and "Is it Ready Yet? Cooking 101." Camp starts on June 7!
The Wonder's Explorers Club
The Wonder's Explorers Club transports kids 5 and older around the world through its "Adventures with Emma" program. Each week, little ones can explore countries like Japan through live videos. Additionally, they can opt into classes like "Work in the Animal Observatory," where they'll learn all about ecology and marine biology from experts.