As POPSUGAR editors, we independently select and write about stuff we love and think you'll like too. If you buy a product we have recommended, we may receive affiliate commission, which in turn supports our work.
If your baby is starting solids and you're interesting in making your own baby food, leaning on a baby food maker can make your life much easier. They're not a necessity, but they can save you some major time and effort. Many baby food makers can steam and puree food, so you'll have less clean-up after the fact. They can also afford you some peace of mind, helping you ensure your purees are blended to the right, baby-friendly texture.
Baby food makers can also save you some significant change. If your child eats up to three, $2 jars of store-bought baby food a day, you're spending approximately $42 a week on their meals, which can add up. While baby food makers aren't always cheap, they can lead to savings in the long run. They may be a more eco-friendly option too, especially over baby food pouches, which are often not recyclable.
Plus, with reports of heavy metals being present in store-bought baby foods, some parents simply feel better knowing exactly what goes into their little one's meals.
The TLDR is: baby food makers make it easier for you to meal prep homemade baby food, helping put parents back in control at meal time. But with so many options on the market, it can be hard to know what's actual worth it. So, we rounded up the best baby food makers that will cater to your and your child's specific needs.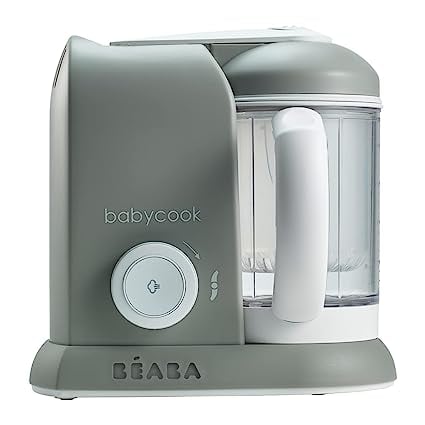 Best Overall Baby Food Maker
Beaba Babycook 4 in 1 ($155)
As one of the most beloved and well-known brands, Beaba is a leading force in the baby food maker industry. For our overall favorite pick, we've chosen the Beaba Babycook 4 in 1 machine that not only pulse blends concoctions for your baby, but steam cooks, defrosts, and reheats. This machine really has it all, including options for chunkiness and smoothness to cater to your baby's needs and tastes.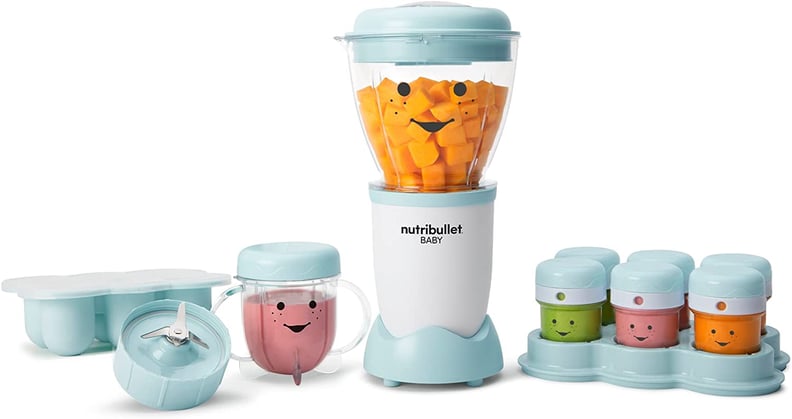 Best Baby Food Maker With Storage Accessories
NutriBullet Baby Complete Food-Making System ($70)
We all know and love our own NutriBullet systems, especially for our on-the-go smoothies, so meet the mini NutriBullet baby food maker that easily blends an assortment of foods into easily digestible and delicious baby food. This specific model comes with an array of accessories for easy meal prep, including 6 storage cups with lids, a freezing tray, and a 12-ounce short cup with handles for an easier grip for your baby. Worth noting: it blends only, and doesn't cook.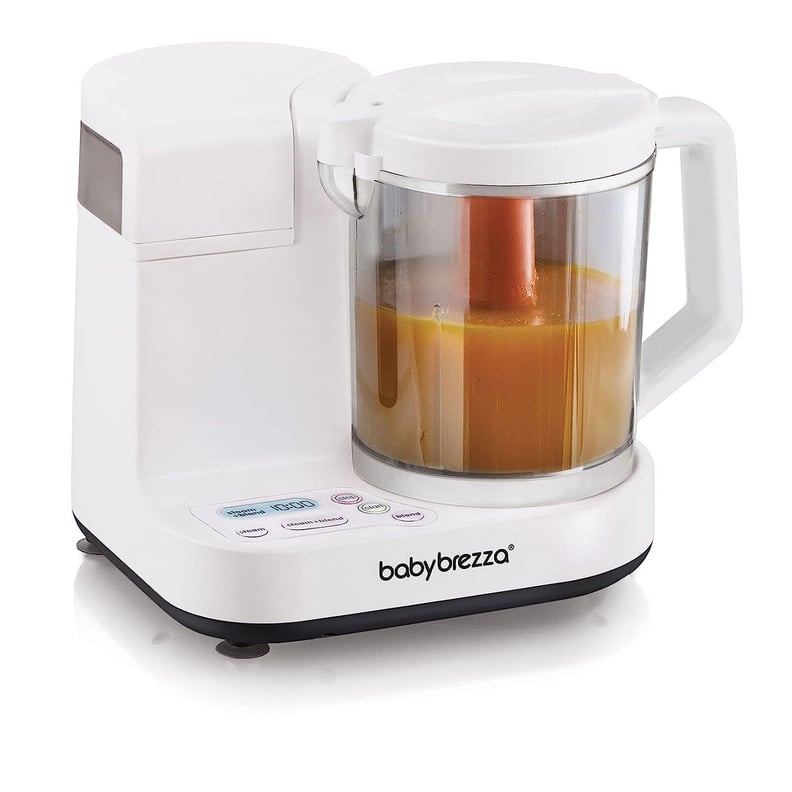 Best Plastic-Free Baby Food Maker
Baby Brezza One Step Glass ($200)
For those of us avoiding plastic, the Baby Brezza offers the only glass food processor on the market. "My baby can start a clean, healthy lifestyle because I am making his first foods from scratch," says one Amazon five-star reviewer.
It's not just environmentally friendly, though. This machine will steam and blend food, for a truly one-step process. (It also lets you steam only and blend only.) And you have the option to create a true puree, a mash, or a slightly chunky finished product. We also love that it makes four cups at a time, for easier meal prepping.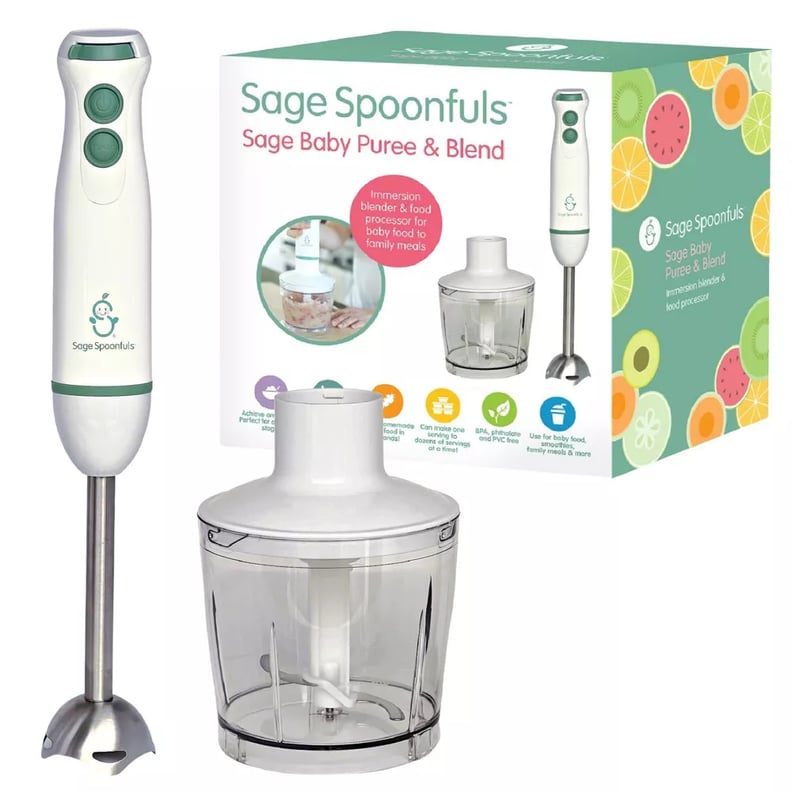 Most Affordable Baby Food Maker
Sage Spoonfuls 2-1 Baby Food Maker ($50)
For our most affordable pick, we've chosen Sage Spoonfuls 2-1 Baby Food Maker, which, with simple, hand-held mechanics, allows you to either blend or puree your baby's favorite foods. The set comes with a baby food immersion blender with an attachable base for tougher processing. The best part? The processor attachment is 100% dishwasher safe for hassle-free clean-up.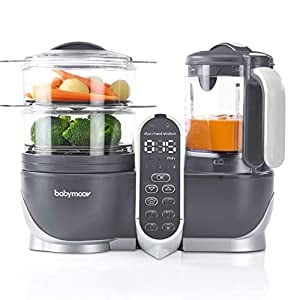 Best Baby Food Maker For Meal Prepping
Duo Meal Station Food Maker 6 in 1 Food Processor ($180)
Now here's a gadget that's really got it all: the Duo Meal Station Food Maker 6 in 1 Food Processor comes with two steamer baskets and a three-speed blender so you can get up to a week's meal prep done for your baby in one fell swoop. With this bad boy, you can cook, blend, warm, and defrost your food as well as warm and sterilize bottles. This reduces the need for other, cluttering machines, and with dishwasher-safe, BPA-free (and lead and phthalate-free) attachments, you won't have to worry about clean-up or nasty chemicals.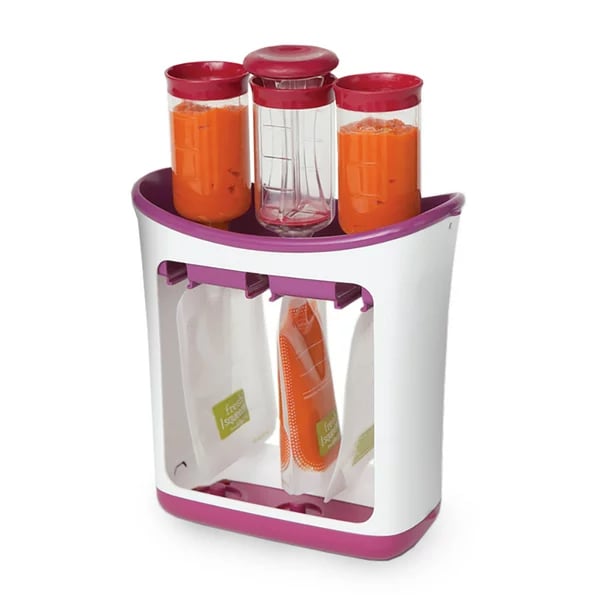 Best Baby Food Maker for Squeeze Pouches
Infantino Fresh Squeeze Station ($30)
These days, squeeze pouches are all the rage for their portability and mess-free ease. The Infantino Fresh Squeeze Station is the perfect solution to making squeeze pouches at home. With a hassle-free squeeze station replete with three tubes, a press, and 10 disposable squeeze pouches, you will know exactly what your child is eating and how it was made.
To make this product more environmentally friendly, use washable and reusable squeeze packets, like the WeeSprout Double Zipper Reusable Food Pouch ($11 for six), which commenters say fit the Infantino machine just fine.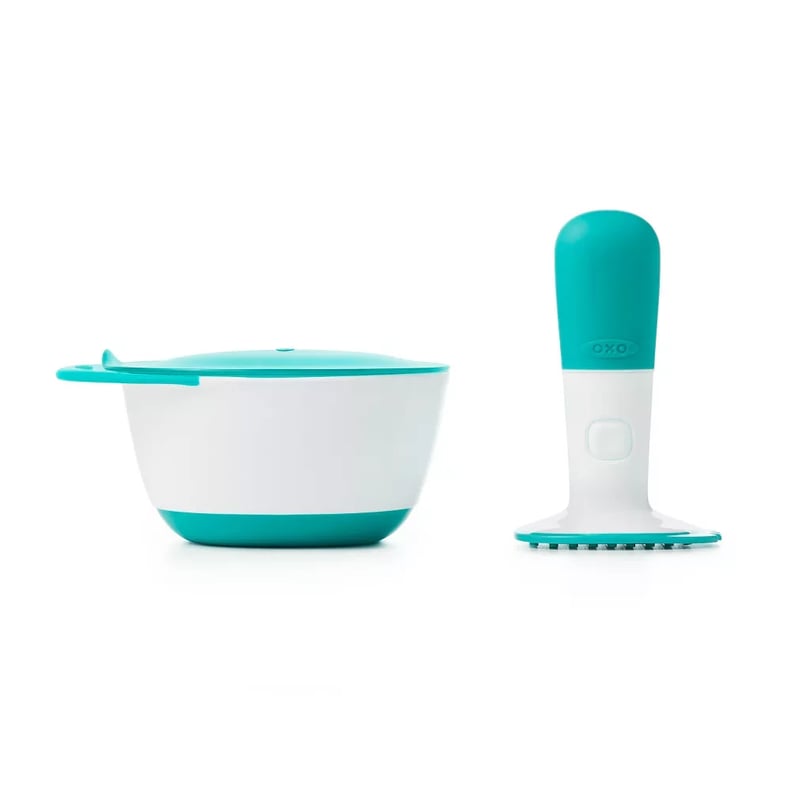 Best Handheld Baby Food Maker
OXO Tot Food Masher ($12)
Let's face it — not all of us need the fuss and frills that electric baby food makers offer. Our kitchen can already be loud and hectic, and with a little one running around, sometimes the traditional is the better option. The OXO Tot Food Masher is the perfect choice for simple and easy mashing, and as this product is Phthalate, PVC, and BPA-free, you can rest assured that no unnecessary chemicals are leaching into your child's meal.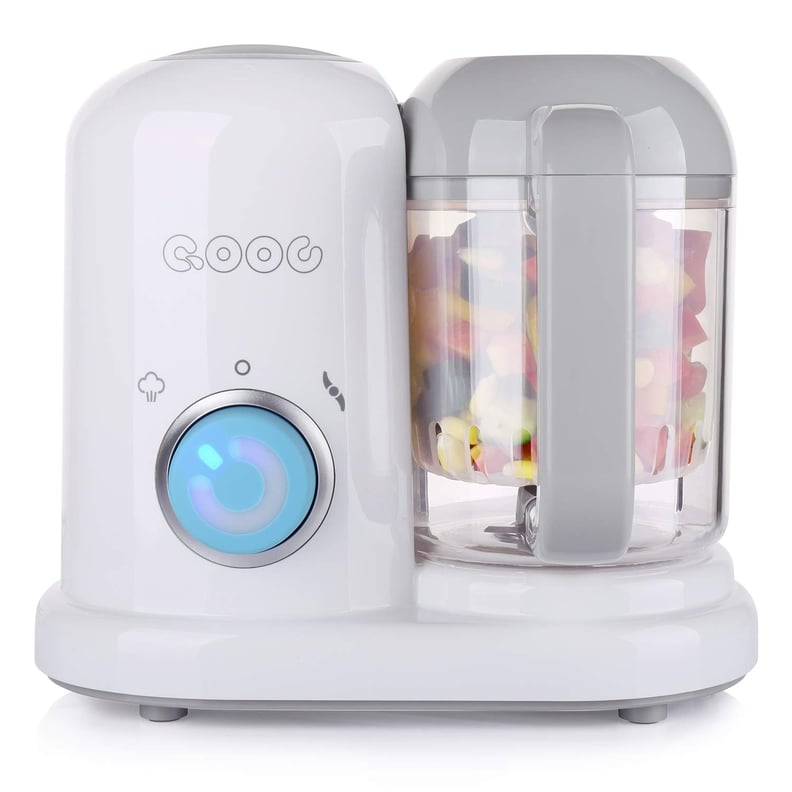 Best Baby Food Maker for Small Spaces
OOOC 4-in-1 Mini Baby Food Maker ($70)
Not all of us have kitchen space in spades. For those of us with limited counter space, we recommend this baby food maker, which, despite its smaller size, is just as powerful as any other baby food maker on the market. Steam, blend, defrost, and reheat food in a cinch in half the space, and without the noise — the company proudly claims that "there is no noise while using the steam and blend function." Plus, it's easy to use one-handed while carrying a baby around the kitchen.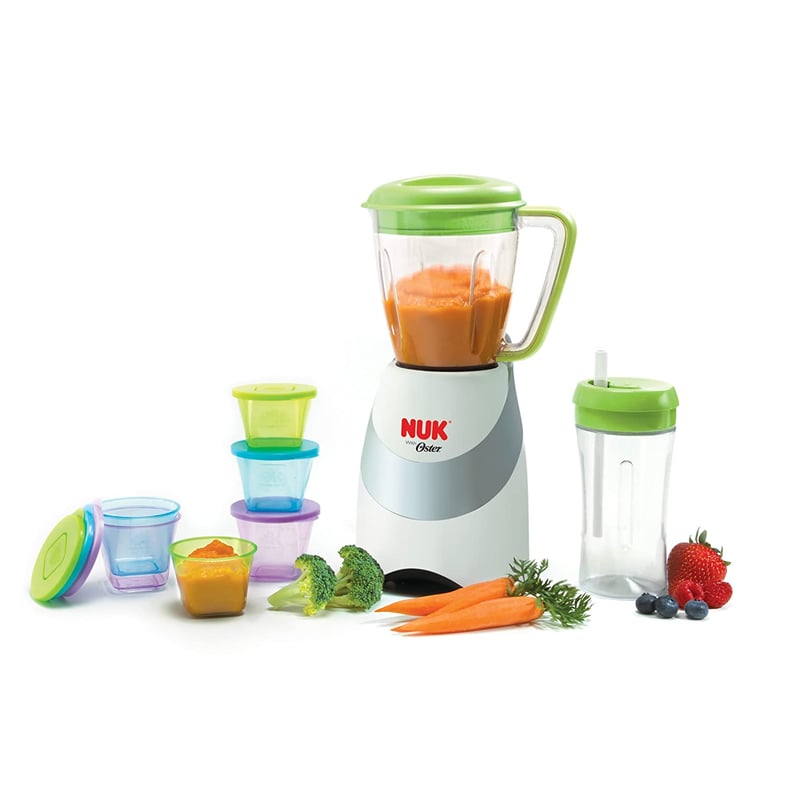 Best Baby Food Maker for You and Baby
NUK Smoothie and Baby Food Maker ($53)
We can't forget about the mamas and papas who watch over baby 24/7 — we need treats too! The NUK Smoothie and Baby Food Maker makes baby food and delicious smoothies for those who need a nutritional kick in the middle of our hectic day. With a smoothie sippy cup — that adults can use too — and storage containers for easy freezing, this blender is the perfect option for loads of different meal prep options.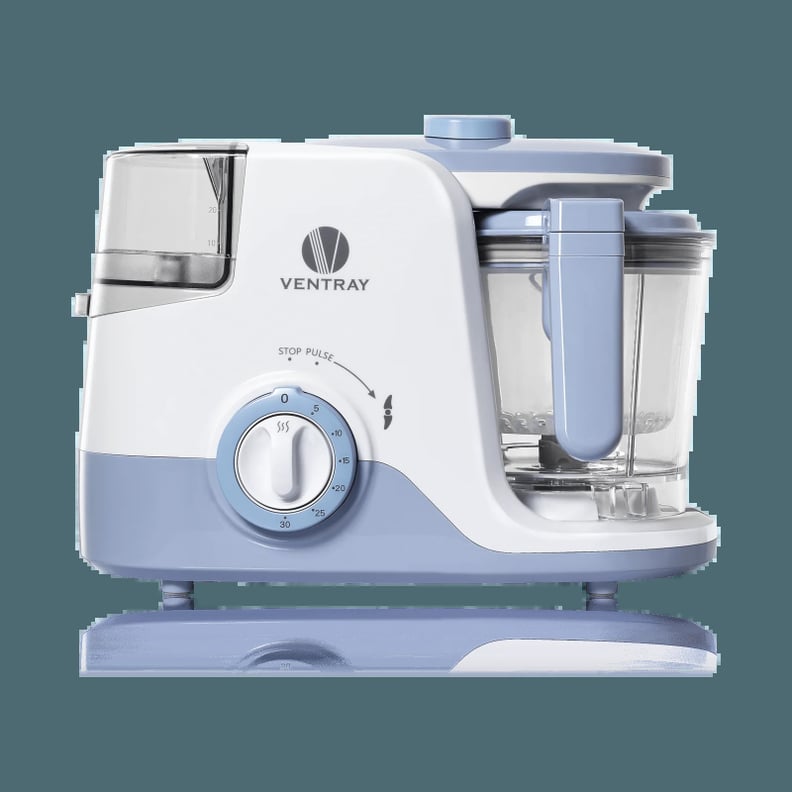 Best Baby Food Maker for Precision Blending
BabyGrow Elite Baby Food Maker ($200)
The BabyGrow baby food processor allows you to make healthy food for your child. It operates as an all-in-one baby food processor that allows for steaming, defrosting, and blending. A larger 750 ml blending jar lets you blend a great volume of ingredients at once, too.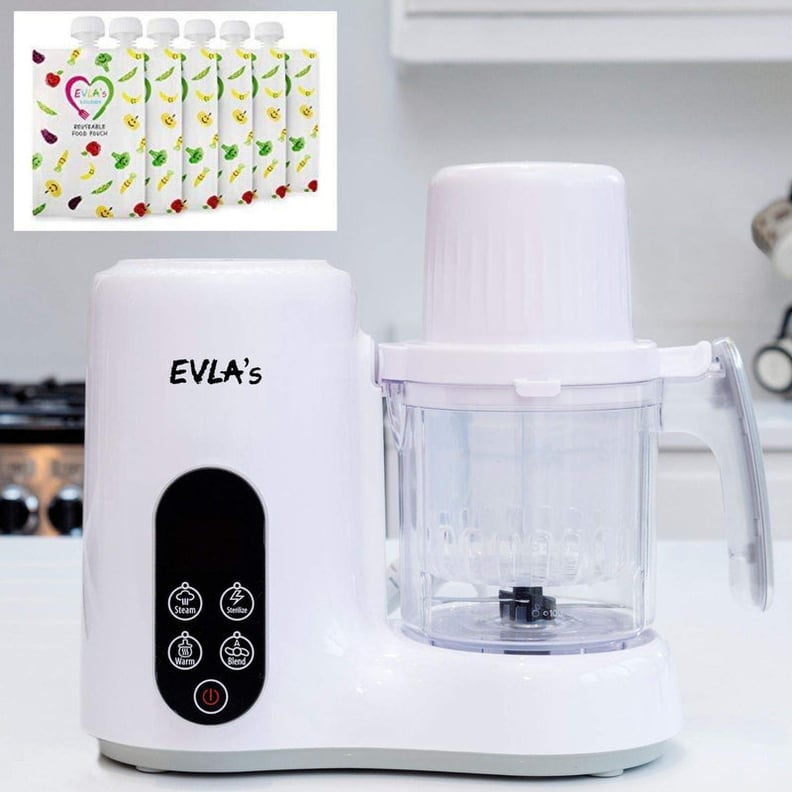 Best Baby Food Maker With a Bottle Warmer
ELVA'S Baby Food Maker ($149)
This dishwasher-safe baby food maker offers a range of functions, including steaming, blending, reheating, and even defrosting. We like it because it comes with two steaming baskets to allow you to cook two ingredients simultaneously. That lets you cook multiple meals at once, the ultimate pro in baby food meal prep. And it also comes with a baby bottle warmer, to cut down on kitchen gadget clutter.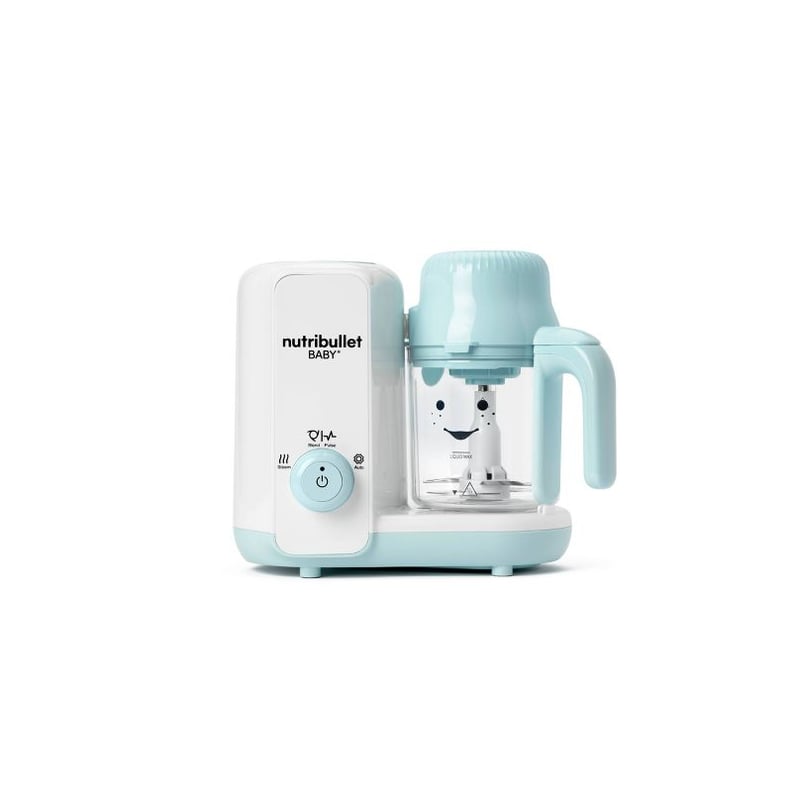 Best Sanitizing Baby Food Maker
NutriBullet Baby Steam and Blend Food Processor ($99)
New parents become much more aware of how important it is to keep things clean once they have a little one around. This BPA-free baby food maker cleans like a dream. The Work Bowl and lid are top-rack dishwasher-safe, and the blade wipes clean with soap and water.
This option combines the functionality of a cooking pot, steaming basket, and blender into one compact system, majorly helping you cut down on cleanup time. Plus, it's compact so it is a great option for those with limited kitchen space.