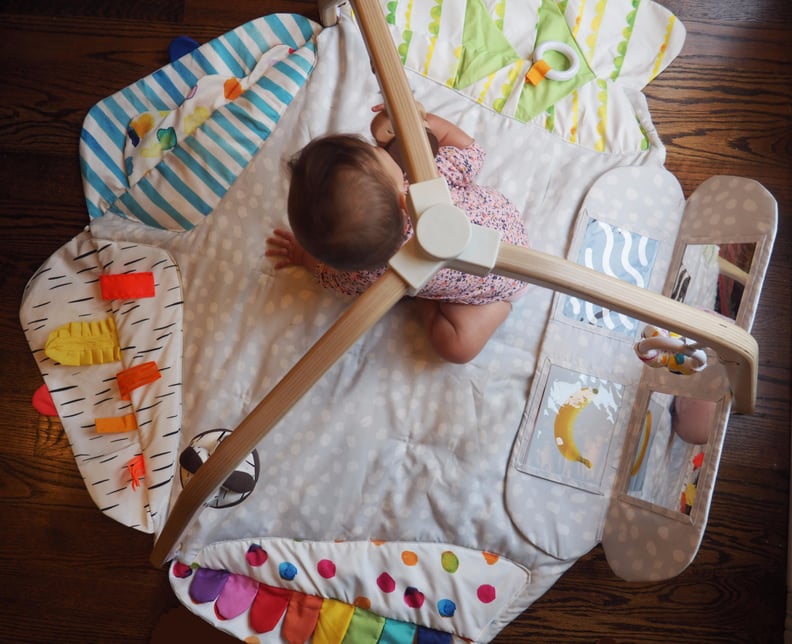 POPSUGAR Photography | Kate Schweitzer
POPSUGAR Photography | Kate Schweitzer
As POPSUGAR editors, we independently select and write about stuff we love and think you'll like too. If you buy a product we have recommended, we may receive affiliate commission, which in turn supports our work.
It was one of those first few days home from the hospital with my newborn baby that I remember thinking, "What am I supposed to do with her?"
I figured out how to feed her, and I knew to give her plenty of naps, but it was those wakeful moments in the day — that grew longer and more frequent with each passing week — that left me feeling paralyzed. This was crucial time for early brain development, and I was squandering it!
As an anxious, do-gooding millennial mom, I would plop her down on the rainbow-colored, safari-themed play mat I'd gotten at my baby shower and scatter a bunch of plush toys around her . . . and then search Google for answers. Often, the results were overwhelming. One day, I'd panic that I hadn't been doing enough to boost her, say, fine-motor skills and then submit her to a baby grasp-the-rattle boot camp, and the next day, I'd freak out about how someone like me, with no experience or background, was supposed to introduce gross-motor or language or sensory stimulation.
After just a week, I'm already trying not to feel guilty about the amazing things my baby (and I!) could have done with this mat months sooner.
Turns out, Jessica Rolph had the same frustrations when she was a new mom. "I was dissatisfied with the toys we had, and then I thought about the play mat," she told POPSUGAR. "It has so much potential to be a platform for learning for the first 12 months, but I wasn't happy with what was on the market."
So she created her own, The Play Gym by Lovevery ($140), which was designed by a team of experts and pediatric neuroscientists.
When it debuted, I immediately gave it a test-drive with my second baby, who was 8 months old. After just a week with it in our living room, I'm already trying not to feel guilty about the amazing things she (and I!) could have done with this mat months sooner. Unlike my previous play gym, which I now realize was the definition of overstimulation, this one is exactly what a baby needs at each stage of the first year of life.
It's playtime with purpose, grounded in science. (Plus, the sustainably sourced wooden legs and gorgeous watercolor design are tailor-made for Instagram.)
You might still be thinking, "It's just a play gym!" I promise you this one is so much more — it's both beneficial for babies and profoundly helpful for today's eager parents. Read on to better understand why.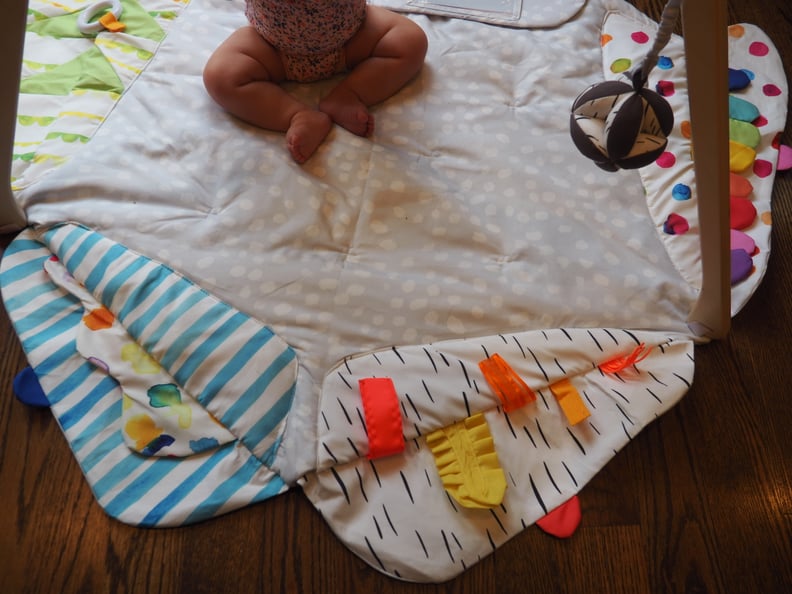 The Mat
In addition to the requisite hanging "batting" toys, the spacious mat has five different developmental zones, or flaps, at each edge. Each one offers an array of essentials for each of your baby's learning stages, providing for what they want to see, touch, and explore as they grow.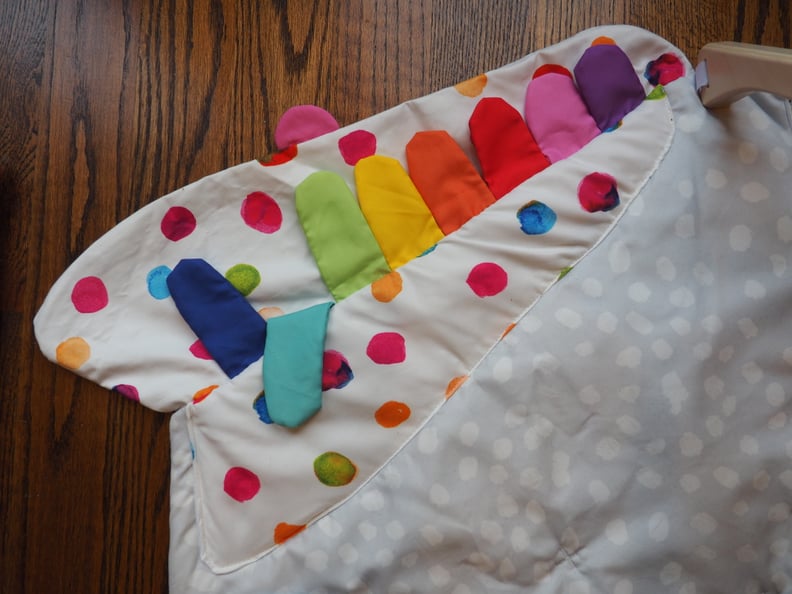 The "Exploring Colors" Zone
The rainbow is on full display here.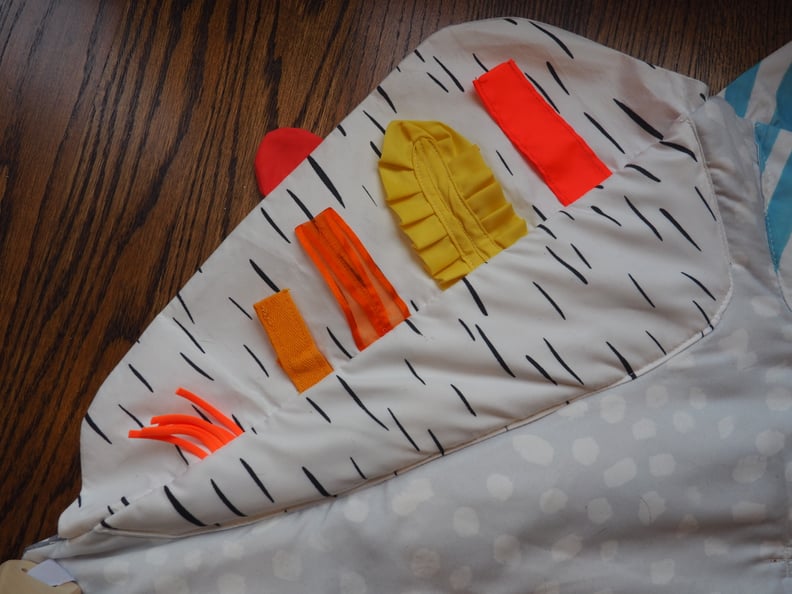 The "How Things Feel" Zone
Five tags — all made of different materials and textures — provides tactile stimulation.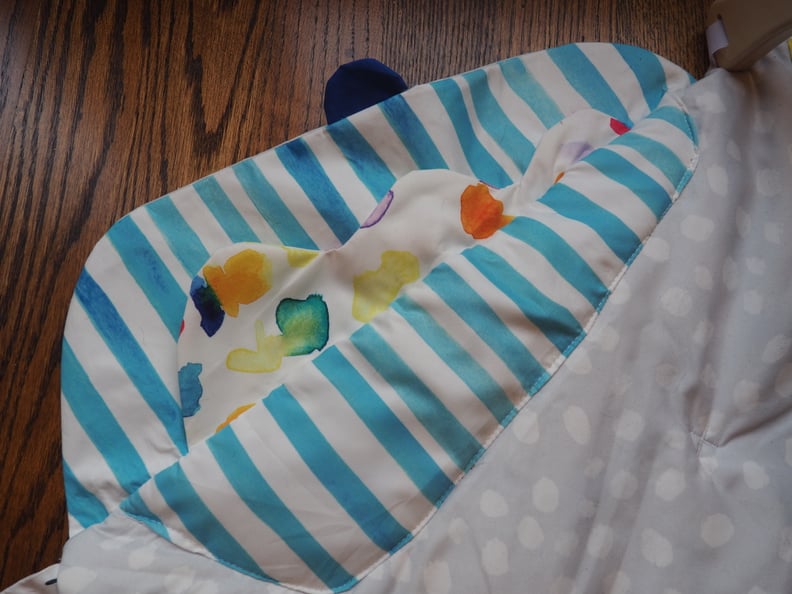 The "Making Sounds" Zone
Little hands can crinkle fabric and push on embedded squeak toys.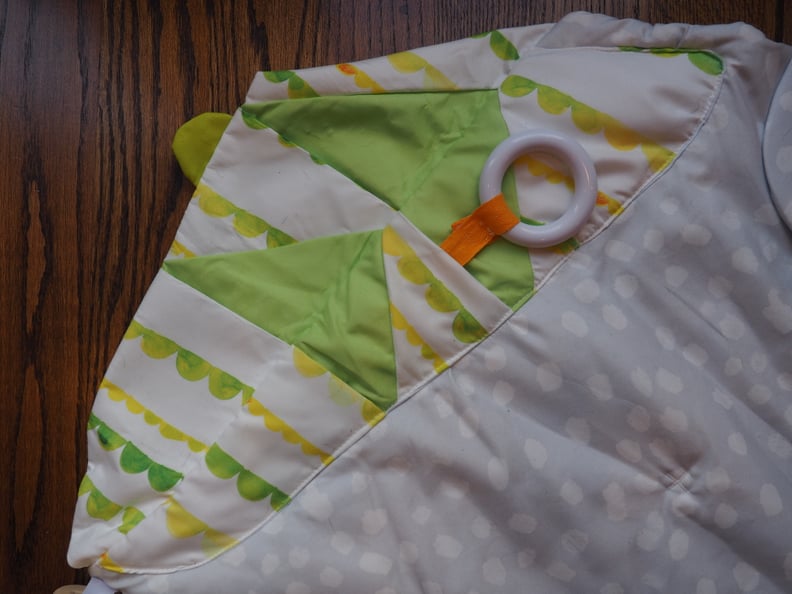 The "Hiding & Finding" Zone
This flap is made up of several differently sized pockets to hide toys, including the attached teething ring.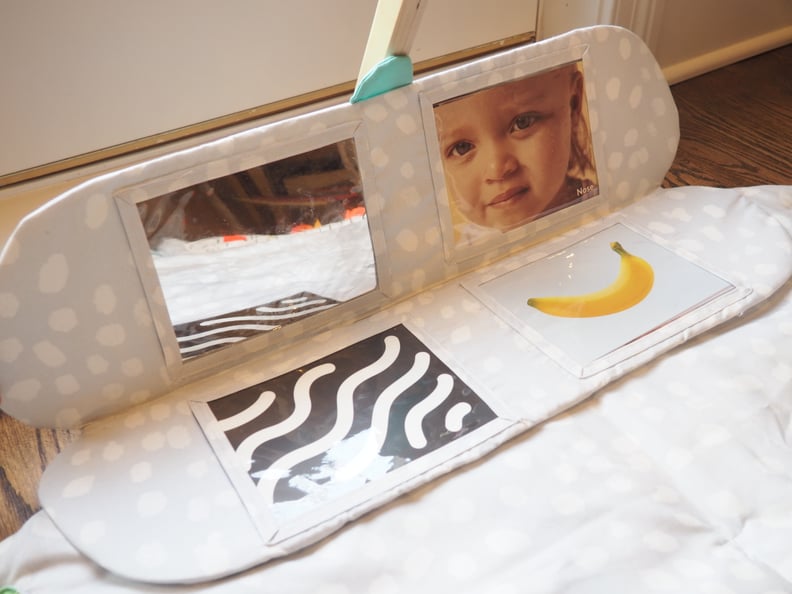 The "Learn to Focus" Zone
Perhaps the most engaging flap, this removable piece has four "windows" that store a series of different cards that come with the play gym. There's a set of black-and-white cards for those first few weeks when newborns can only see in high contrast. There's a set of body cards that show different body parts, like mouths and noses. There's also a set of "object" cards, like a banana, a beach ball, an avocado — the idea, too, is that you can add photos and your own DIY flash cards to make it more personalized. Finally, there are two mirror cards to let babies look at themselves.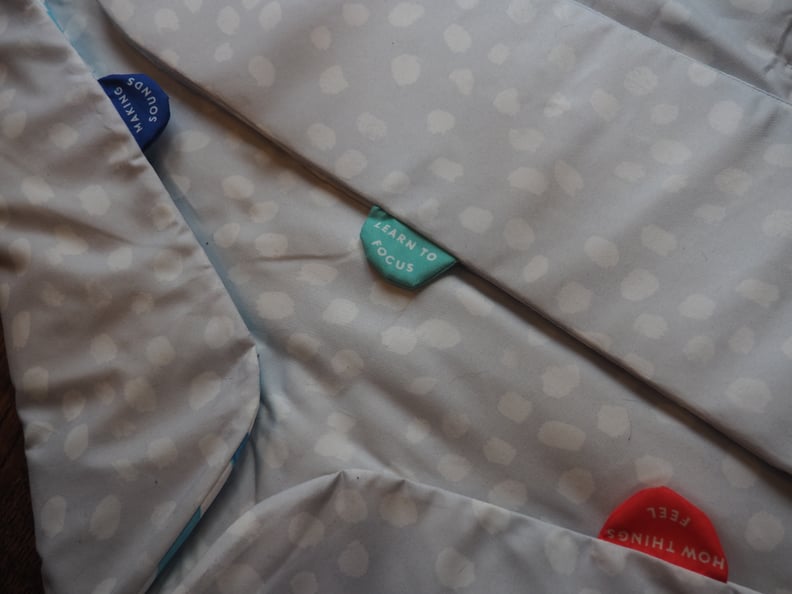 Its Concealable Flaps
If that all seems like a lot, you're right. That's why Jessica, the creator, was passionate about creating the edges as foldable flaps that can be concealed when not in use and revealed when you want to focus on that experience.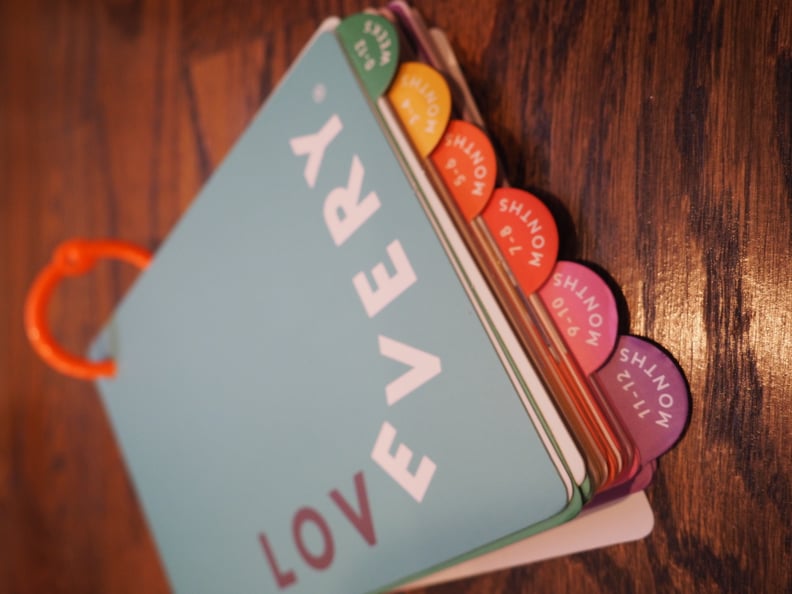 The Activity Guide
Included with the mat is a gorgeously designed activity guide. Yep, for once, parenting does come with a user's manual — and this one is actually a fun, easy read! Broken down by months, it's filled with stage-based activities created by child development specialists.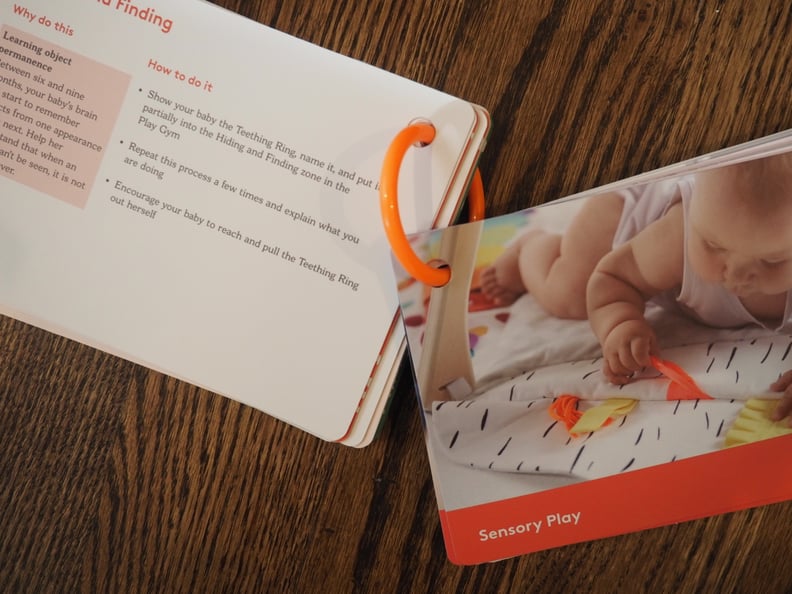 Because my baby started using the play gym late, I was able to jump right to the "7-8 Months" tab and flip through to find activities that fit her current needs alongside easy-to-digest information on why that particular activity is important and a step-by-step list of how to do it.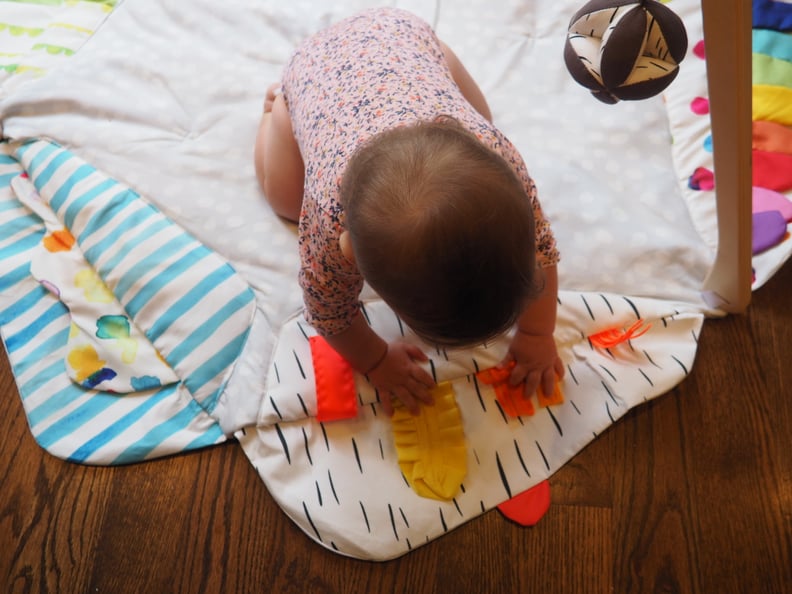 Here's my baby, having some serious stage-based fun.
The Play Gym by Lovevery
Hit play to see it in action and get a better sense for how the concealable flaps work for each of the five zones. Plus, you can peep the included play space cover that can turn your play gym into a play tent, which extends its life to toddlerhood.
The Play Gym by Lovevery ($140) price tag is definitely at the tip-top of the going rate for play gyms (my previous one was $60), but I truly think it's worth it. All the others are essentially just floor mats with a few battery-operated bells and whistles that don't empower parents the way this one does. With this, you really don't need other "developmental" toys or add-ons to make it grow with your little one. It's a one-stop destination for everything your kid needs, other than eating and sleeping . . . but maybe the experts at Lovevery will figure out how to include those in its next model.