Every editorial product is independently selected by our editors. If you buy something through our links, we may earn commission.
When it comes to the holiday season, the majority of us — myself included — have an endless appetite for Christmas lights. No matter if it's the traditional multicolored mini strands or the retro-inspired incandescent bulbs, I say: the brighter, the better! Yet with so many options these days for radiant illumination, making your selection can become quite the challenge.
After spending countless hours in the deep, dark trenches of the internet, we've rounded up the absolute best Christmas lights for you to decorate your home in seasonal style. Whether you're seeking teeny-tiny, twinkling fairy lights, energy-saving LEDs, or battery-operated glows, ahead are 12 highly rated options guaranteed to help shine your way into the new year.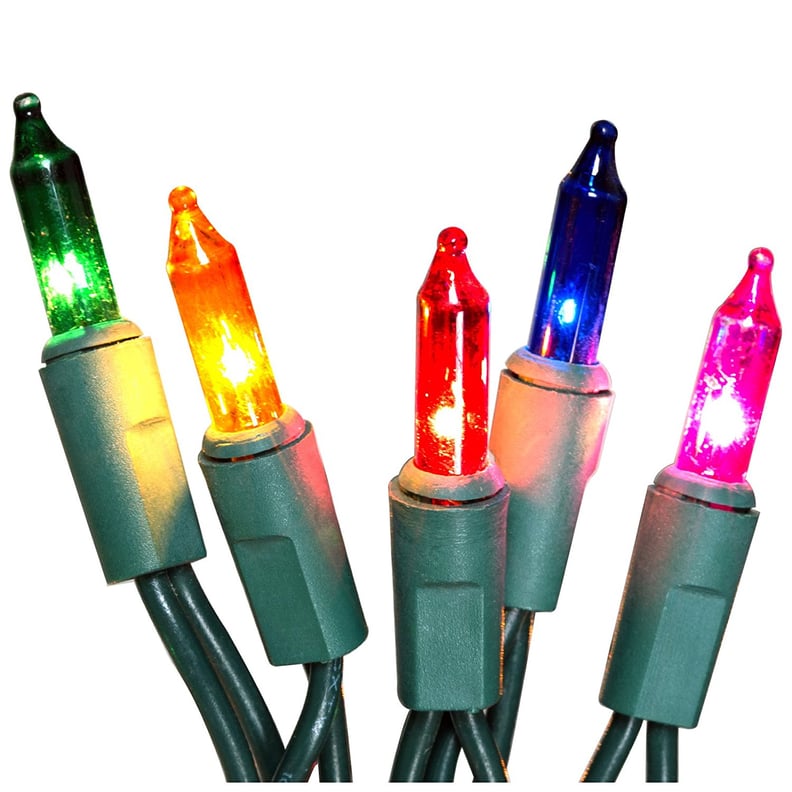 Traditional Mini Multi-Colored String Lights
Now, what would a roundup of Christmas lights be without a traditional, good old-fashioned multicolored light string? There's no question this 300-Count Mini Multi-Colored Christmas Light Set ($17) will spread holiday cheer throughout your entire home. And the best part? These sparkling bulbs come in a variety of colors (like all white or all blue) and can be used indoors and outdoors.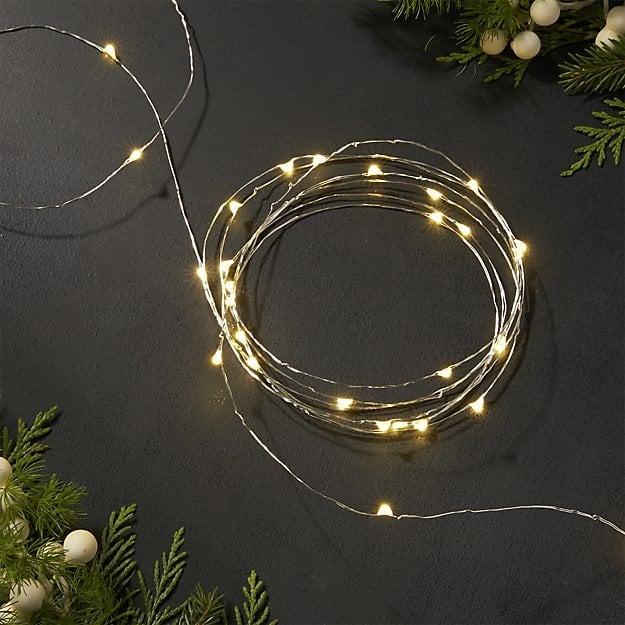 Twinkle Silver String Lights
Not only are these Twinkle Silver 10' String Lights ($13) highly rated, but they're extremely versatile, too. Whether you wrap this slender silver wire around your tree inside or your shrubbery outside, these tiny twinkling lights will create a soft, elegant glow. Plus, they're battery-operated, making them even more convenient for your holiday decor.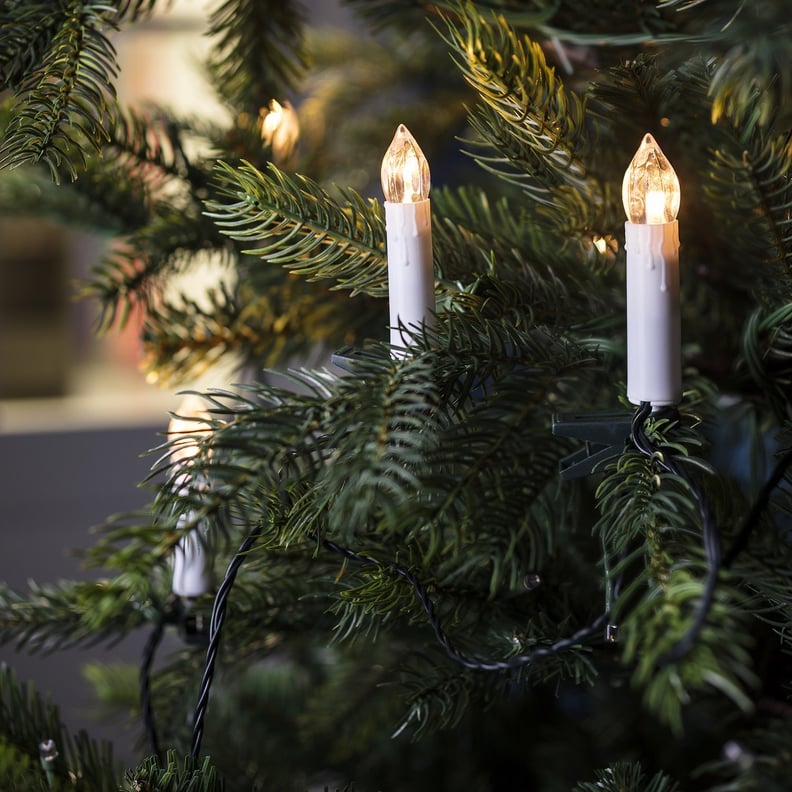 Flameless Candle String Lights with Tree Clips
For a timeless look, consider this beloved set of 50 Warm White LED Flameless Candle String Lights With Tree Clips ($40). Because each candle is attached to a small plastic clip, this strand of lights is easy to use and will add a touch of splendor and charm to your tree. Yet be sure to note these lights can only be used indoors.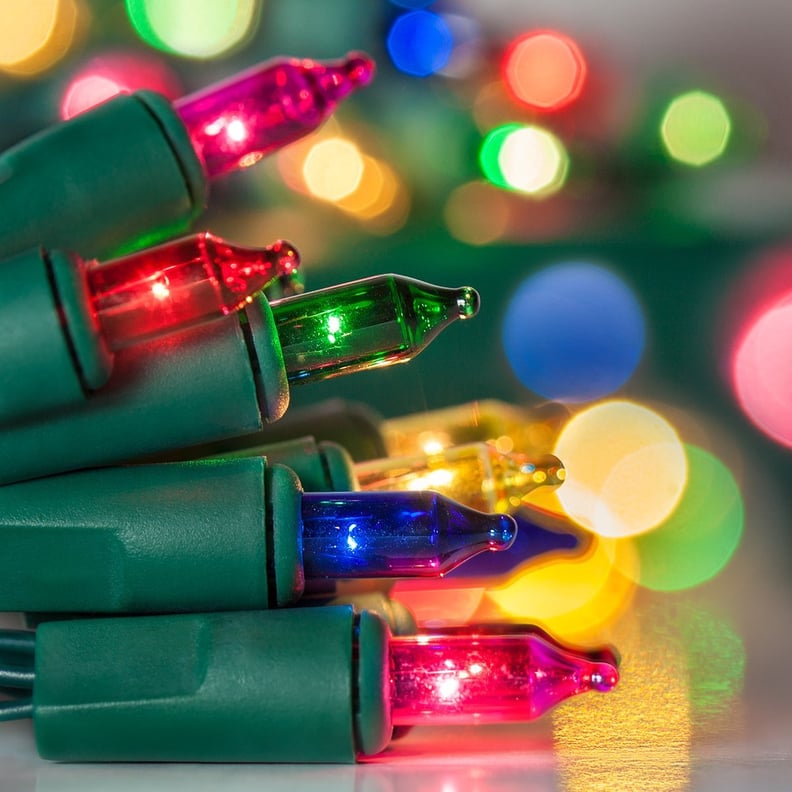 Multi-Colored Musical Lights
For around-the-clock seasonal cheer, you simply can't go wrong with this set of 140 Multi-Colored Musical Christmas Lights ($24). These traditional string lights play 25 classic holiday songs — including favorites such as "Silent Night" and "Rudolph the Red-Nosed Reindeer" — and the bulbs have a long-lasting 25,000-hour average lifespan. Just make sure to contain the fun inside, as these lights are for indoor use only.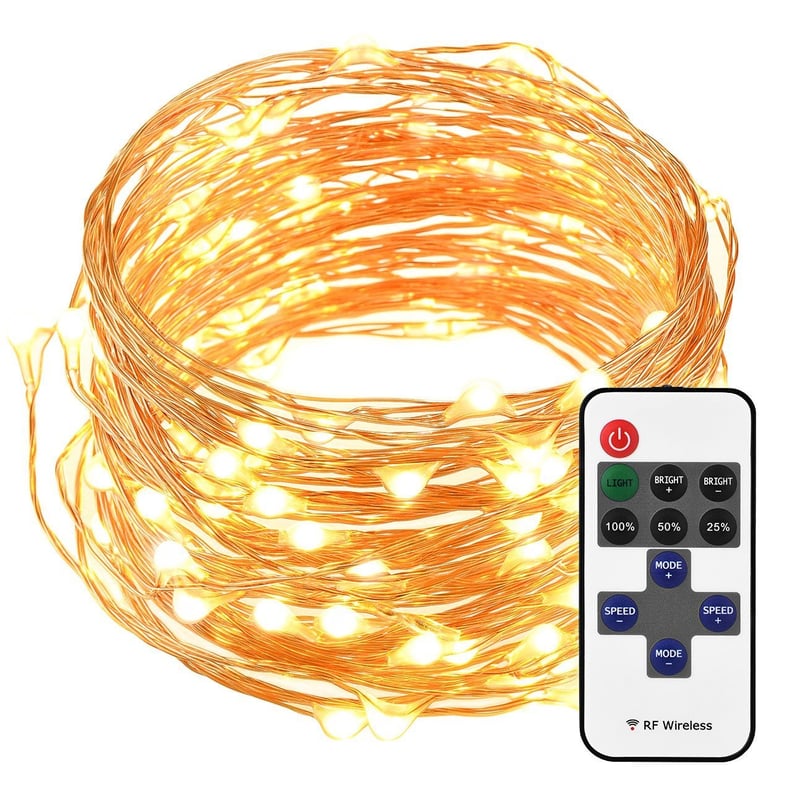 LED Waterproof String Lights With Remote Control
Bendable, dimmable, and waterproof: this bestselling 33-foot set of 100 LED String Lights ($15) makes decorating for Christmas look easy. Plus, this strand includes a remote control with a distance of 49 feet, so you can adjust the brightness from near or far.
If colorful lights are more your jam, here's a similar highly rated indoor-outdoor option.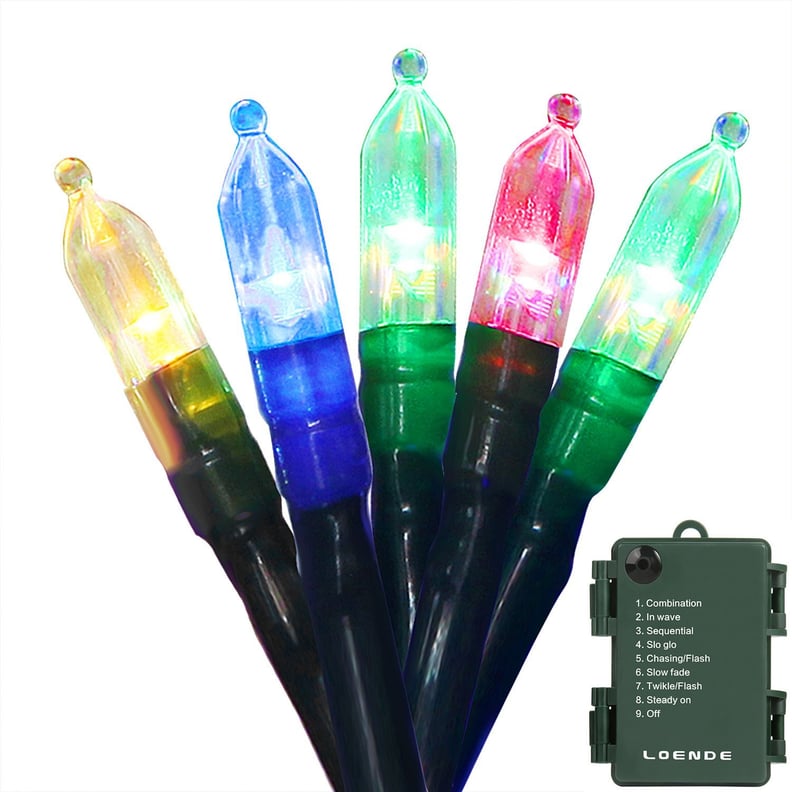 Battery-Powered Multi-Colored String Lights
There's no need to worry about messy extension cords with these Battery-Powered 50-Count Multi-Colored String Lights ($12). Thanks to a brilliant time controller, you can select between eight light modes and even leave your tree lit for up to 18 hours. Did we mention these lights also have indoor-outdoor use?
Warm White LED String Lights
Thanks to a three-year warranty, these Warm White LED Christmas Lights ($10) might just become your new favorite lighting source. With superior brightness, a soft, warm white color, and indoor-outdoor use, there's no surprise why these have quickly become the most popular LED lights on the market.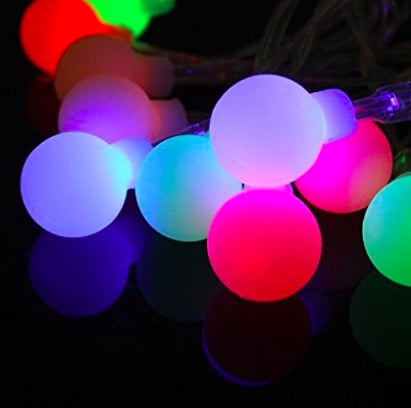 Frosted LED Multi-Colored Globe String Lights With Remote Control
If you're seeking a frosted look to top off your holiday decor, this set of 50 Frosted LED Multi-Colored Globe String Lights ($12) has you covered. Thanks to the wireless remote control with eight light modes and an automatic timer, these lights are a spectacular choice for both indoors and outdoors. Plus, this set includes 10 self-locking plastic pieces, making it extremely easy to place these lights in trees, shrubbery, wherever.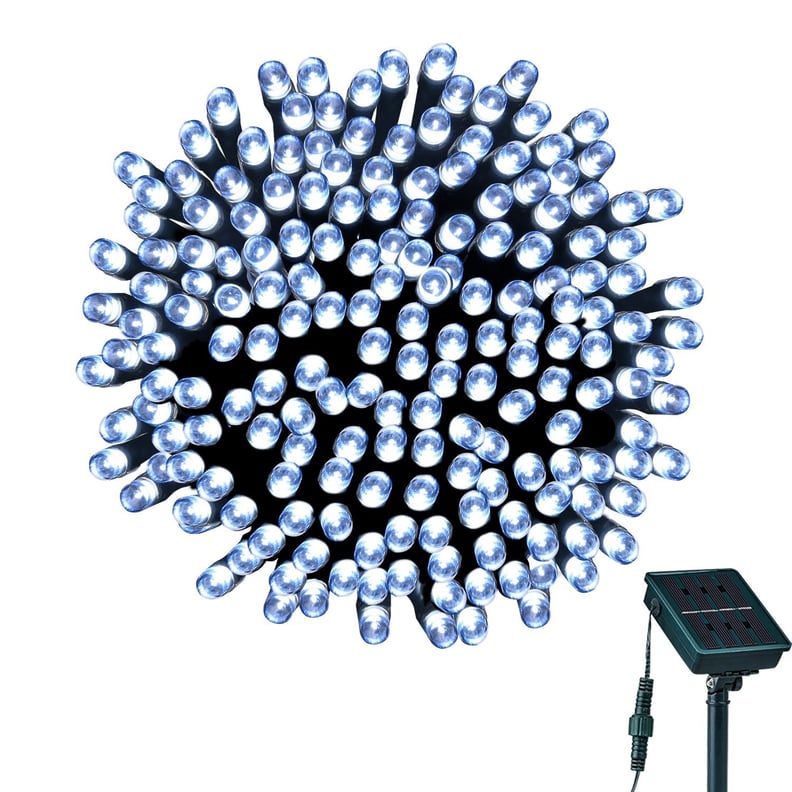 Solar-Powered Waterproof String Lights
Although battery-operated strands and remote controls work wonders, nothing can compare to this set of 200 LED Solar-Powered String Lights ($11). On full charge, these lights can be used for eight hours, so you can officially say goodbye to the high electricity bills during the holidays. And because this strand is waterproof, you can use it both indoors and outdoors.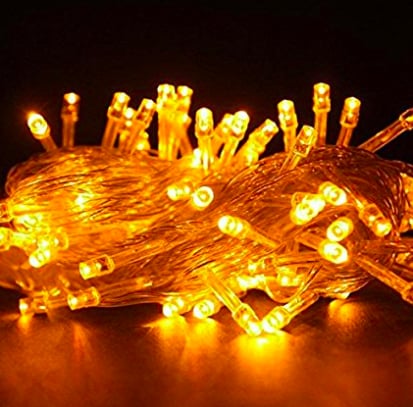 LED Fairy String Lights
What makes this set of 100 LED Fairy String Lights ($9) so unique is their control box that offers up to eight different modes. Whether you want your lights to flash, twinkle, come on in waves, or have a slow fade, you can do it all with this energy-saving strand. Plus, these highly rated lights are waterproof and come in various colors.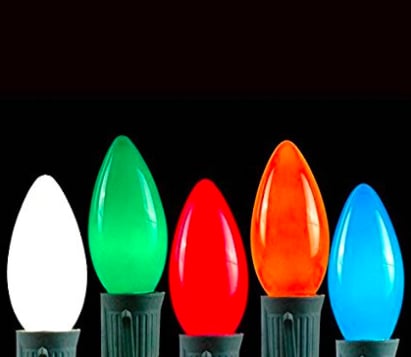 Multi-Colored C-Bulb Ceramic String Lights
Nothing screams retro-inspired holiday decor quite like this set of Multi-Colored C-Bulb Ceramic String Lights ($11). This novelty strand of incandescent bulbs will provide a vibrant, festive look and can also be used indoors and outdoors. Plus, you can choose from single-colored strings — such as all red or all green — too.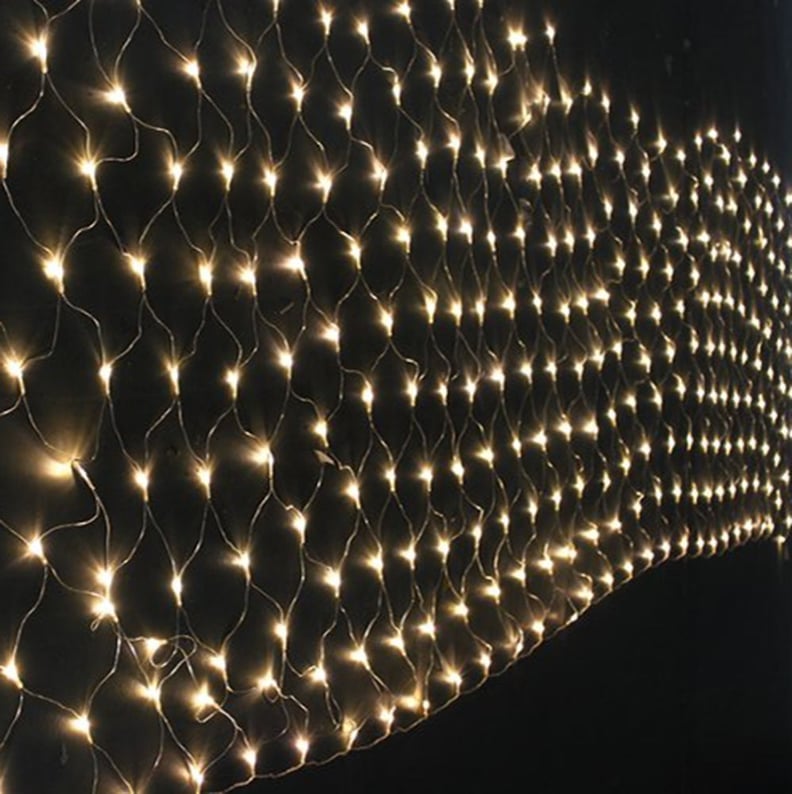 Net Style Fairy String Lights
If you're one who tends to struggle with getting Christmas lights untangled, you might want to opt for this cherished set of 204 LED Net Style Fairy String Lights ($23). While these lights are mostly used outdoors, they can also be used inside on your Christmas tree. A strand of lights that saves time and unnecessary frustration — that's a win in our book!