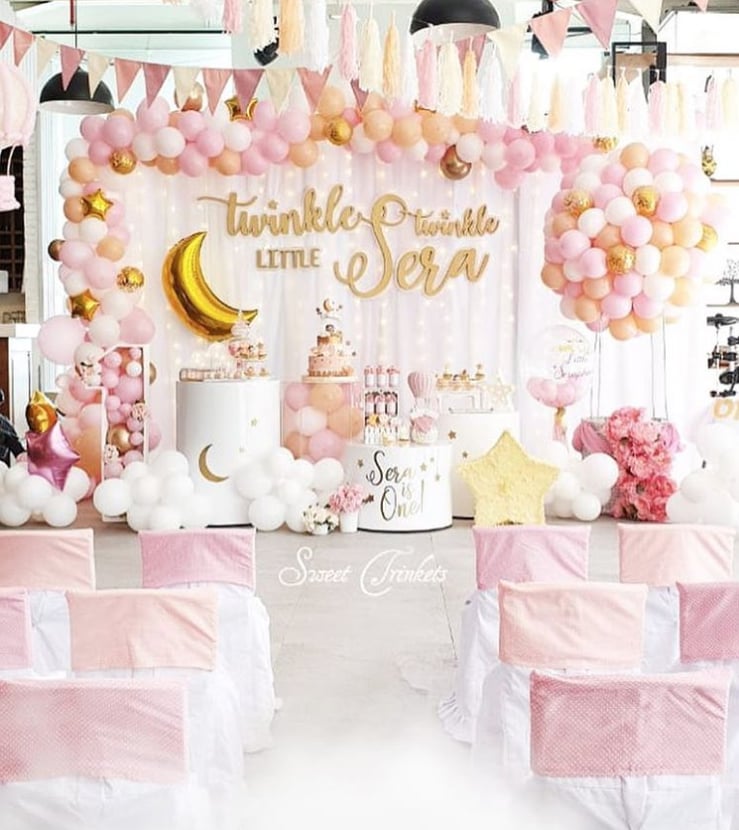 Holy moly! Your little bundle of joy is turning 1! Talk about a milestone. Now it's time to batten down the hatches and start planning your baby's first birthday party. But where exactly do you begin? With an incredible theme, of course. Although there's something to be said for keeping the shindig low-key, it's also nice for the entire soirée to have the same look and feel. Feeling stuck in the mud when it comes to getting started with the planning? Whether you plan to go the "Twinkle, Twinkle Little Star" route or want to dive into a sweet circus party, there's no shortage of adorable options for your baby's big day. Read through to get a look at some of our favorite themes, and prepare to get inspired!
01
Sun and Moon
A clean take on this celestial theme is calm enough to put your little one to sleep. We're loving the gold accents that add a pop of color.
02
Disney
Yes, you can throw your baby a Disney party without splashing Mickey's face everywhere. This subtle take on all things Disney is perfect for your mini me's big day.
03
Teddy Bears
There's just something soothing about your kiddo's favorite stuffed animal. And the most classic spin on your son or daughter's new BFF? A teddy bear, of course!
04
Hot Air Balloons
Up, up, and away is the name of the game with this whimsical theme. Use white and blue balloons to make the "sky" that the balloons float through.
05
Sesame Street
If your baby can't get enough of Elmo, Cookie Monster, or Oscar the Grouch, throw them a colorful Sesame Street party that honors their favorite show.
06
Unicorns
Surprise, surprise, this mystical trend isn't going anywhere! Add pastel balloons and a horn to the cake to really drive the theme home.
07
Winnie the Pooh
Which way to the 100-acre wood? Celebrate your child's special day with his best friends by his side. Don't forget the honey!
08
Where the Wild Things Are
Where the Wild Things Are has been a favorite for generations, and frankly, it makes an amazing theme for a first birthday party. Adding a little greenery takes the tablescape up a notch, don't you think?
09
Twinkle Twinkle, Little Star
Yes, lullabies can be transformed into party themes! This gorgeous "Twinkle Twinkle, Little Star" lets you take the color scheme in any direction, and we can't knock on that type of flexibility.
10
Circus
A playful circus theme chock-full of sweet animals and bright colors will certainly make your photos pop.
11
Camping
Just because your infant can't quite pitch a tent yet doesn't mean they can't live it up during a camping-themed shindig. We're loving how these hosts used logs for seating.
12
Mermaids
Can't get enough for this sea-dwelling creature? Throw your little princess a mermaid party before she can actually swim.
13
Jungle
Lions and monkeys, oh my! This sweet first birthday theme is full of wild animals and hopefully delicious desserts.
14
Dinosaurs
Take a walk on the wild side with a theme that's sure to earn a roar or two. We're loving how life-like the dino head is and the ferns are arguably the perfect touch.
15
Renaissance
Go back in time to a period where knights, kings, and queens reigned with a royal-themed party that's sure to wow. All you need is a suit of armor.
16
Flamingoes
This over-the-top pink party theme is perfect for mamas who want to kick back and relax.
17
Dumbo
The latest Dumbo remake is sure to draw tons of people to the theater. Why not capitalize on the moment by doing your child's first birthday in the same theme?
18
Alice in Wonderland
This sweet Alice in Wonderland party is pretty with a touch of crazy thanks to the Mad Hatter and the Queen of Hearts.
19
Cacti
This prickly theme is great for celebrating your baby's big day. Plus, the plant makes for supercute party favors once the soirèe wraps up!
20
Clouds
Talk about light and fluffy! This sweet theme is great for little ones who would rather be napping than at their own party.
21
Baby Shark
Because you might as well lean into the trend no matter how much the song irks you, right?!