Party Time! 45 Creative Ideas For First Birthdays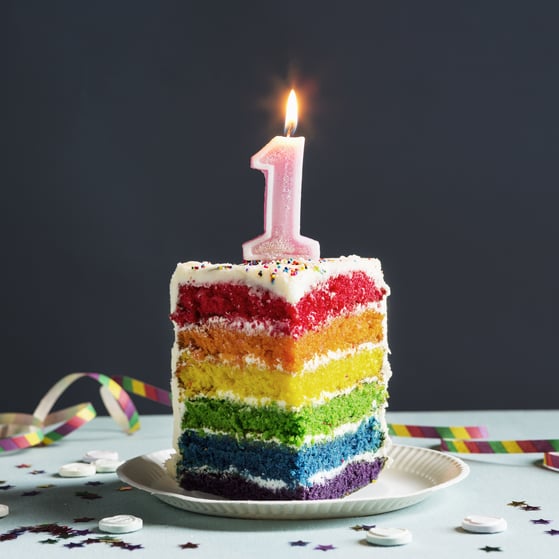 Every editorial product is independently selected by our editors. If you buy something through our links, we may earn commission.
Whether you can believe it or not, your baby's first birthday is actually here! And while figuring out how to celebrate this big milestone can make parents scratch their heads — it's not like your little one will remember it, after all! — throwing a shindig for your friends and family will ensure memories for years to come.
Stuck in an inspiration rut when it comes to settling on a theme for your soirée? No worries! We did the hard work for you by rounding up some of our favorite first birthday party themes we've seen cropping up. So even if you plan to throw a full-blown Snow White and the Seven Dwarfs or want to go a little out-of-the-box with a country-fair-inspired fête, we've got you covered. Scroll through to get a look at some of the most creative themes out there.
01
Forest
From mushrooms, to trolls, to furry animals lurking around the corner, there are so many ways to incorporate this darling theme into your child's first bash.
02
Football
Yes, girls can play football, too! We love this host's sweet spin on a rough-and-tumble game. Talk about a touchdown!
03
Cars
Get ready to race! This adorable Cars-inspired party will have your guests off to the races in no time.
04
Daniel Tiger's Neighborhood
What little kid doesn't love Daniel Tiger's Neighborhood?! Get your baby started on the obsession early with a colorful theme featuring their favorite four-legged friend.
05
Candyland
Even if your kiddo only has one or two teeth, they'll surely appreciate a sweet candy-themed shindig. How adorable are these table settings?!
06
Butterflies
There's just something mystical about these delicate creatures, which make for a pretty first birthday theme.
07
Trolls
Yes, Troll dolls were around when we were kids, but thanks the recent Trolls movie, this theme has made a big comeback. Don't forget some funky wigs!
08
Snow White
There's nothing better than a classic Disney princess party, and Snow White is one of our favorites! Just make sure you keep an eye on those poison apples.
09
Nautical
Aye, aye, baby! Grab your boat and hit the high seas with this Summer party theme.
10
Puss in Boots
Does you baby already love your pet cat? Then run with the idea and throw him or her a sweet Puss in Boots theme party, complete with a floppy hat centerpiece!
11
Horses
A rustic horse theme adds an elegant touch to the run-of-the-mill first birthday party. Add some plants to elevate your tablescape.
12
Lumberjack
There's just something cozy about that red-and-black checked print, isn't there? Just keep the axes out of reach!
13
Greenery
While adding some live greenery isn't necessarily a hard-and-fast theme per se, it makes for gorgeous, understated accent pieces that can pull the whole room together.
14
Fall Festival
Yes, these parents threw their child a Fall-themed pumpkin picking party, complete with a donut wall, and we're insanely jealous.
15
Princess
Keep your soirée mainstream with a princess party complete with a frilly cake and gorgeous balloon stream.
16
Winter Wonderland
Gold and white accents really complement the snowflake details in this Winter Wonderland tablescape.
17
Royal Blue
There's nothing wrong with focusing on a color, right? Try going bold with a deep shade of your little one's favorite hue.
18
Mickey Mouse
If Mickey Mouse Clubhouse has been on a loop for the last few months, then this trend is a no-brainer.
19
Thomas the Tank Engine
All aboard! This Thomas the Tank Engine party is leaving the station. We love the red and white lanterns, such a thoughtful touch!
20
Woodsy
Grab your thickest flannel! This woodsy theme is both cute and cozy, just add your own stuffed bear.
21
Bunnies
We love the bunny-inspired backdrop and donut wall in this stunning setup.
22
Captain America
Up, up, and away! Your baby can save the day thanks to this superhero trend.
23
Clouds
Talk about light and fluffy! This sweet theme is great for little ones who would rather be napping than at their own party.
24
Alice in Wonderland
This sweet Alice in Wonderland party is pretty with a touch of crazy thanks to the Mad Hatter and the Queen of Hearts.
25
Dumbo
The latest Dumbo remake is sure to draw tons of people to the theater. Why not capitalize on the moment by doing your child's first birthday in the same theme?
26
Renaissance
Go back in time to a period where knights, kings, and queens reigned with a royal-themed party that's sure to wow. All you need is a suit of armor.
27
Dinosaurs
Take a walk on the wild side with a theme that's sure to earn a roar or two. We're loving how lifelike the dino head is, and the ferns are arguably the perfect touch.
28
Jungle
Lions and monkeys, oh my! This sweet first birthday theme is full of wild animals and hopefully delicious desserts.
29
Mermaids
Can't get enough for this sea-dwelling creature? Throw your little princess a mermaid party before she can actually swim.
30
Circus
A playful circus theme chock-full of sweet animals and bright colors will certainly make your photos pop.
31
Twinkle Twinkle, Little Star
Yes, lullabies can be transformed into party themes! This gorgeous "Twinkle Twinkle, Little Star" lets you take the color scheme in any direction, and we can't knock on that type of flexibility.
32
Winnie the Pooh
Which way to the 100-acre wood? Celebrate your child's special day with his best friends by his side. Don't forget the honey!
33
Unicorns
Surprise, surprise, this mystical trend isn't going anywhere! Add pastel balloons and a horn to the cake to really drive the theme home.
34
Sesame Street
If your baby can't get enough of Elmo, Cookie Monster, or Oscar the Grouch, throw them a colorful Sesame Street party that honors their favorite show.
35
Hot Air Balloons
Up, up, and away is the name of the game with this whimsical theme. Use white and blue balloons to make the "sky" that the balloons float through.
36
Moon and Stars
A clean take on this celestial theme is calm enough to put your little one to sleep. We're loving the gold accents that add a pop of color.
37
Sunshine and Rainbows
Celebrate your ball of sunshine with this splash of bright yellow. This theme is perfect for summer babies.
38
Bunny Ears
This bunny theme is not only adorable but also easy to execute. Make sure every little guest has their own bunny ears. The pictures will be unbearably cute.
39
Pastels
If you're having trouble finding a theme, try something simple that can work for any venue. Color coordination is what it comes down to.
40
Ready For Takeoff
Your party guests will love playing with their paper airplanes and flying around the room. The floating airplane balloons will be even more exciting.
41
Nautical
The only thing missing is a little sailor's costume. Consider this theme if you're looking for something that will never go out of style.
42
Elephants
Aside from baby elephants being outstandingly charming, these pale blues and purples make an amazing color scheme.
43
Cocomelon
This ultimate favorite in child entertainment is always a safe bet when deciding on a party theme. Imagine the smiles and laughs once the theme song begins.
44
Word Party
These colorful characters easily turn this color scheme into a rainbow. Word Party fans are certainly in for a treat with this theme.
45
Boss Baby
This is the perfect theme to remind everyone who's boss.