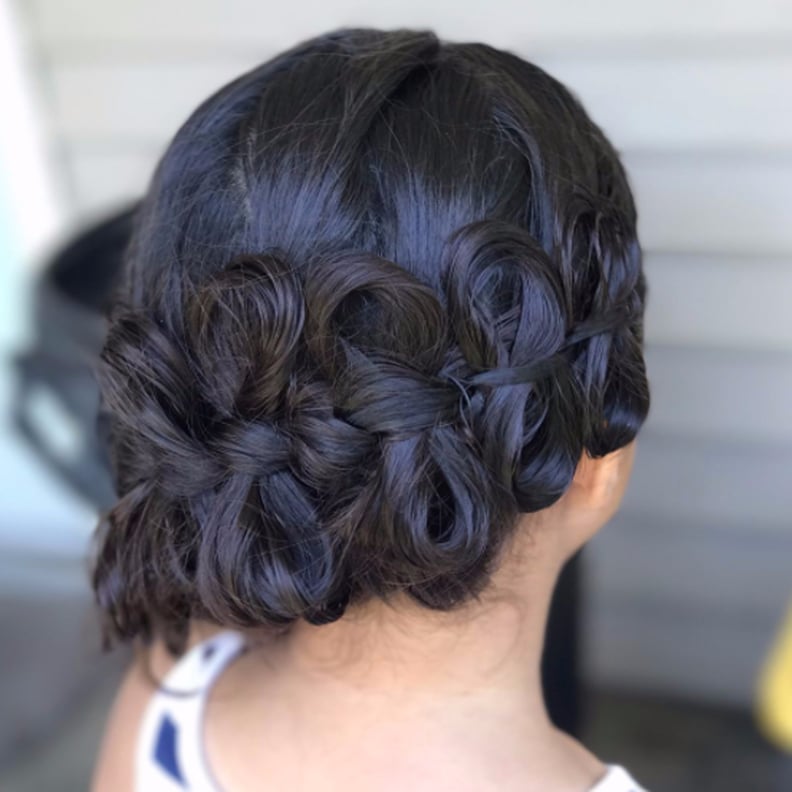 Whether you have your kid's morning routine down pat or it's a war of the worlds to get a brush through her locks in the a.m., these supersweet hairstyles are truly timeless and worth a try. Whether your daughter's sporting a short bob or is a huge fan of braids, these looks are definitely both kid- and mama-approved.
01
Tiny Braids
Small, tight braids are a super-low-maintenance option for girls with thick hair.
02
Quick Buns
If she's about the half-up, half-down look, try throwing her locks into two high, messy buns before heading out the door.
03
Beachy Curls
A short, curly bob ensures a playful look. Pro tip: keep a bottle of detangler on hand to combat knots throughout the day.
04
Upscale Updo
Ramp up the sophistication by adding an artistic accessory to her updo. Look for pretty options on Etsy or DIY your own.
05
Eye-Catching Braids
Put your own spin on these classic french braids by incorporating a few extra kinks into her everyday pigtails.
06
Beautiful Bows
These bow braids are timeless and super complex-looking. Make sure you go heavy on the hairspray if she has straight or fine hair.
07
Funky Part
Why make her part straight down the middle when you can jazz it up with out-of-the-ordinary angles and clips?
08
Fuss-Free Bob
If your kid's OK with going short for the Summer, a layered cut is a surefire way to keep hair off her neck.
09
Sassy Pigtails
Parting her hair right down the middle and adding colored elastics and bows makes for a little extra pizzazz.
10
Precise Pixie Cut
Keeping her hair short means all Mom has to do is throw a cute clip in it and head out for the day.
11
Stylish Pony
Ensure long locks stay with one place with a gorgeous bubble ponytail.
12
Pull-Through Braids
She'll have a party in the front and the back with this braids-bun combo.
13
Simple Braid
Braid her hair when it's still a little damp, finish it off with a bow, and you're good to go.
14
Flattering Fishtail
This supertight braid will make it through her entire playdate, no questions asked.
15
Glam Pony
Add a little flair to her everyday staple by wrapping the elastic with some leftover yarn.
16
Playful Afro
This sweet afro is both gorgeous and versatile. It literally gives any outfit a major upgrade.