The 8 Best Nursing Pillows, According to PEDs and Parents
Every editorial product is independently selected by our editors. If you buy something through our links, we may earn commission.
Breastfeeding can be a rewarding experience. But while it's billed as natural, it can feel like anything but at first — especially after birthing an entire human. Enter, a good nursing pillow.
"Nursing pillows can help provide support during breastfeeding," says Erron Towns, MD, a pediatrician with Salisbury Pediatric Associates in Salisbury, NC. "This can help the mother avoid arm and torso fatigue while making it easier to achieve the proper positioning. This can alleviate some stress during what is generally a pretty stressful — but wonderful — time for a new mother."
To be clear, a nursing pillow isn't a must-have. Inherently, the only must-haves are a lactating parent and child, especially when in the trenches of clusterfeeding and trying to find the best breast pump.
"Many breastfeeding moms do so successfully without [a nursing pillow], but they are sure are nice to have," says pediatrician, Kristen W. Cook, MD. "By the way, nursing pillow use does not need to be limited to moms who breastfeed. They can be helpful for parents who are bottle feeding their babies as well."
Dr. Cook adds that a parent may also use them to help a baby build strength during tummy time, but she shares that following some safety guidance is essential.
"I advise the families in my medical practice to place their 3-to-4-month-old babies on a nursing pillow in a prone position with their arms underneath them for support," Dr. Cook says. "I suggest they add developmentally appropriate toys, or even better, a mirror, in front of the pillow to encourage head lifting."
Other safety considerations:
"I definitely recommend using a nursing pillow only as directed," Dr. Towns says. "Also, a mother should not fall asleep while nursing in an upright position with or without a pillow."
Nursing parents also had some advice on what to look for.
Try more than one. Though you may pick one for a registry, one mother suggests choosing a few. "While one might work great for your best friend, your needs and your baby's needs can be quite different," says Siobhan Alvarez-Borland, a postpartum doula and lifestyle expert who nursed three children. "Some babies also need to be fed with different breastfeeding positions, and not all pillows will work."
Your body matters. It's best to ensure a nursing pillow fits your body (like clothes). "A good nursing pillow should hug your waist with minimal movement while in use," says Karissa Whitman, the founder of Mom After Baby, who nursed and pumped for two children.
Consider thickness and shape. Thickness and shape are also items Whitman suggests evaluating. "Some nursing pillows offer a thick padding while others can go flat after a few uses, making it hard to position baby over time," she says
To help parents decide, we asked parents and pediatricians for recommendations and assessed online reviews to figure out which nursing pillows are the best. Here are nine great nursing pillows.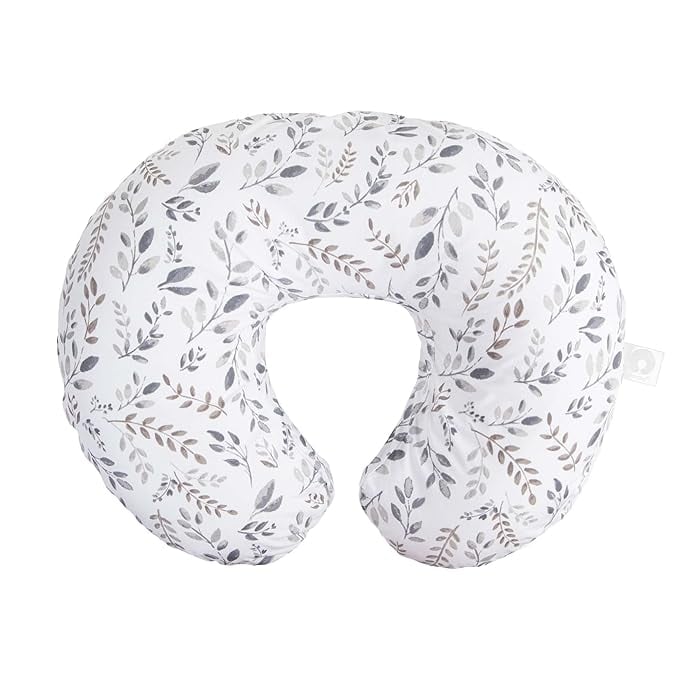 Best Nursing Pillow Overall
Boppy Nursing Pillow Original Support ($45)
Many of the parents we spoke to loved the Boppy Nursing Pillow.
"When I first started breastfeeding, I was introduced to the Boppy pillow," says Katie McCann, the founder of From Bump to Bubble. "It was a game-changer. "The way it brought my baby up to the perfect height for feeding saved me from a lot of backaches. It was like having an extra set of hands, especially during those marathon nursing sessions that every new mom knows all too well."
"The Boppy was something I was able to use in different positions around my body because of the C-like design," says Mari-Elena Leckel, a birth doula, trainer, and lactation educator who nursed one child.
Amazon reviewers agree. The best-selling option has 4.8 stars based on more than 38K reviews. Big-time bonus: The cover is machine washable so long, when spit-ups happen, it's easy to recover.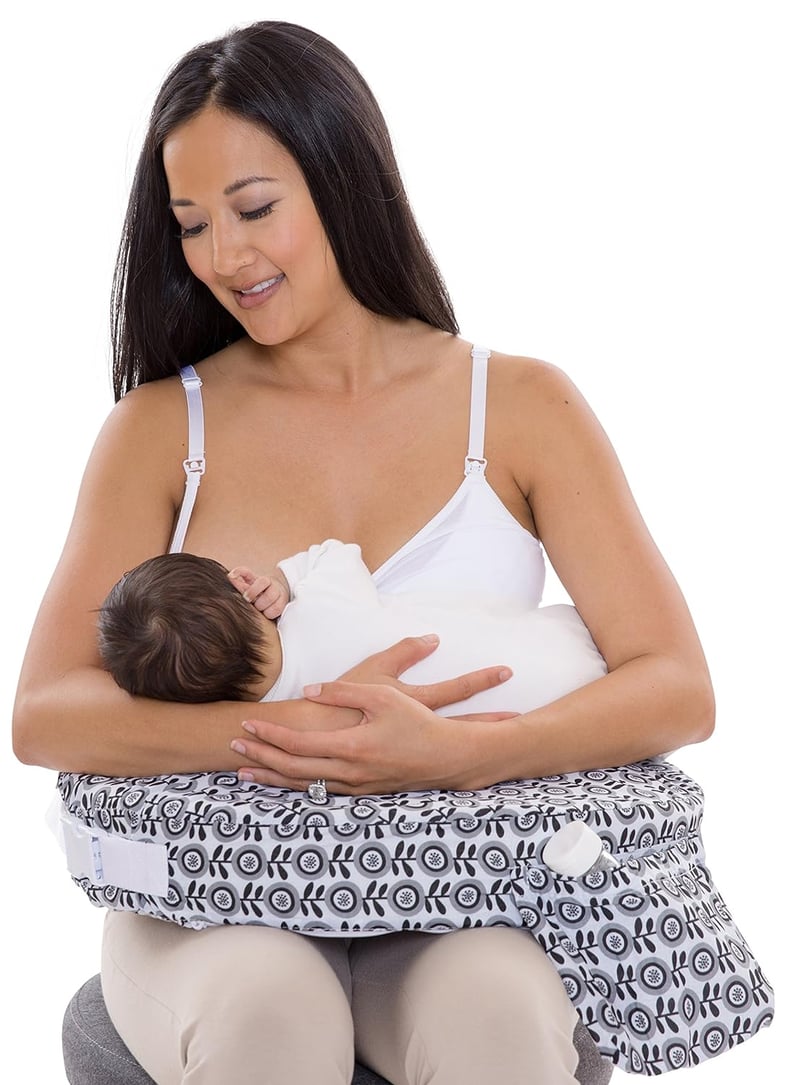 Nursing Pillow That Stays On the Best
My Brest Friend Original Nursing Pillow ($42)
This nursing pillow from My Brest Friend has a wraparound design that helps keep it more firmly in place during feeds.
"My Brest Friend clips on snug, and the pad is flat so baby doesn't roll forward or back," says Emily Clancy LoPorto, a licensed realtor and mother who nursed four children. "I also love the small integrated pocket where I can keep a pacifier and cloth handy."
Whitman also loves the My Brest Friend. "It's a firm — but not too firm — nursing pillow that wraps all the way around the waist and can be strapped in for ultimate comfort while sitting or standing," she says.
The My Brest Friend has 4.5 rating, but it's still a solid and popular choice with over 13,000 reviews.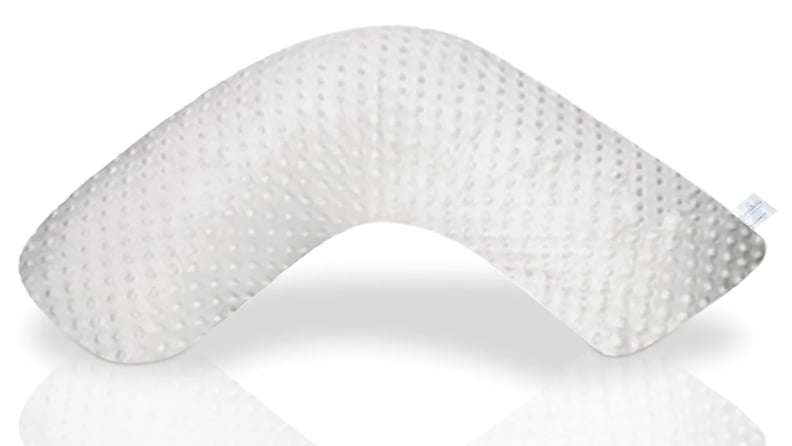 Best Pregnancy-to-Postpartum Nursing Pillow
Luna Lullaby Nursing Pillow ($60)
Dr. Cook loves it when nursing pillows have a multitude of uses.
"The Luna Lullaby nursing pillow is great because it is V-shaped, making it helpful as a pregnancy pillow and for infant play, in addition to functioning as a nursing pillow," she says.
The unique shape is also accessible across multiple body types, and the lack of zippers and hooks adds safety and peace of mind.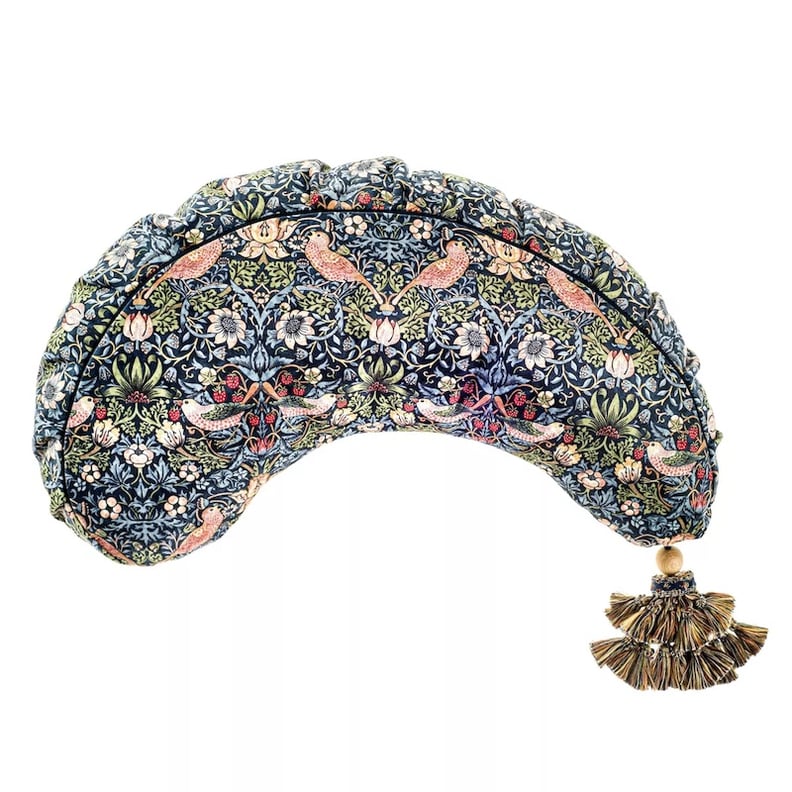 Best Nursing Pillow With the Best Aesthetic
DockATot La Maman Wedge Nursing Pillow ($91)
This wedge pillow could double as a throw, which is precisely what one mother loved about it.
"I fell in love with the pillow for the fabric design and the shape," says Liang Zhao, a PR professional and CEO of Vansary. "It actually looks like a decorative pillow! The fabric is very soft, and there is a handy handle at the top of the pillow."
Cover designs include a colorful and botanical "strawberry thief" (shown here) and a white and gray marble-printed option.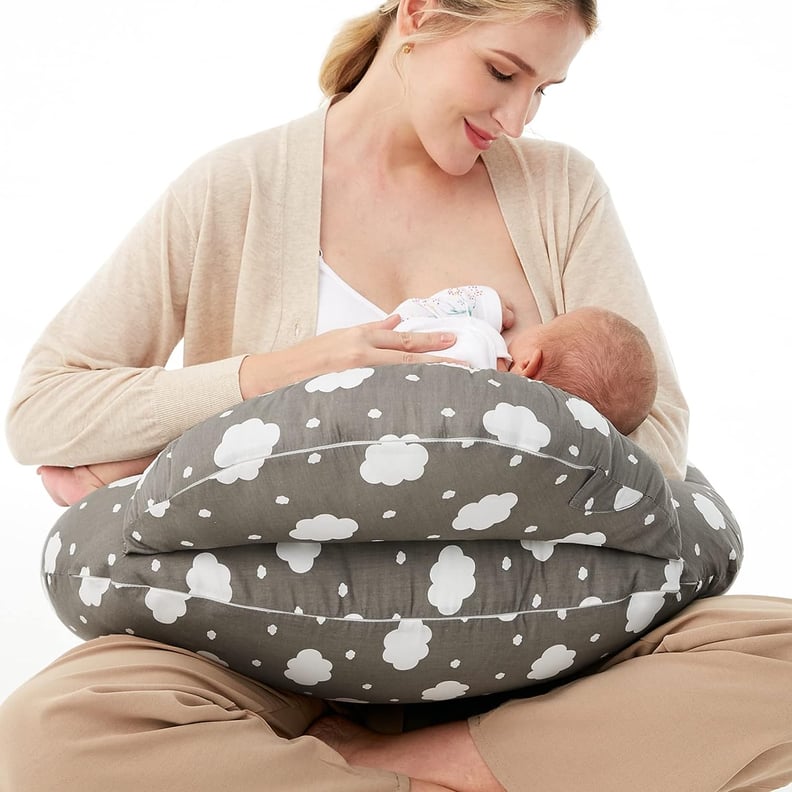 Best Nursing Pillow for All-Around Support
Momcozy Nursing Pillow for Breastfeeding ($40)
The large, wide size boosts arm support, taking even more pressure off new parents. An adjustable waist strap allows lactating parents to adjust the pillow to their body size, which can change during the postpartum period. A security "fence" also keeps the baby from rolling (but it's still essential to keep an eye out for safety reasons). Fans love it for its value and removable cover that's a breeze to clean
What reviewers say: "After getting home with my newborn, I found myself very uncomfortable and looking for a pillow to aid in my breastfeeding journey. This pillow is very easy to use and easy to remove the cover and wash anytime. The pattern is cute and fits into my nursery aesthetic well. It is firm enough to aid in stability and soft enough for my newborn to quickly become comfortable on it. The buckle does come off sometimes in between feeedings but it is simple and quick to place back on the cord. This has helped reduce stress and fatigue in my arms during long feedings during the day and feeding to sleep at night. I would purchase this again and have recommended it to a few of my mom Friends."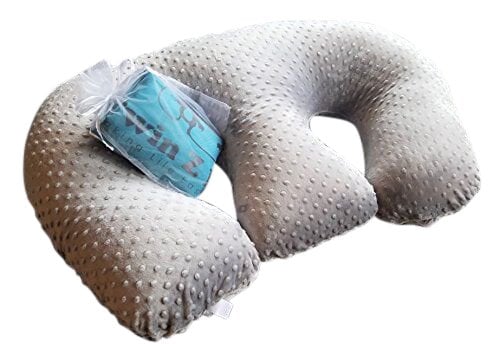 Best Nursing Pillow for Twins
Twin Z Pillow ($142)
The pillow, which appeared on a Shark Tank episode, has a semicircle design with room for two mouths to feed. It can also be used for tummy time play as an infant grows, and the cover is machine washable.
What reviewers say: "I bought this hoping it would help us feed our twins and we have absolutely loved it! Our babies love to lounge in it to look around, it's perfect for tummy time to work on head control and it has been a huge game changer in tandem feeding. I cannot recommend it enough if you have twin babies!"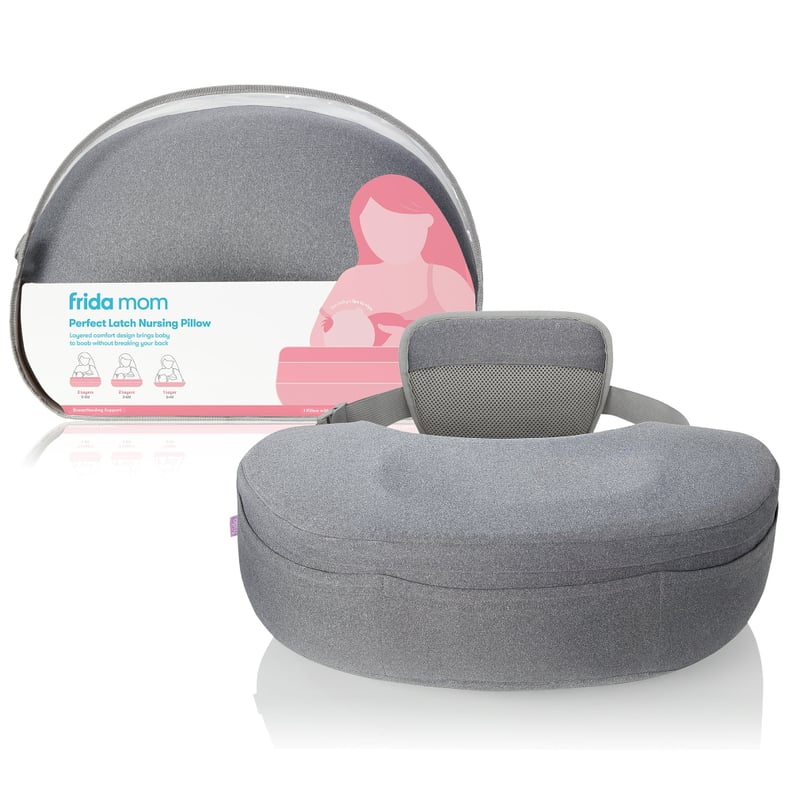 Best Nursing Pillow For Customization
Frida Mom Perfect Latch Adjustable Nursing Pillow ($50)
This versatile nursing pillow has three interchangeable layers to help nursing parents find the right height, elevation, comfort, and support. The backrest is heavenly for new parents, and the adjustable strap ensures the requisite snug fit through a parent's postpartum journey.
What reviewers say: "This pillow is great, keeps baby up high enough to be the correct height for breastfeeding. Very comfortable and the cover zips off to wash. I'm very happy with it. My only complaint is that the back support falls off the strap all the time. I dont really use the back support because of that reason."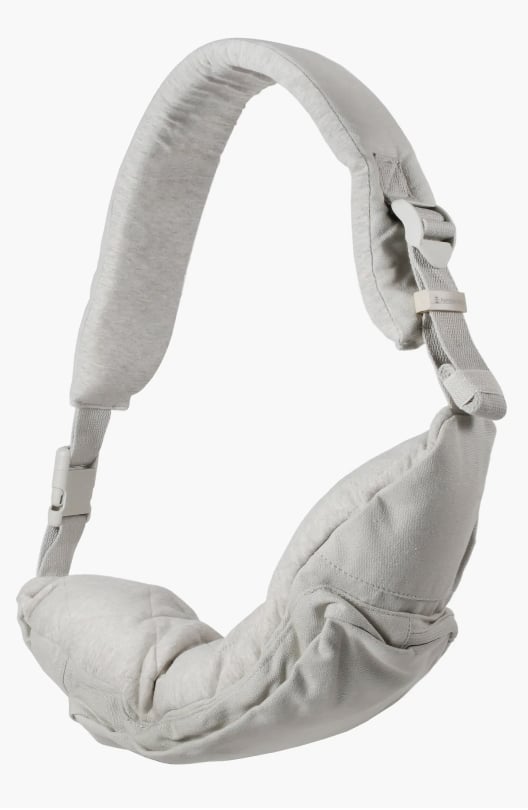 Best Sling Nursing Pillow
Humble Bee Nurse Sling Nursing Pillow ($65)
Humble Bee's unconventional pillow design offers a different option for parents: A sling. It provides additional support courtesy of the strap (which is also padded because lactating parents also deserve a comfy pillow). The shoulder strap also allows for more arm mobility.
What reviewers say: "I purchased this thinking it was going to be excessive, and thankfully I was so wrong!! I can breastfeed sitting back, hands free!! Incredible. Its such a relief for my back and shoulder blades. Baby its on my lap and the sling brings baby right up to my breast perfectly since I can adjust the strap. Baby is comfortable and so is my shoulder. I just wish I had this from the start."

For other hands-free nursing options, consider baby carriers and slings.