The 12 Best Baby Carriers and Baby Slings of 2023, According to Parents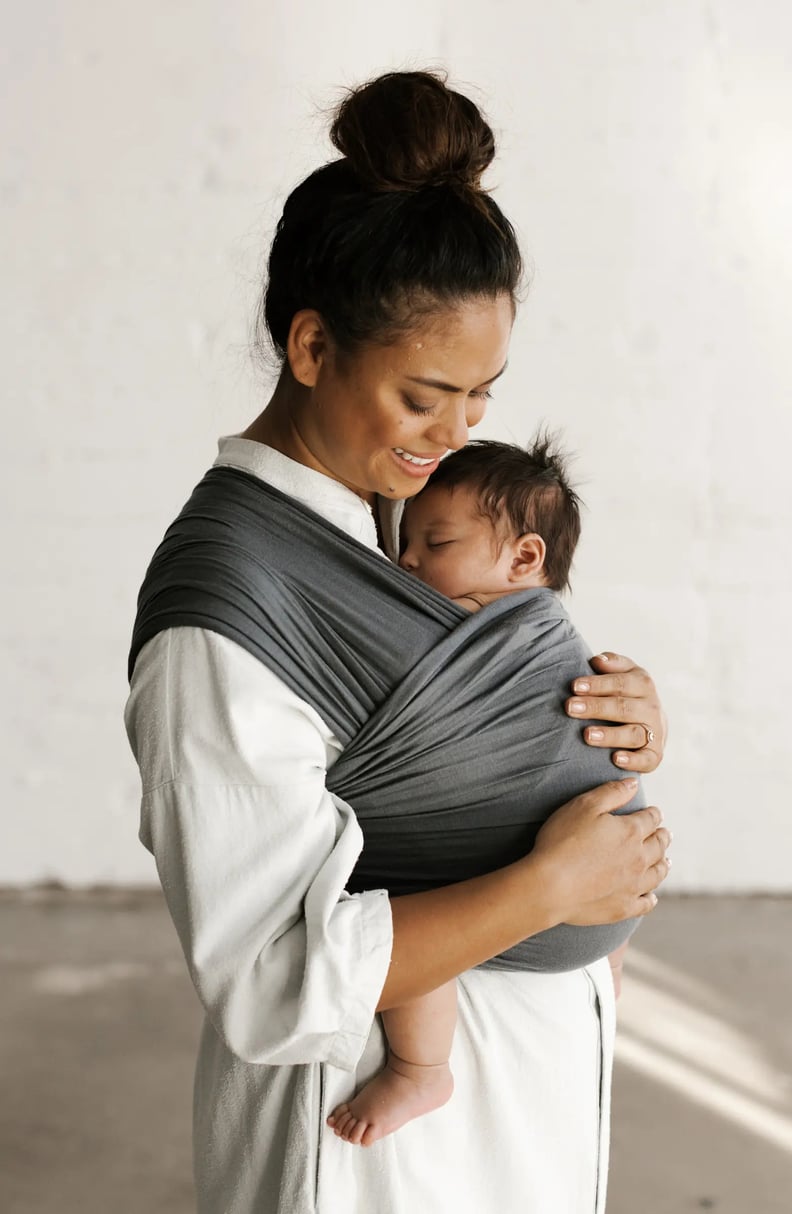 Nordstrom
Nordstrom
As POPSUGAR editors, we independently select and write about stuff we love and think you'll like too. If you buy a product we have recommended, we may receive affiliate commission, which in turn supports our work.
Babywearing has so many benefits, for the parents and the baby. Putting your baby in a baby carrier or baby sling is an easy way to get skin-to-skin contact, which is calming to both the caregiver and the baby. Plus, it leaves the parent's hands free to cook, care for another child, text, or do some light tidying.
A baby carrier or baby sling can also come in handy when you're out and about on shorter errands or trips. For one, it can help your baby feel safe and comforted on adventures, keeping them from getting overwhelmed by the sights and sounds that are still so new to them. Plus, parents are saved from having to lug around a stroller. And keeping the baby close to you may ward off people who can't help but stick their faces in the baby's face, an especially big benefit during sick season.
There are several types of baby carriers on the market, from ring slings to wraps to sturdier carriers. Materials vary, too, including lightweight and mesh options that keep sweat at bay during warm weather days and warm inserts to keep babies cozy when the wind's howling. It may take some trial and error to figure out the best baby carrier or baby sling option for you. But, if you're like many parents before you, don't be surprised if you find one or more favorites on this list.
01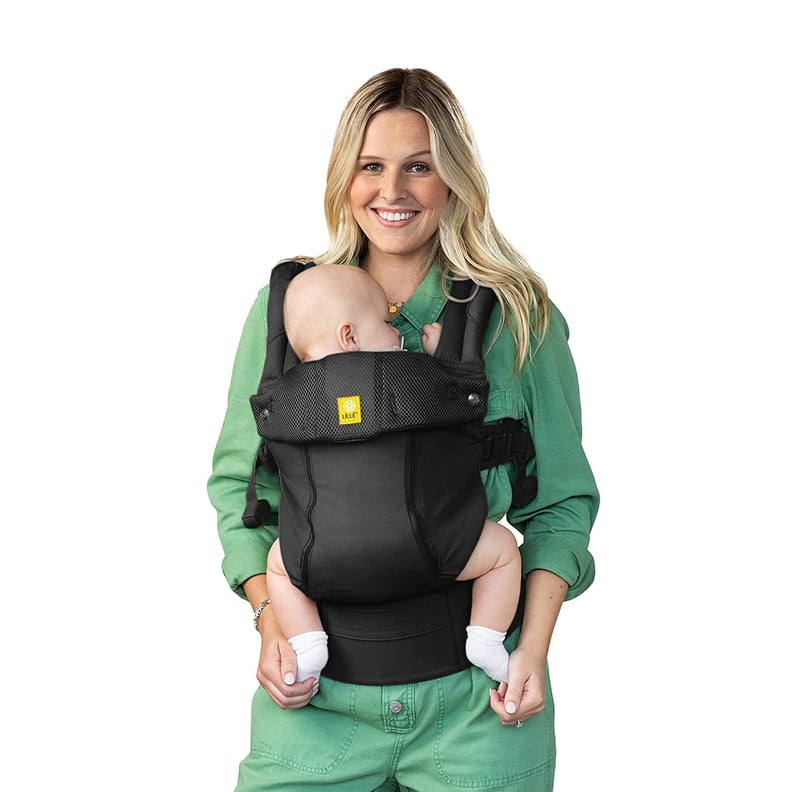 Best Baby Carrier For All Seasons
LÍLLÉbaby Complete All Seasons Ergonomic 6-in-1 Baby Carrier ($100)
Veteran parents know: the need for cuddles doesn't stop when a baby transforms into a toddler. LÍLLÉbaby's 6-in-1 carrier can hold toddlers up to 45 pounds, and there are six different positions you can wear the carrier in so you can experiment with the comfiest holds for you and your fam through the ages.
Plus, the carrier really does take you through multiple seasons. One Amazon reviewer breaks it down, writing: "There is a flap that can be zipped shut if it's cold out to help insulate your child against cold weather or unzipped to allow for cooling during hot summer months and the mesh lining makes it very breathable allowing for greater cooling. There's also a little lightweight hood that you can snap on to help keep the sun off of your baby's head during the summer."
02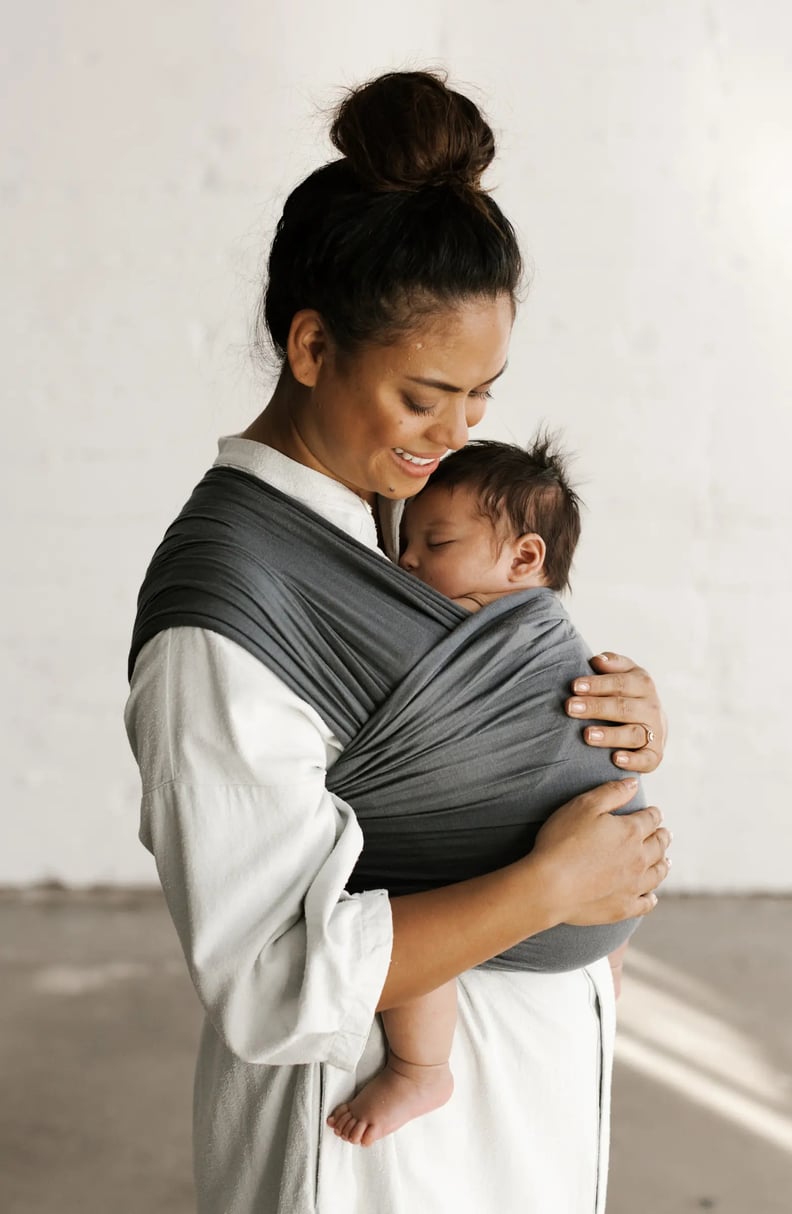 Best Baby Wrap to Keep On Hand
Solly Baby Tencel Modal Baby Wrap ($69)
This wrap is "something that you need in addition to your more bulky carrier," one Nordstrom reviewer writes. "This one is so great for around the house or if you want to be wearing baby while out at a restaurant or somewhere you need to be able to sit down." The reviewer notes, though, that "Solly is not great for walking briskly, I find that it stretches a bit and baby slides down too much when I'm walking fast," so it's best used as an alternative option when you won't be trekking for long stretches.
03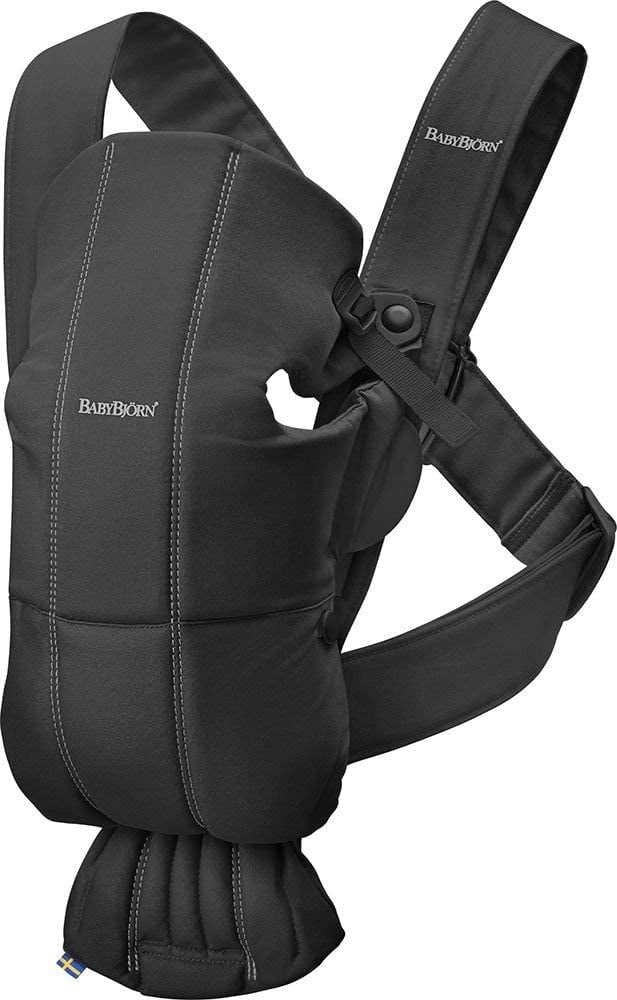 Best Mini Baby Carrier
BabyBjörn Baby Carrier Mini ($100)
The much-beloved Björn mini takes most parent-child pairs from birth to 12 months, and with over 3,500 five-star reviews on Amazon, a common theme is that it's so easy to use — making it perfect for people who are on the fence about babywearing. The buckles and straps are a cinch to adjust, so it's a breeze to put the baby in the carrier and go about your business. The materials are soft and machine washable. This reviewer about sums it up, saying: "The [Babybjörn] carrier is so easy to use and it doesn't hurt your back. My baby loves it and she fits great in it! Highly recommend! Definitely worth the hype!"
But worth noting: one of the few complaints from previous reviewers is that the $100 price tag is a bit high for something that only lasts a year.
04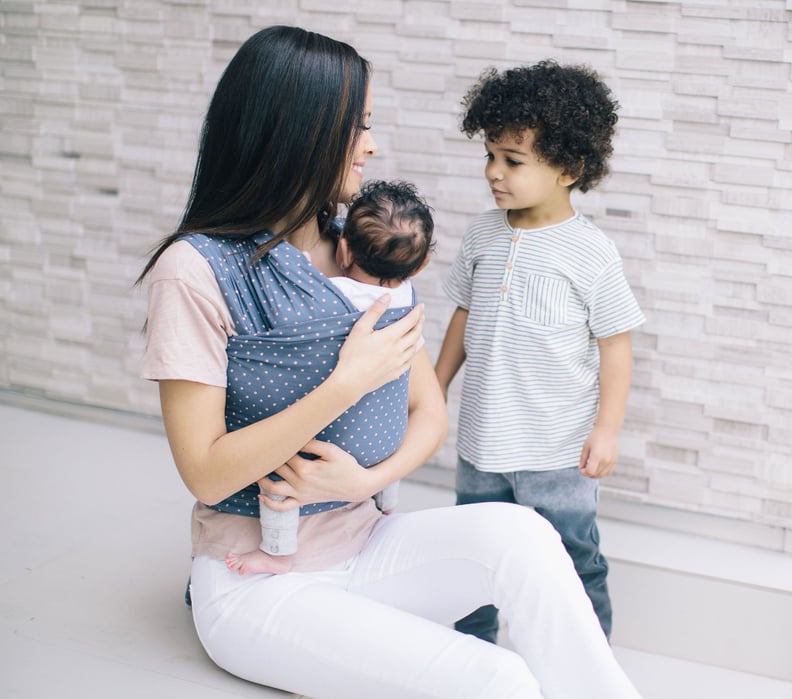 Best Baby Wrap Carrier For Infants
Ergobaby Aura Wrap Baby Carrier ($50)
This affordable option is a parent favorite because of its breathable fabric and baby hip-friendly design. It's good for babies from 8 lbs. to 25 lbs., and comes with a lifetime guarantee. Parents often like this option when their babies are younger, and a full-on carrier feels too rigid or overwhelming. The Aura wrap can adjust to smaller bodies and keeps your precious package comfortably close.
05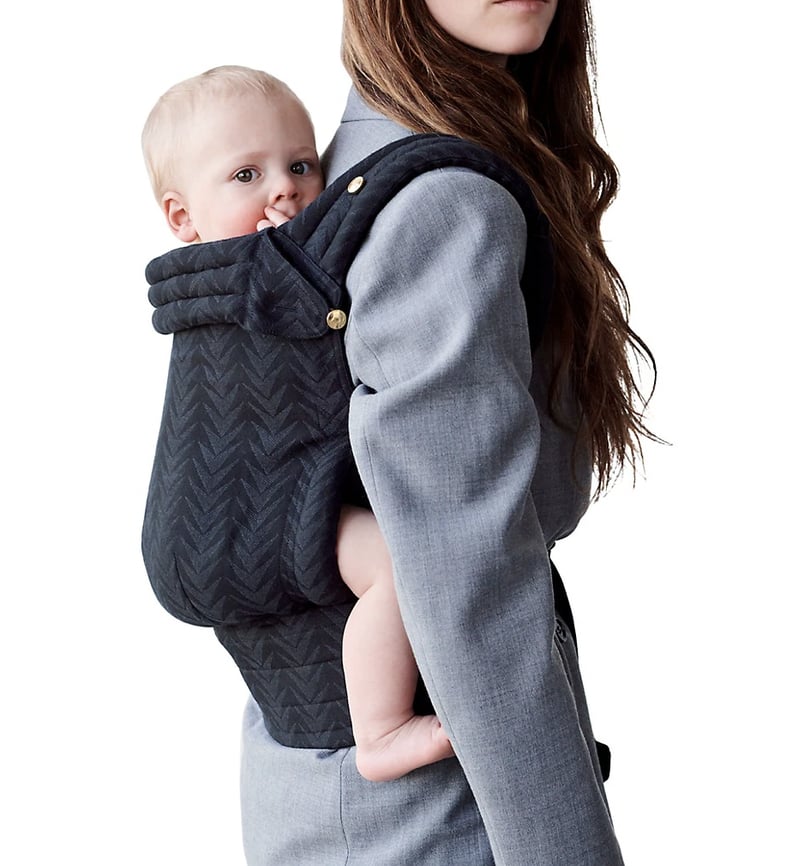 Best Luxury Baby Carrier
Artipoppe Zeitgeist Arrow Zorro Baby Carrier ($370)
Once you're familiar with Artipoppe's signature peacock-feather logo, you'll be able to see the carriers everywhere — especially strapped on the chests or backs of celebs and influencers. At $370, the Artipoppe Zeitgeist Arrow Zorro Baby Carrier is one of the brand's less-pricey options. But there's a reason plenty of parents consider it worth splurging on.
The luxury baby carrier is designed for tiny humans from 7 to 45 pounds, so it typically lasts for the first two years of a little one's life, and can be worn on your front or you back, with a facing-out insert option. It can also be used year-round.
The adjustable, padded straps make it easy to find the perfect fit, and nursing parents can even adjust the straps to allow for hands-free feeding. This model's linen and cotton fabric, padded leg openings, and adjustable neck cushion keep everyone feeling comfortable, and has the added bonus of being machine washable — although you may need to purchase a winter insert for colder days.
06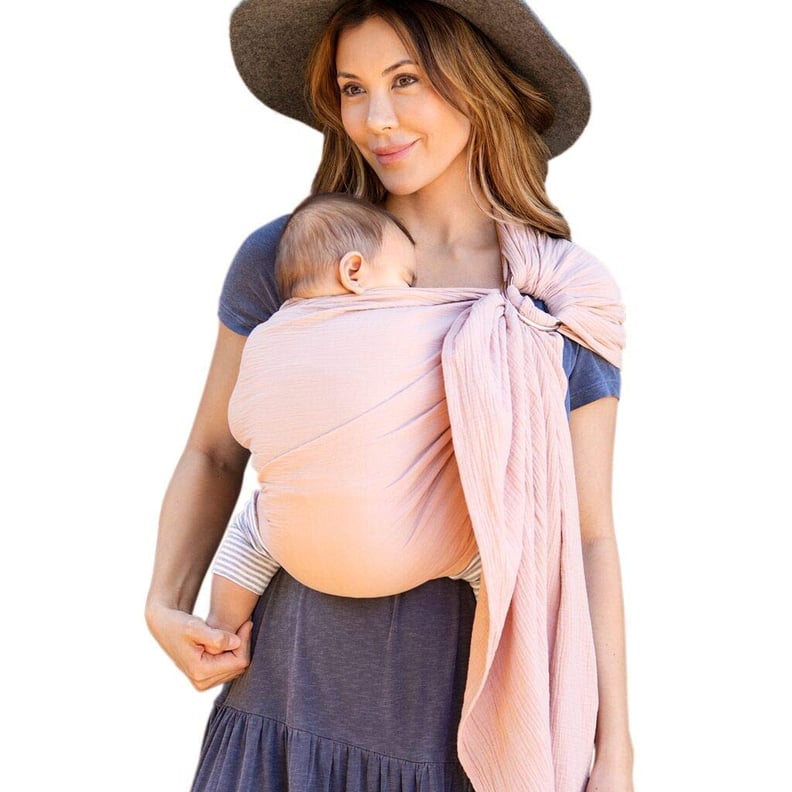 Softest Ring Sling Baby Carrier
Moby Ring Sling ($59)
Moby's Ring Sling drapes across a parent, giving it an elegant, effortless appeal. Speaking of effortless, wearers will glide through to-dos, baby in tow, with this ring sling that evenly distributes the baby's weight and is made of breathable material. It's also machine washable, leaving you with one less thing to do.
One reviewer praised the sling's flexible and soft material, and added this tip for first-timers: "Once the sling is threaded, put the rings up to your shoulder. When you go to put the baby in and tighten it, the rings will naturally fall. If you start with the rings too low, you won't get a good seat."
07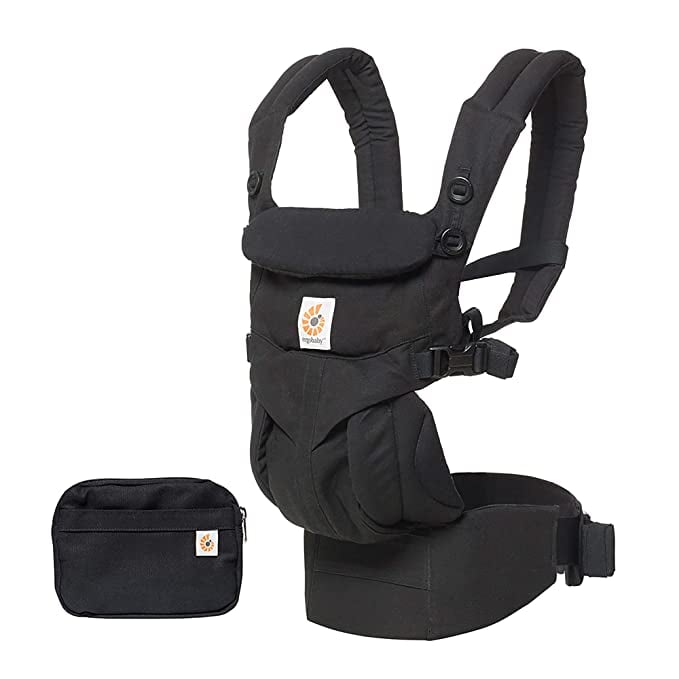 Back-Friendliest Baby Carrier
Ergobaby Omni 360 All-Position Baby Carrier for Newborn to Toddler ($104)
Another carrier that fits babies and toddlers from 7 to 45 pounds, the Ergobaby Omnio 360 has padded lumbar back support, extra padded shoulder straps, and even a UPF baby hood that offers sun protection and an option for breastfeeding privacy (if you prefer it). It boasts a 4.7-star rating on Amazon, with most parents saying it was comfortable, versatile, and provided plenty of back support for babies as they grew.
"Should have gone with the Ergobaby from the get-go, rather than eyeing a cheaper price for a baby carrier," one reviewer admitted. "It offers my 7 month old daughter a comfortable ride (she loves forward-facing walks) without compromising my comfort, and a more stimulating, eye-level view of the world."
08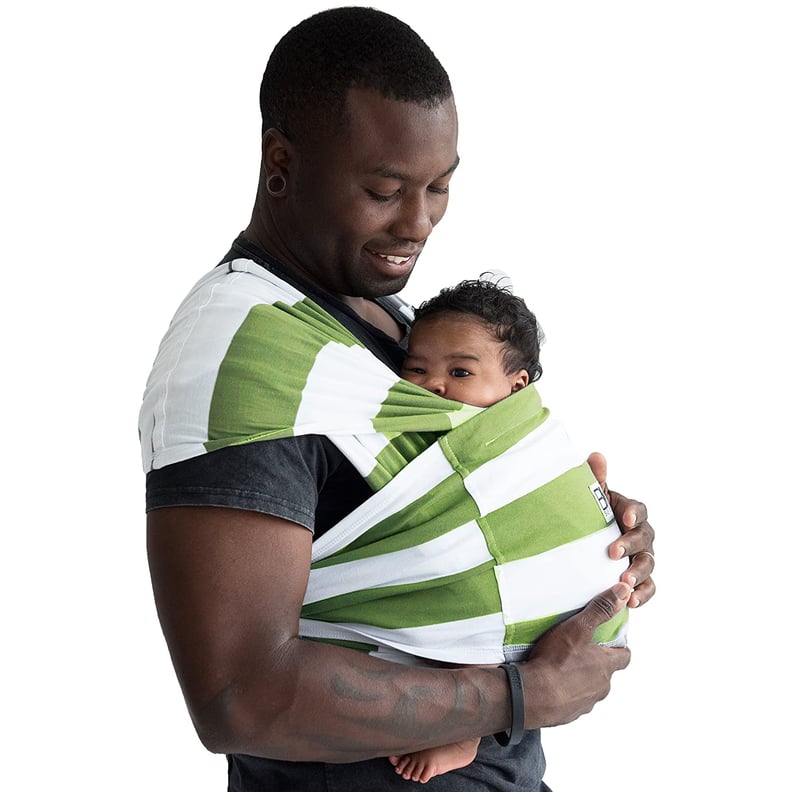 Best Baby Wrap For Beginners
Baby K'tan Pre-Wrapped Baby Wrap Carrier ($60)
This pre-wrapped option is great for parents who are overwhelmed by the idea of looping or tying a baby wrap themselves. "The Baby K'Tan is so easy!!" an Amazon reviewer gushes. "The instructions are totally idiot proof, which was useful for me with baby brain! You order the size to specifically fit you (I'm a size 10 and have a small) and with the loop system you get the same fit every single time."
09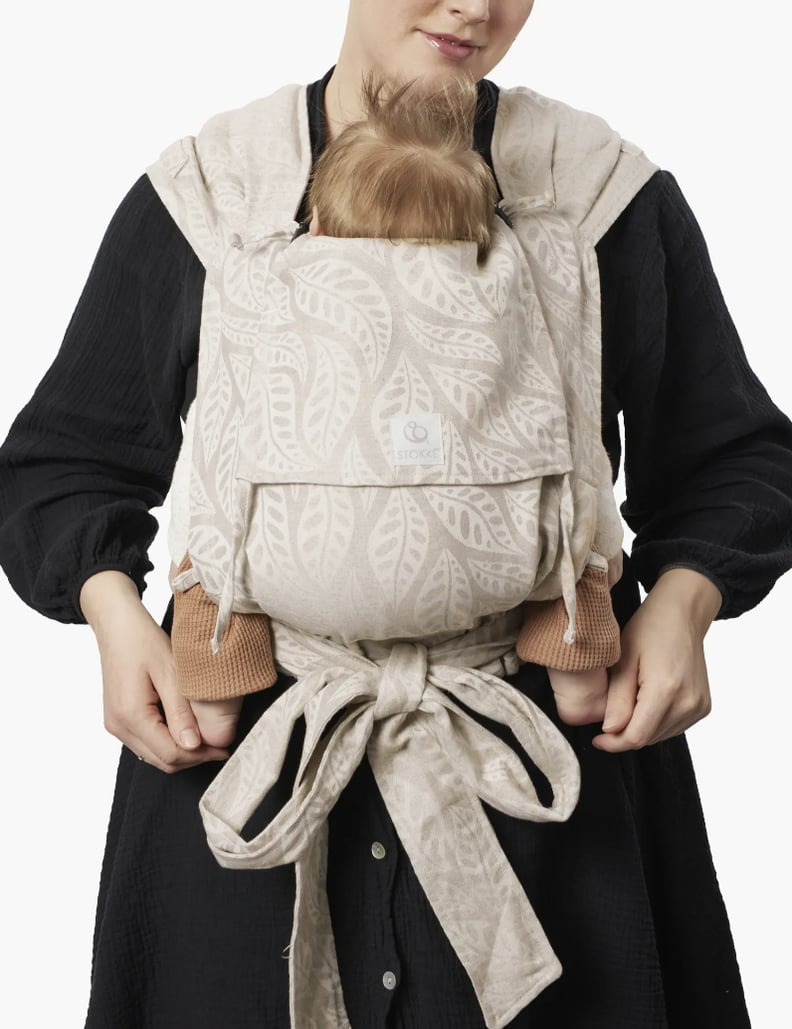 Best Baby Wrap-Plus-Carrier
Stokke Limas Baby Carrier ($120)
Designed to work as either a wrap or a carrier, Stokke's option gives parents numerous options. They can put the baby in a front, back, or hip-carry position — whichever is most comfortable (which may change as time passes). The adjustable-height back panel gives head support for little ones and curious older babies. Plus, the lightweight cotton-linen fabric is breathable, regardless of what Mother Nature is doing, and allows it to fit easily in a diaper bag.
A reviewer noted that, "it's structured enough that it'll allow me to use it for months and months as my daughter grows and gains weight, but still lightweight, and oh so comfortable for us both."
10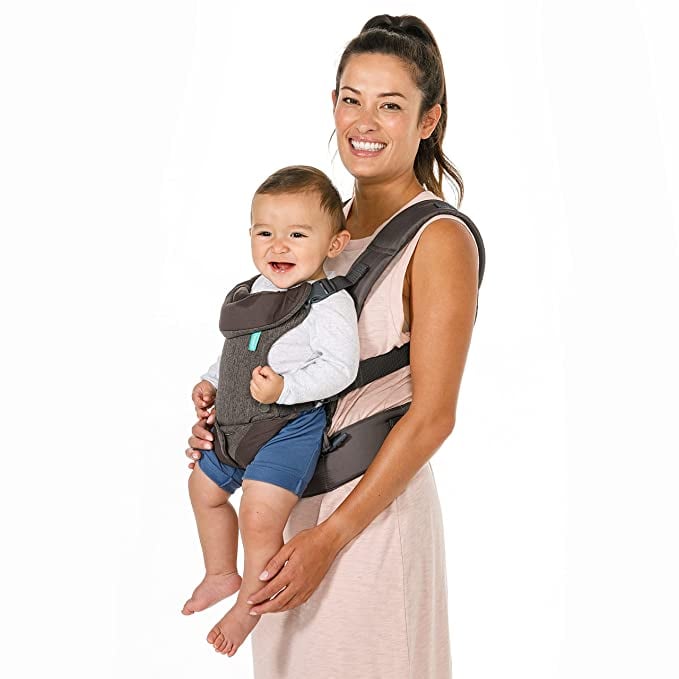 Most Affordable Baby Carrier
Infantino Flip Advanced 4-in-1 Carrier ($38)
Infantino's 4-in-1 carrier is one of the more budget-friendly carriers on the market at $38 (and it's frequently on sale on Amazon). Babies can go in four positions: facing in with a folded or expanded ergonomic seat, facing out, or backpack.
Nearly 60K people have weighed in on Infantino's carrier on Amazon, with most praising its price point and comfort. "I did a lot of research on so many different baby carriers looking for one that would be comfortable for me and even more so for my 5 week old baby girl. We absolutely love this!" one reviewer gushed. "Very easy to use and it doesn't bother my back. I wore it for about 2 hours at one time so far. No complaints."
As far as cons, some reviewers mentioned that it sometimes felt like it required a village (or at least two people) to get the baby situated; others noted that they felt it put too much pressure on their babies' legs, something to keep an eye on.
11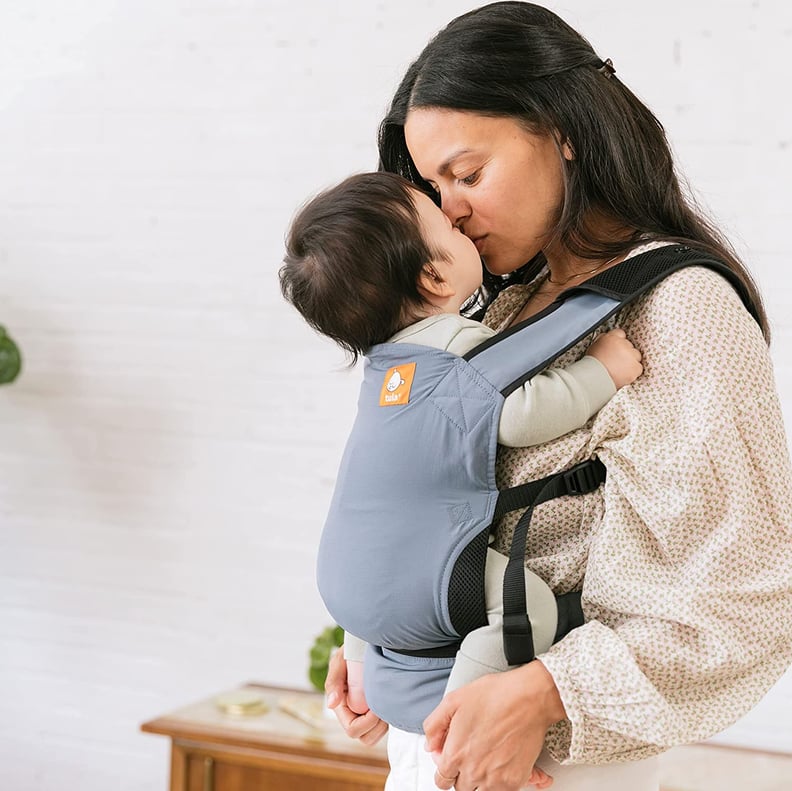 Best Lightweight Baby Carrier
Baby Tula Lite Compact Baby Carrier ($89)
Tula is another baby carrier brand with a cult following among parents. Its lite option is nice for parents who want a travel carrier or who feel that other carriers are too bulky. It's a lightweight material that folds up small, and the fanny pack-esque storage pocket is so functional, you almost wonder why all carriers don't have them. "The only thing is you can only wear baby facing you or backpack so two positions," one Amazon reviewer points out, "but if you don't mind that then then this is excellent."
12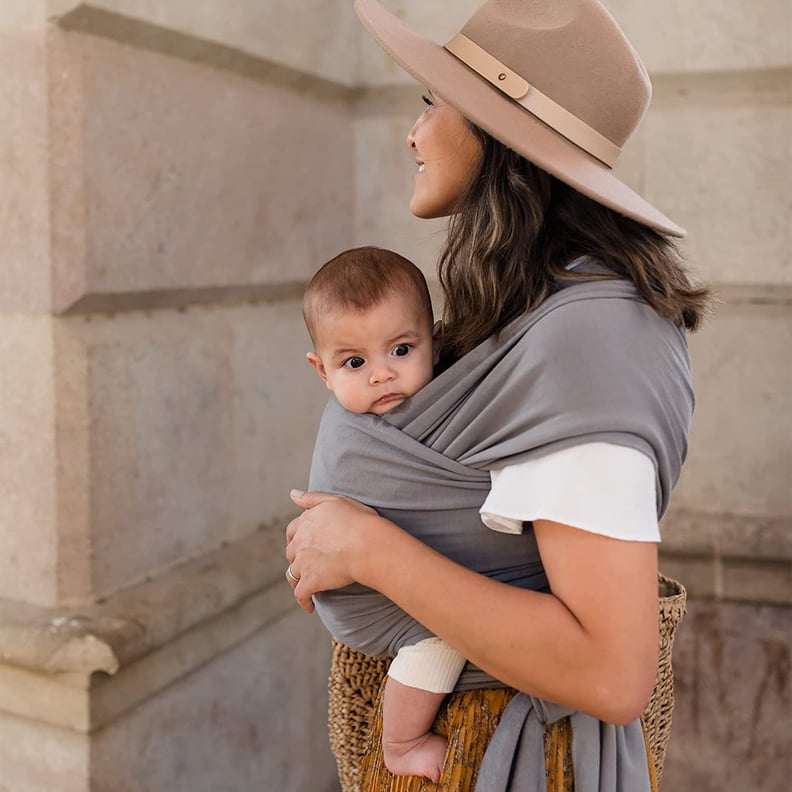 Best Baby Wrap Carrier For Parents Who Want a Trial Run
Boba Wrap Baby Carrier ($40, originally $50)
With over 25,400 reviews and a 4.6-star average rating, it's safe to say that parents are huge fans of the Boba wrap. Take this one reviewer's word for it: "I have been using this wrap since my baby was about 1 month old... she's 4 months now and we still love it. It puts her to sleep EVERY TIME. It's comfortable, I can walk around with it all day and I get so many compliments on it. I wish I had this for my first born but this is definitely a must have!" It's simple, soft, and can fit a variety of bodies — a great starter wrap.