Every editorial product is independently selected by our editors. If you buy something through our links, we may earn commission.
Parents and caregivers know, when you have a baby or toddler, leaving home requires much more than just grabbing a purse or keys, and heading on your way. Not only do you now have extra-special cargo — that little one also requires a ton of cargo of their own (think: snacks, beverages at a specific temperature, and toys to entertain them) — as a parent, you may require one (or two) cups of coffee to fuel your adventure, too, especially if you're on duty for middle-of-the-night feeds.
This bundle of items may not always fit in a diaper bag, or you may not feel like carrying bags while pushing a stroller. Enter stroller organizers. These carrying systems are usually more compartmentalized and less deep than diaper bags, allowing for quick grabs when you need something. Gone are the days of spending time rummaging through your diaper bag to find baby wipes while your little one is covered in crumbs. Ditto for trying to find your keys when you and baby are tuckered out after a day of exploring.
Fortunately, there are many options for stroller organizers on the market, some with all of the bells and whistles and others serving as a minimalist's dream. We've combed through a plethora of options and picked our top choices based on stellar reviews from parents and caregivers. These 10 attachable stroller organizers easily stand out in a crowded field.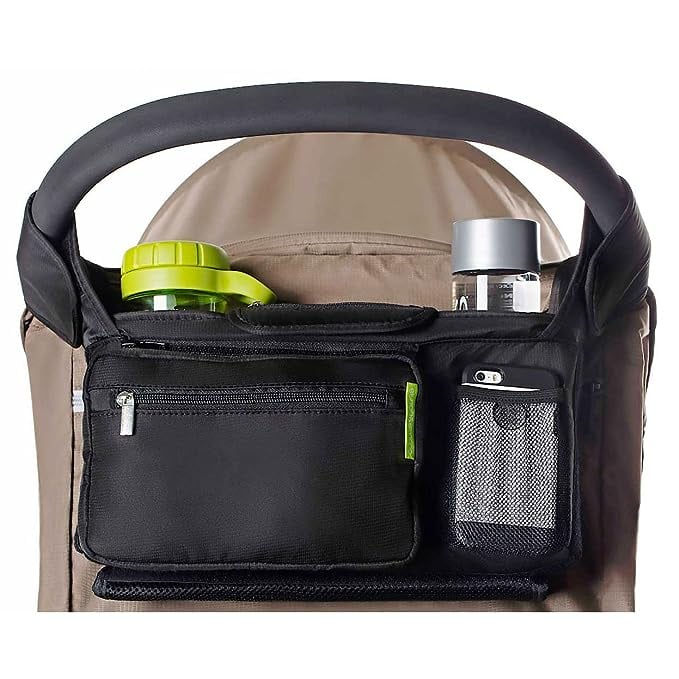 Best Stroller Organizer For Diaper Storage
Ethan & Emma Universal Baby Stroller Organizer with Insulated Cup Holders ($32)
A short walk may only require a cup and keys, but a full-day adventure may have you wary of ditching your diaper bag. The Ethan & Emma Universal Baby Stroller Organizer has an extra mesh pocket excellent for stashing diapers. It also has a pair of cup holders and can collapse to fold with the stroller.
"The amazing, no-spill, deep pocket cup holders that have never spilled a Trenta Starbucks, amusement park refillable cup, or sports bottle," raved one fan. "The cup holders sit upright, can withstand weighted cups, and do not tip or sag . . . The hidden mesh bag that is attached to the bottom of the organizer . . . can store a ton of stuff: extra clothing, snacks, wipes, and diapers . . . It can be attached to the bottom of the stroller so it doesn't flop around or discreetly stored when not in use. If you are looking for the perfect stroller organizer for yourself or as a shower gift, look no further."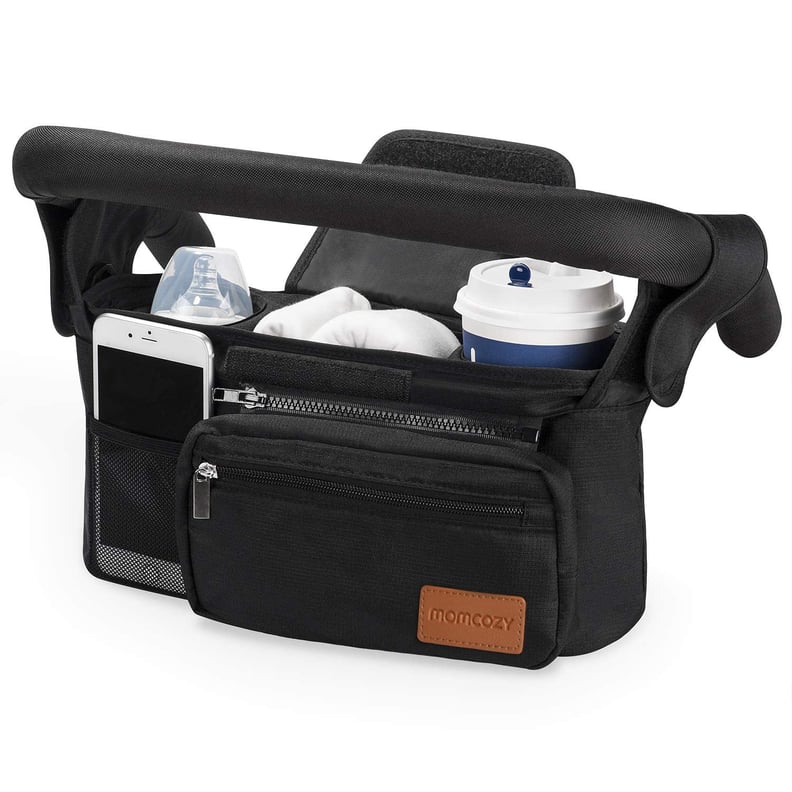 Best Stroller Organizer For Rolling Deep
Momcozy Universal Stroller Organizer ($27)
An Amazon bestseller, the Momcozy Universal Stroller Organizer is wildly popular for its sleek, detachable design and more-than-ample storage space. There's room for you to put your beverage of choice, phone, wallet, and other essentials. Two insulated cupholders, tons of pockets, and a mesh phone slot make finding everything a cinch. The stroller organizer boasts a 4.6-star rating based on nearly 15K Amazon reviews.
"The quality of the organizer is top-notch, and I can confidently say that it's made to last," wrote one parent. "It's sturdy and durable, which is essential for busy moms like me. The best part is the ample storage space it offers. It comfortably holds my keys, phone, baby bottle, and even a book, making outings with my little one so much more convenient — no more juggling multiple items in my hands."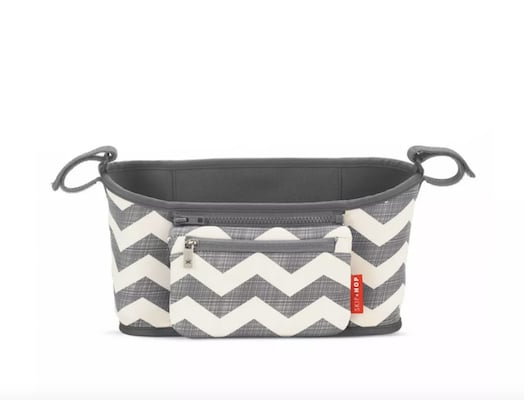 Best Stroller Organizer For Minimalists
Skip Hop Grab & Go Stroller Organizer ($26)
As much as we joke about the number of items we need to leave our homes for an hour with kids, sometimes a trip requires a few essentials. A stroller organizer that rivals an oversized tote isn't necessary in these cases. The Skip Hop Grab Go Stroller Organizer is a perfect fit for quick Target and Starbucks runs. The insulated design holds bottles and coffee cups, and parents can use the detachable zip purse even if they're venturing out sans baby. Bonus: it comes in multiple designs, including an off-white and gray chevron (shown here) and black and gray stripes. The popular pick has a whopping 4.8-star rating on Target based on almost 900 reviews.
"This organizer is easy to install and convenient," a five-star fan writes. "It's helpful to keep your phone, keys, and sunglasses in a convenient and easily accessible place."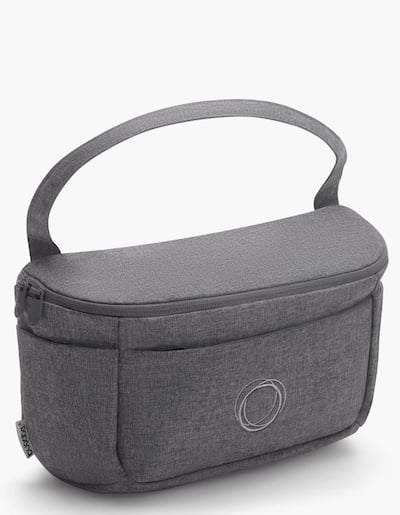 Best Water-Repellent Stroller Organizer
Bugaboo Water-Repellent Stroller Organizer ($50)
Even your weather app is wrong from time to time. Sometimes, an unexpected shower will rain on the unofficial (stroller) parade you and your parent friends planned. This small organizer is made of mighty water-repellent fabric that ensures a little rain won't dampen your day (or essentials). The organizer comes in a dark gray or black.
"The Bugaboo Stroller organizer is an excellent addition to our stroller," a Nordstrom reviewer writes. "Its size is deceiving, and it holds a lot of things for our daily needs."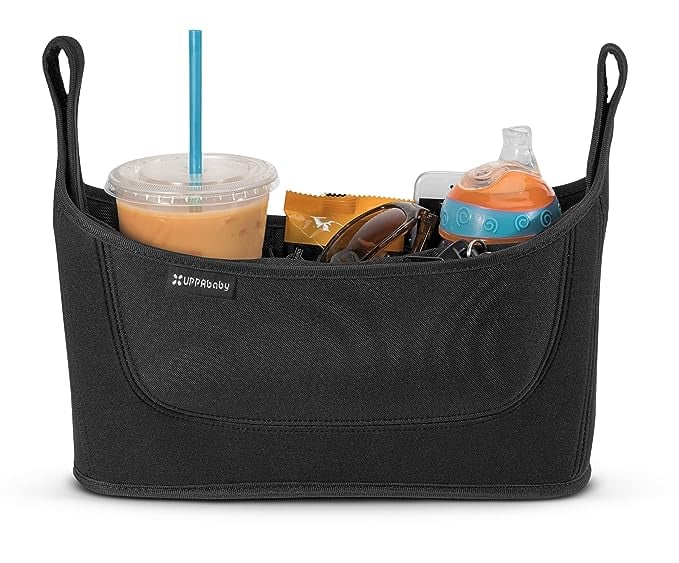 Best Stroller Organizer For UPPAbaby Parents
UPPAbaby Carry-All Parent Organizer ($40)
If you've spent time in parenting groups or on the streets of a major cosmopolitan city, you know how beloved UPPAbaby strollers are. The streamlined style, comfy seats, and adaptable nature of the Vista, in particular, make it a popular pick for parents, especially those planning on or with two under 2. Caregivers who love UPPAbaby strollers will love the brand's carry-all organizer. Three compartments, a front zip pocket, and a hidden interior slip pocket make on-the-go days a breeze.
"[It's made of a] nice thick material," a reviewer writes. "[The] velcro stays in place. Three big pockets . . . hold toys, keys, phone, etc. I wouldn't put a drink in there unless it were in a bottle."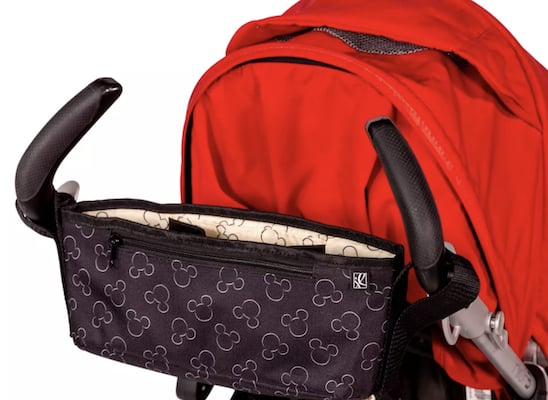 Best Stroller Organizer For Disney Fans
Disney Baby by J.L. Childress Universal Stroller Organizer ($17)
If you have a Disney trip planned with your little one or always have the "Little Mermaid" soundtrack in your ears during morning walks with your babe, this Mickey Mouse-themed stroller seems like the perfect fit.
"We went to Disneyland a few times, and I found myself trying to put my phone and water bottle in odd places in our stroller," a customer writes. "I came across this and was impressed. It was a nice size for our compact stroller. It looks small, but it fits two drinks and all our trinkets very nicely and makes it easily accessible."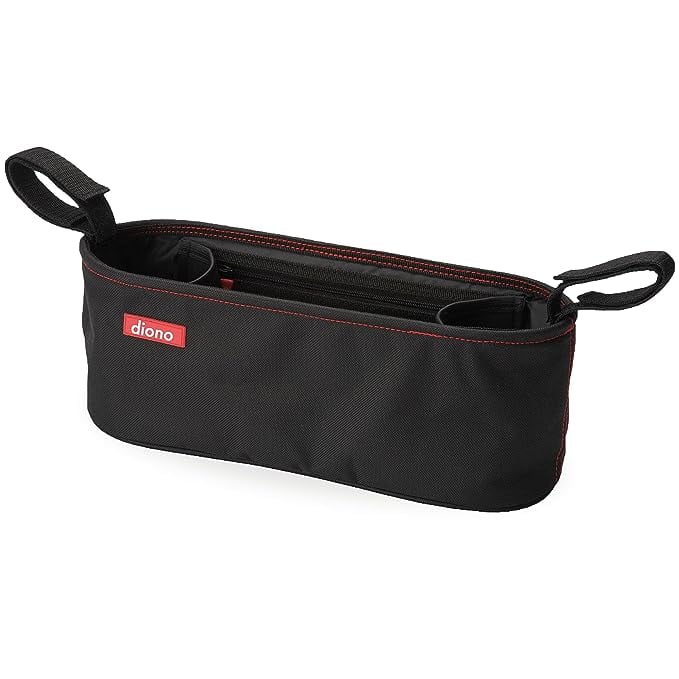 Best Economical Stroller Organizer
Diono Buggy Buddy Universal Stroller Organizer ($12, originally $13)
Stroller organizers are an investment, but they don't need to be expensive. Exhibit A: this Diono Buggy organizer is under $15 and gives parents a pair of insulated drink holders and a mesh pocket to stash must haves.
"[It's] perfect for my wallet, cell phone, and a few baby items," a reviewer writes. "It's easy to put on and off and matches the stroller."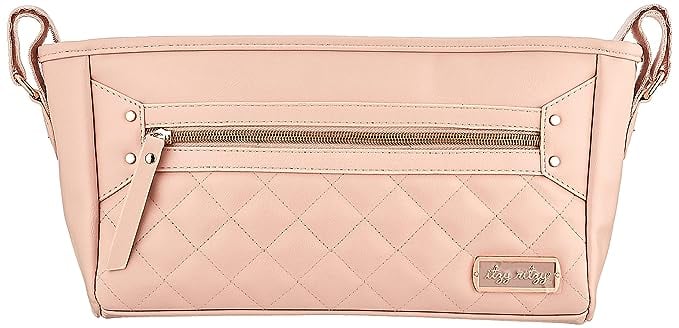 Best Stroller Organizer For Ease and Style
Itzy Ritzy Adjustable Stroller Caddy ($27, originally $35)
Many of the top stroller organizers are in dark neutrals. There's nothing wrong with that — they go with everything. But Itzy Ritzy is offering lighter options, included quilted Blush (shown here), as well as Cognac and Coffee & Cream. The caddy comes with a spacious middle compartment, two bottle pockets, and an external zip pocket ideal for keeping the items you and your little one can't leave home without.
"I've been through a lot of different stroller caddies and this one is the best. Durable but flexible leather that cleans easily and looks classy. Lots of space for all our drinks, plus whatever else lands there. Love the pocket for tissues and hand sanitizer too! Highly recommend!" one customer writes.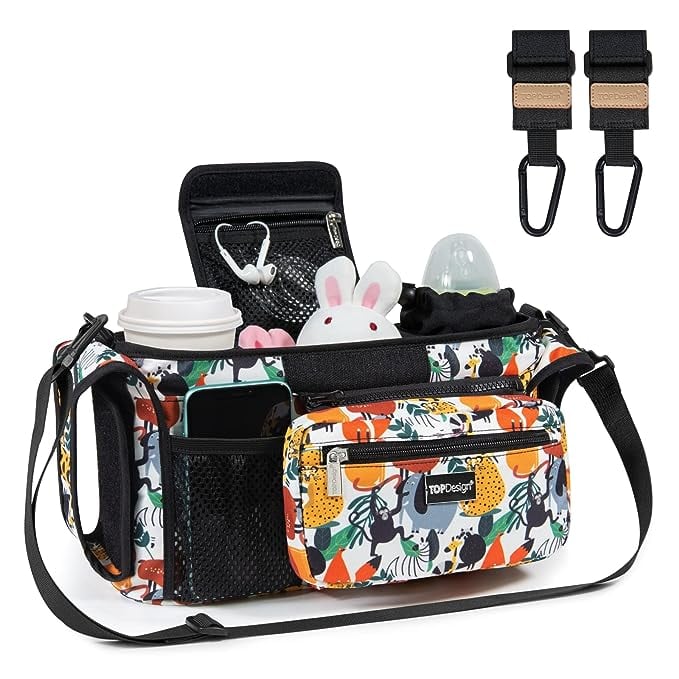 Best Stroller Organizer For Caretakers With Bold Style
TOPDesign Universal Baby Stroller Organizer ($30)
The colorful zoo-themed pockets on this TOPDesign stroller organizer make it a standout pick — one that's hard to lose in a sea of black caddies. It's also full of space and storage options: a zippered mesh pocket for cash, a front pocket for fast access to your phone and baby's pacifier, a hidden pocket for wipes, two cup holders, and a top pocket that fits diapers and toys. It's ideal for stylish parents of multiples or extra-long day trips.
"I wanted something that would hold my Stanley," a reviewer writes. "The two cupholders do not fit it, but the middle compartment fits perfectly fine, and it works great for walks with the baby in the stroller. And the pattern on it is so fun. I get so many compliments on it. And when I'm in crowded places (like Disney), I am able to spot my stroller easily because of the fun pattern on it."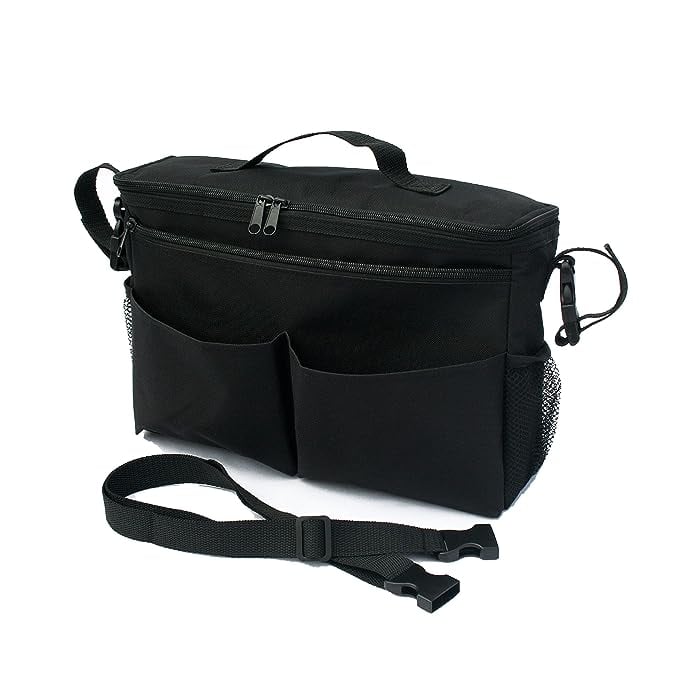 Best Cooler-Stroller Organizer Hybrid
J.L. Childress Cool 'N Cargo, Universal Fit Stroller Cooler and Organizer ($21, originally $27)
This option perfectly mixes cooler and organizer. A massive insulated compartment and pockets allow parents to stash bottles, sippy cups, and munchies while feeling confident that they'll stay fresh. Other pockets allow nonperishable essentials to stay safe. Bonus: it detaches so that you can use it as a diaper bag. It's basically three products for the price of one and under $30.
"Best stroller accessory," one Amazon shopper writes. "We used it for our trip to Disney, and it was so handy. I would freeze some water bottles overnight and add some fruit pouches for my baby, and it kept everything cool. I completely recommend it."