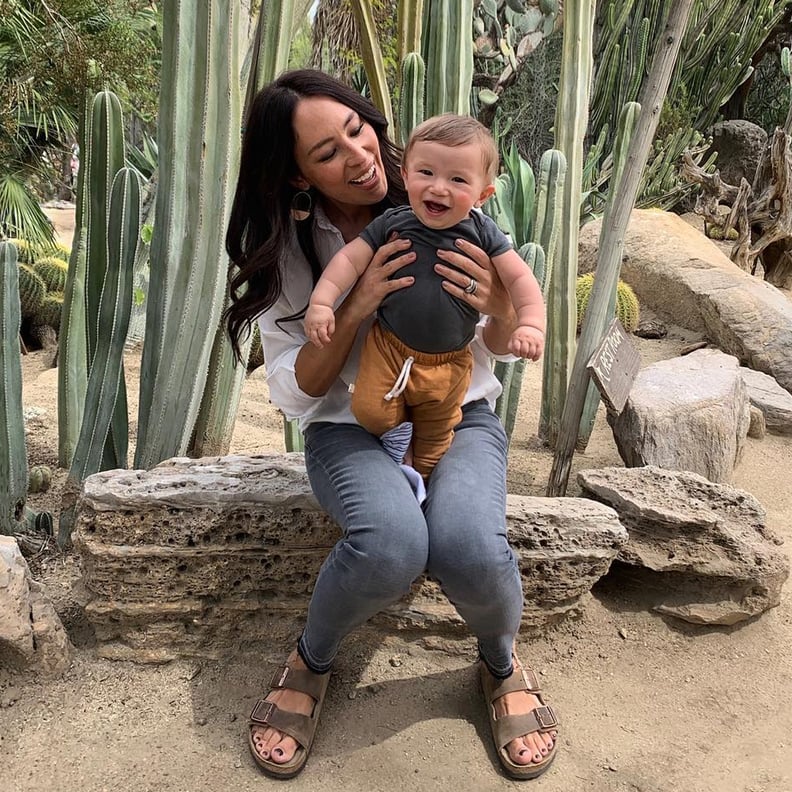 Crew and the family's sixth dog, an English Mastiff puppy.
Chip and Crew on the porch.
Joanna with a smiley baby Crew!
Crew looked so cute in the family's Tulum vacation photos.
Crew reading in bed with his big siblings.
Crew after seeing Avengers: Endgame. Thanos . . . that you?
Chip running the Silo District Marathon with a waving Crew!
We got emotional over the loving look on Jo's face in this first photo we got to see of baby Crew.
Joanna shared this sweet snap of her and Crew, her "cuddle bug," all snuggled up in bed together.
Crew making a mess, as toddlers do.
Joanna aptly captioned this cute snap, "Today's been a 'cancel all your meetings and stay in your sweats' kinda day."
All of the Gaines kids meeting their baby brother.
Crew snuggling with his older sister is just too cute for words.
Joanna and Crew spent a weekend day snuggled up in sweats.
Ella captured and staged this hilarious photo of crew playing poker with his stuffed animals.
Crew's first photos with Santa came out so great!
Crew is already outgrowing some of his baby clothes!
Check out Crew's first two teeth!
Look at this sweet little snow angel!
At just about 7 months old, Chip calls his youngest a "chip off the old block."
We basically want to jump into this perfectly serene setting. When you've got a snuggly baby and a dog at your feet, what else could you possibly need?
Chip shared this photo of Crew acting as a Magnolia Guest Services rep — ha!
Crew laying with his older brother, Duke, and Chip.
Crew playing on his blocks.
Crew looking dapper on the couch.
Crew looked snug as a bug being carried by his big sister.
Looks like he stayed cozy and close throughout the event. So cute!
Crew and his fellow adorable Magnolia interns.
Chip and Joanna took Crew out for a big game day.
Chip making his boy smile at the doctor.
Crew snoozed as his older siblings played a late-night game of Sharks and Minnows.
Crew getting some one-on-one time with his dad. How relaxing!
Ella and Emmie took their brother into the yard to stargaze.
Look at those sweet little baby toes!
Just over a week after going home, Joanna said Crew was "settling in just fine."