Joanna Gaines Says She Turned Into "Fun Jo" After Having a Baby at 40 — Meet All 5 Adorable Gaines Kids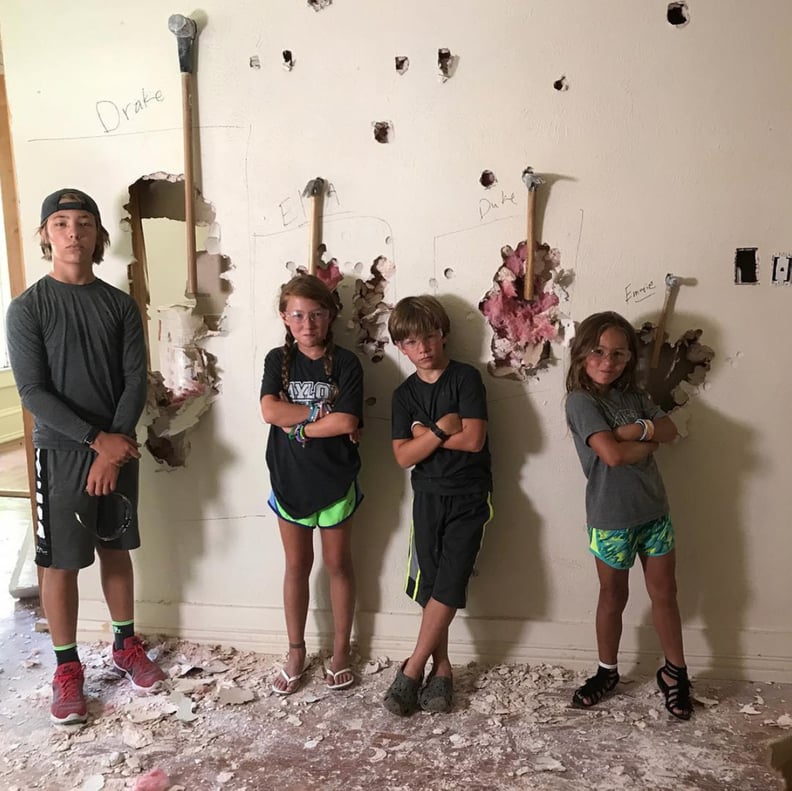 Joanna Gaines, former Fixer-Upper host, Magnolia cofounder, and general superwoman, is understandably a busy bee, and that's not even taking into consideration that she's a mom to five adorable children with her husband, Chip. The pair were married in 2003 and had their first child in 2005. Thirteen years later, in 2018, Joanna and Chip welcomed a fifth child into the already busy mix (but as it turns out, Joanna feels more relaxed than ever and says having a baby at 40 turned her into "Fun Jo"). The famous mama has a lot to juggle but is known for taking time to share thoughtful moments with her kids on social media, proving that family is always her most important priority.
Ahead, meet Joanna's five kids, who are all so dang cute we'd be 100 percent OK with Jo and Chip having five (or six) more.
Ella Rose Gaines
The oldest Gaines girl, Ella Rose was born on Oct. 20, 2006. Joanna thinks Ella may follow in her designer footsteps due to a love of painting and interior design. The tween also has her mom's love of baking and started her own little bakery business in the Summer of 2018. "Her new Summer business is selling baked goods at the office when she goes to work with me," Joanna wrote on Instagram. "Tonight we stayed up late and she made Aunt Opal's banana pudding and the chocolate chip cookies from my cookbook."
Duke Gaines
Born on May 23, 2008, Duke is the middle Gaines kid. Although all of the little Gaineses seem to love living on a farm and caring for plants and animals, Duke may end up being the gardener of the family. Joanna shared a photo of Duke's garden "bounty" and said that after picking tons of produce by himself one evening, he asked his mom if they "could pickle some peppers together." So cute!
Emmie Kay Gaines
Emmie Kay is Chip and Jo's youngest daughter, who was born on Feb. 1, 2010. Joanna calls her a "Future Plant Lady" because of her budding green thumb, and in the Summer of 2018, the little one created her own beautiful floral arrangements to sell (she gets that entrepreneurial spirit from her mama, we're sure!).
Drake Gaines
The oldest Gaines kid, Drake, was born on May 4, 2003. He's since become a big brother four times over and is rarely seen in photos without one of his younger siblings by his side — best big bro ever!
When Drake went to get his learner's permit at the DMV in February, Jo reflected on 15 years of parenting and having such a big age gap between her kids. "Drake waited in line for an hour and finally got called up to get his drivers permit and then my 15 year old little boy drove home with Chip and all of a sudden he is all grown up," she wrote on Instagram, adding that she's going through the firsts with little Crew that she remembers with Drake. "Parenthood is all about training these babies up to eventually let them go. May we savor all the big and quiet moments along the way."
Crew Gaines
On June 23, 2018, Joanna and Chip added a fifth baby to their family, and despite their other two sons having names that start with D, chose the name Crew for boy number three. Joanna has gone on the record to say that Crew was a "total surprise," but that he's given her a second wind!
Pictures of Chip and Joanna Gaines's Kids
Duke and Chip snuggling with baby Crew.
Ella creating a bunch of paint colors from scratch.
Crew and his stuffed animal friends.
The four older Gaines kids waiting for the big reveal of Joanna's bakery, Silos Baking Co., in 2016.
Drake and Duke relaxing with some old-school video games.
Emmie Kay snuggling with her youngest brother, Crew.
Duke, preventing anyone from walking up the stairs with some seriously cool card creations.
Joanna, on a milkshake date with Drake.
Ella and Emmie with the longest dandelion chain we've ever seen.
The whole Gaines crew hanging out in the pre-Crew days.
The four oldest Gaines kids on their dad's favorite day: Demo Day!
Joanna woke up to a family of superheroes on her 38th birthday — so sweet!
Joanna and her girls flexing their green thumbs in Austin, TX.
Crew and his big sister at the beach.
Crew looks like such a big kid as he "picks rocks."
Crew in head-to-toe Carhartt, just like his dad.
Aww, look at Crew hanging with his mama!
Crew asleep with Chip's The Avengers handiwork on his little hand.
Chip and Crew on the porch.
Crew on Joanna's birthday.
Ella and Emmie having a girls' night.
Duke and Drake doing a puzzle with Chip.
Crew with the Gaines' sixth dog, an English Mastiff puppy!
Crew playing poker with his stuffed animal pals.
Chip in the garden with the girls and Crew.
Crew reading with his big brother before bed.
Duke and Drake playing golf.
Chip and Crew on the farm.