This Mom's Self-Deprecating TikToks of Her Messy House Will Make Your Disaster Area Seem Aspirational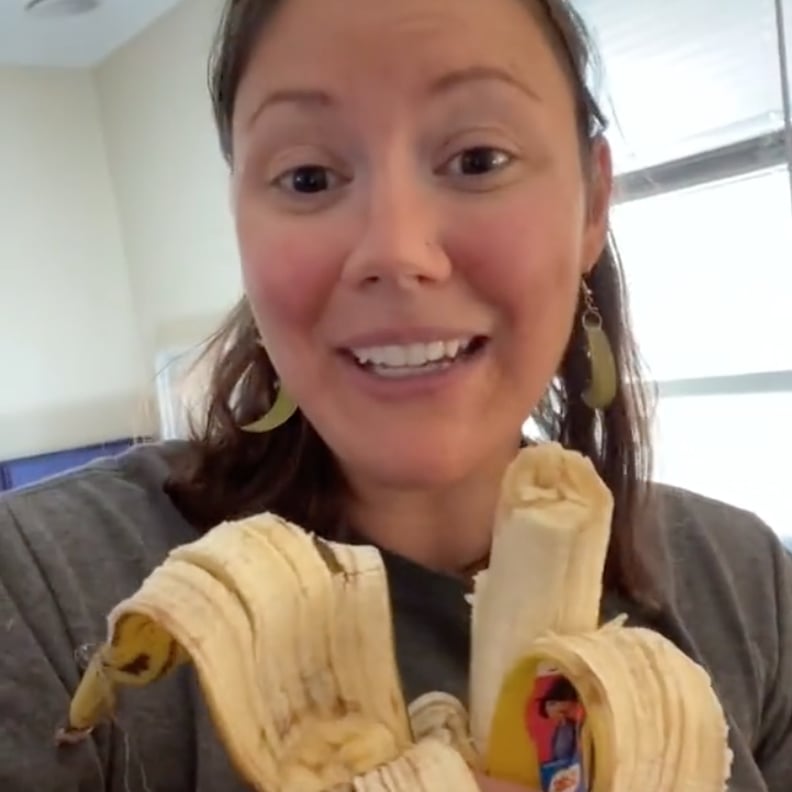 You know those TikTok videos that show a messy room, then a hand appears, its fingers snap dramatically, and the video cuts and the space is magically sparkling clean? Yeah, I've tried that trick on my kids' playroom and even snapped away at my open refrigerator, but nothing happened.
So, thank goodness for Emily Feret, a mom who also can't seem to blink and make her chaos disappear. What she can do, however, is take us on tours of her less-than-perfect house and magically make us all feel . . . normal. Her TikToks, which she's branded "normalizing being normal," give a glimpse at life without filters or video-editing tricks.
"Let me walk around my house and make you feel better about yours," she starts most videos, before laughing through descriptions of everything from damaged furniture to piles of unwashed baby bottles to two partially eaten bananas. (The reason she gives for that last one is too good to spoil here.)
Because she's garnered quite a few followers for her efforts, she's also given fans tours of her yard and her garage, which is devoid of parked cars because it is currently is too cluttered with an old couch, an exercise bike, a kiddie pool, and a Radio Flyer wagon her toddler refuses to sit in.
Her house is covered in toys, her lampshades still have the original plastic wrap, and her forced laughter after every relatable explanation is infectious. So, sit back, snap your fingers, and allow Emily to make you feel better about literally everything in your peripheral vision.
Guess What the Living Room Treadmill Will Inevitably Be Used For!
What She Does With the Crib Her Baby Won't Sleep In
Why She Has So Many Pillows Everywhere
Why the Mystery Key Won't Ever Leave Her Junk Drawer
How Much More Do You Think She Can Fit in the Hallway Hamper?
What on Her Key Rack Doesn't Quite Belong?
Guess Why She's Holding 2 Partially Eaten Bananas!
Why She Keeps a Giant Opened Box of Cereal Atop Her Fridge
The Reason She Still Has the Plastic Wrap on a Lampshade
How Many Times Has She Ridden the Bike in Her Garage?
How Long Will It Be Until She Throws Away the Expired Pickle Relish?
Guess What She Found in Her Jewelry Box!
Where Do You Think the Missing Croc Is?
Guess What She Found Under the Couch!
Why She Keeps an Old Iced Coffee Drink in Her Car