Exclusive! Chelsea Clinton's New Children's Book Features a Sweet Nod to Her Mom
As POPSUGAR editors, we independently select and write about stuff we love and think you'll like too. If you buy a product we have recommended, we may receive affiliate commission, which in turn supports our work.
When we heard Chelsea Clinton was writing a children's book featuring 13 powerful women who changed the world, we wondered if her mother, former Secretary of State and Democratic presidential nominee Hillary Clinton, would make it into the story. Now, we have our answer. In an exclusive preview of the first spread of the book, with drawings by Alexandra Boiger, we see Secretary Clinton, front and center, in one of her iconic red pantsuits.
She Persisted: 13 American Women Who Changed the World ($13) is inspired by the phrase popularized after Senator Elizabeth Warren made a powerful speech against the nomination of Jeff Sessions for attorney general. The book also features the stories of Oprah Winfrey, Harriet Tubman, Nellie Bly, and Maria Tallchief.
The book is available for preorder now and will be on sale at bookstores everywhere on May 30. But for now, keep reading for a first look at Chelsea's favorite spread and an exclusive quote from the author herself.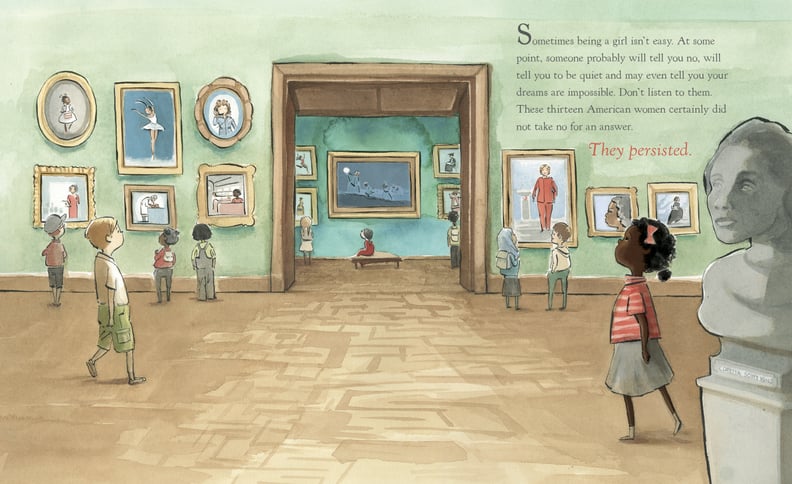 The First Spread of Chelsea Clinton's She Persisted
"This is the opening spread of She Persisted and it is particularly special to me, because it shows all of the women whose stories I share in the book and because it includes a portrait of my mom," Clinton told POPSUGAR Moms over email.
"For my entire life, I've watched my mother fight for her beliefs. She has been and continues to be a role model for me, and I've met countless girls across the country and around the world — and more than a few boys too — who tell me they feel just as inspired by her. I'm grateful to be able to include her in this gallery alongside so many other women who have inspired me throughout my life."