Holiday Shopping For Tweens Is Hard, but This Gender-Neutral Collection Makes It Easy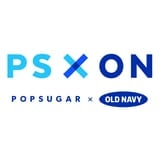 No tween in your life will say no to new clothes. We've partnered with Old Navy to bring you the collection tweens will love, designed by POPSUGAR x Old Navy and the next generation of leaders.
Look at today's tweens through the lens of TikTok and one thing is clear: they're like a whole different species from when we were growing up. Gen Z is made up of leaders, activists, and trendsetters who are paving the way and making a difference, which begs the question, what kind of holiday gifts would they like? The long answer is something that appeals to their change-maker attitudes while following the latest TikTok trends. The short answer is a piece from the POPSUGAR x Old Navy collection.
Not only is the collection designed in collaboration with Gen Zers (so you know it's already tween-approved), but it's entirely gender-neutral, bringing the generation's proclivity for inclusivity and acceptance to the forefront. Besides, no tween will say no to new clothes — that's something that hasn't changed since we were young! Whether you opt for on-trend tie-dye joggers or a T-shirt sharing a positive message, you can't go wrong with the pieces ahead.