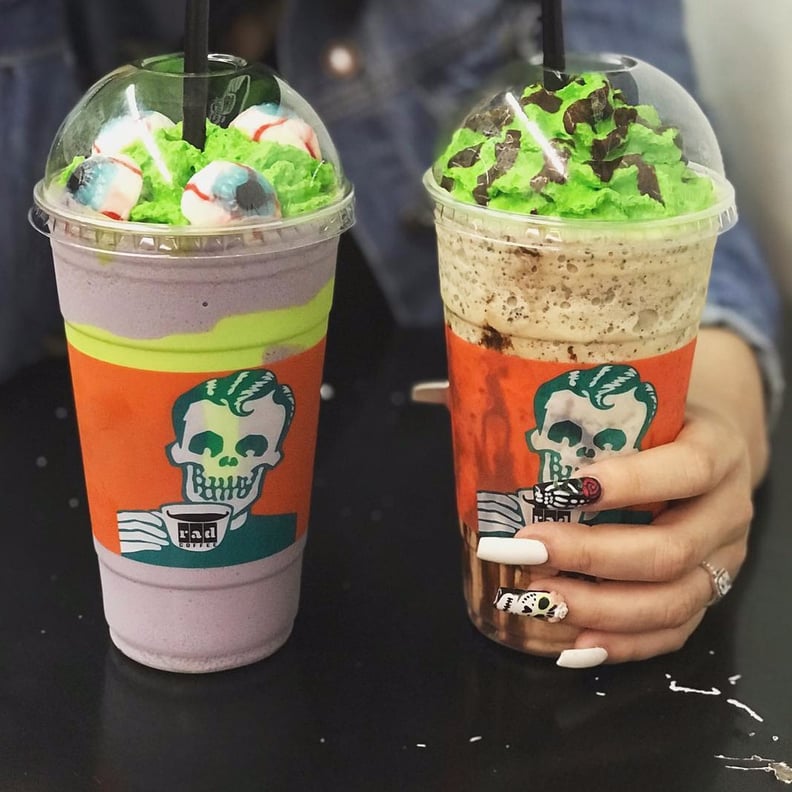 Ever feel like your coffee needs a little something extra . . . like green whipped cream and gummy eyeballs? Same. A coffee shop called Rad Coffee in Southern California is getting its customers in the Halloween spirit by offering some outrageously over-the-top drinks with spooky twists, and you're going to want every single one. There's the Frankenstein, which we could really use on mornings when our lack of sleep makes us a little dangerous to cross before we've had our caffeine. It's matcha green tea with mint, chocolate chips, and Oreos, and it's available blended or on the rocks. If you're more of a mocha-lover, you might want the Cookies & Scream, coffee blended with Oreos and cookie butter and topped with blue whipped cream and Cookie Crisp cereal. We repeat: Oreos and Cookie Crisp!
People are particularly into the Beetle, a frozen drink with chocolate-covered espresso beans, vanilla, chocolate drizzle, and electric-green whipped cream. The spookiest drink of all, on the menu through Oct. 31, is the Goosebump: a sour drink with white chocolate, green vanilla "slime," green whipped cream, and gummy eyeballs on top. As if Rad Coffee's drinks aren't cool enough, they're also served in cups with a logo of a skeleton drinking coffee! Keep reading to see each of the festive drinks, and pick one up the next time you're feeling kind of like a zombie in the morning.
The Goosebump and the Beetle
The Dracula, aka a Red Velvet Latte
The Goosebump Stares Right Back at You
Even the Vanilla Cold Brew Comes With the Skeleton Cup
The Cookies & Scream Is Pup-Approved
Which One Are You Most Excited to Try?