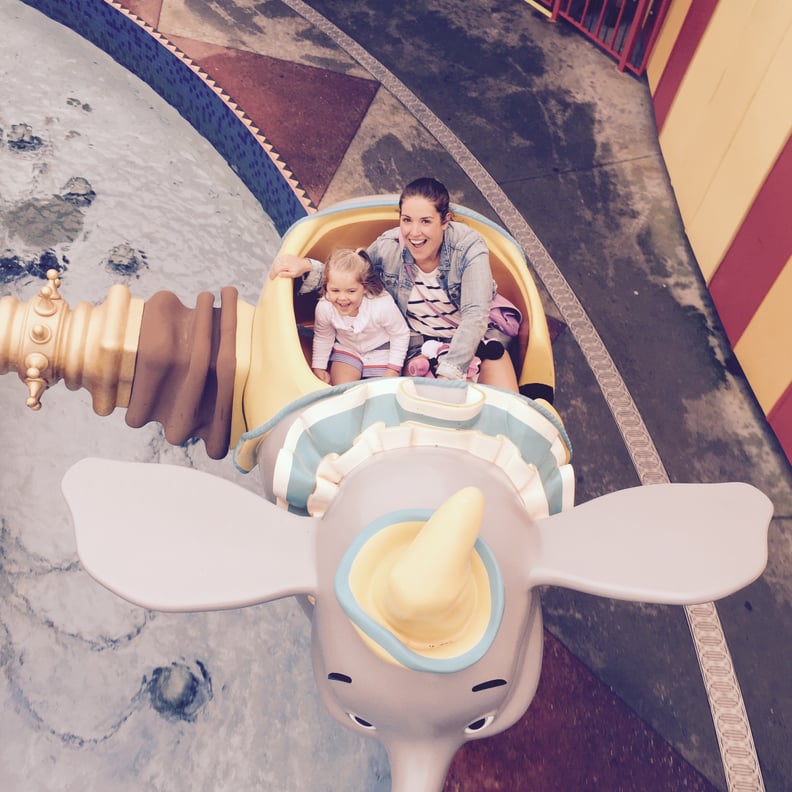 POPSUGAR Photography | Kate Stahl
POPSUGAR Photography | Kate Stahl
Since my almost 4-year-old daughter, Mae, started her obsession with Mickey Mouse Clubhouse, Tangled, Monsters Inc., and pretty much everything else Disney, I'd been looking forward to our first trip to Disney World, especially the Magic Kingdom, which she considers home to all her favorite friends. But while today's Disney still features a lot of the rides I loved when I was her age, the process of visiting them seems to have become exponentially more complicated . . . and expensive.
We debated how best to introduce Mae to the magic of Disney, but since we were already going to be in Florida (a couple hours south of Orlando) over Winter break, we decided to couple the trips and hit the park in one whirlwind day. It took some planning, but all in all, I think it was the perfect first Disney experience.
Here's what I learned from our trip.
Prioritize and strategize well in advance. For a 3-year-old, the Magic Kingdom is the Holy Grail, so we focused on spending as much time there as possible. That meant getting on the road before the sun came up so we could arrive close to the park's 8 a.m. opening, when ride wait times are much lower. We also decided to stay at Disney's Contemporary Resort, which is a quick 10-minute walk to the Magic Kingdom and the first stop back on the monorail. It was a pricey decision, yes, but worth it because we didn't waste any time on transportation.
Book everyone's FastPass+ ASAP. If you're staying at a Disney resort, you'll get one of those nifty MagicBands, which entitle you to score FastPass+ reservations (they let you skip the general line) for three attractions 60 days before you arrive. Use these wisely. On the day we went, the longest waits were, by far, for the Seven Dwarfs Mine Train, for Peter Pan's Flight, and (shocker) to meet Anna and Elsa. I scored FastPass+ for both rides but missed the boat for Anna and Elsa, even though I booked our reservations about an hour after my window opened. Instead, I reserved a time to meet Cinderella and Rapunzel, another hot ticket.

Try to make all of your FastPass+ reservations as early in the day of your visit as you can. Once you use all three, you'll be able to hit up one of the FastPass+ kiosks in the park and make additional reservations. Since our three reservations were all between 9:45 and 12:50, we had plenty of time to score two more of those golden tickets, which allowed us to skip the lines at the Little Mermaid and Winnie the Pooh rides. Tip: if the FastPass+ system overwhelms you, don't worry. Book your online reservations early, and once you get to the park, find one of the countless cast members and ask for help. They're all eager to do so.

Stay on property. For us, this was a big one, since we knew we'd probably need a place to take an afternoon break, which we did from about 3:30 to 5 p.m. (Weirdly, both my husband and I took a catnap while our daughter watched more Disney shows on her iPad.) As I said, the Contemporary was great for us because of its vicinity to Magic Kingdom and because it offers a character breakfast with Minnie, Mickey, Donald, Pluto, and Goofy at Chef Mickey's, which we went to the next morning, after some pool time and before heading home.
Rent or bring a stroller. Even if your child has long outgrown stroller mode, you'll be surprised at how much time she'll spend in it while at the park. My husband's pedometer logged 22,000 steps on the day we spent at the Magic Kingdom, which is at least seven miles of walking. We rented a single stroller ($15 a day; double strollers are $31), and while parking it for every attraction was a bit of a pain, it was either that or carry our 40-pounder, and we still did plenty of that while waiting for rides.
Download the My Disney Experience app. The app will let you manage your previsit FastPass+ and dining reservations (make them, and — just a tip — Be Our Guest is the only restaurant in the park that serves alcohol), find park amenities easily, and, most importantly, track all attraction wait times. While some rides' wait times will remain consistently long; others are surprisingly variable. Be smart about your time, and go to the rides with lower wait times while you're waiting for the FastPass+ you hopefully scored for more-popular attractions. We found that any line with a 20-minute wait time or less seemed to go pretty quickly.
If you can, leave babies at home. One of the greatest advantages of going to Disney for just a day was that we were able to find child care for our 11-month-old easily. I love the little guy, but he is definitely not ready for a nonstop 13-hour day of Disney fun, and from the faces of the many infants and babies I saw at the park, he's pretty typical. If you're deciding whether to bring a baby with you or wait until both of your kids are older to make your first visit to Magic Kingdom, I'd say wait. Everyone will have more fun.
Remember: for preschoolers, a little Disney is still a lot of fun. Before we left for our crazy Disney day, my mom said to me, "Even if she only goes on three rides, it will still be one of the greatest days of her life." Though we probably made it to 11 or 12, Mom, as usual, was right. We managed to ride on most of the big attractions, but my daughter's favorite parts of our day were riding Dumbo, eating popcorn, and buying a princess Rapunzel dress. (Even if you're like me and cringe at the Disney princess dresses, you can't help but love that a huge number of Disney employees will greet your child with a bow and a "hello, little princess" when she's wearing one.)

So don't stress out too much about planning your trip perfectly. While some strategizing is definitely necessary, your kids will have a fantastic time regardless of whether you make it on every ride, catch every parade, and have the perfect viewing spot for the fireworks. In fact, if they're anything like my little one, they might just sleep through the last one.