How We Made Our Son's Birthday Feel Special During COVID-19
What We'll Remember: Why Our Kid's COVID-19 Birthday Was His Best Yet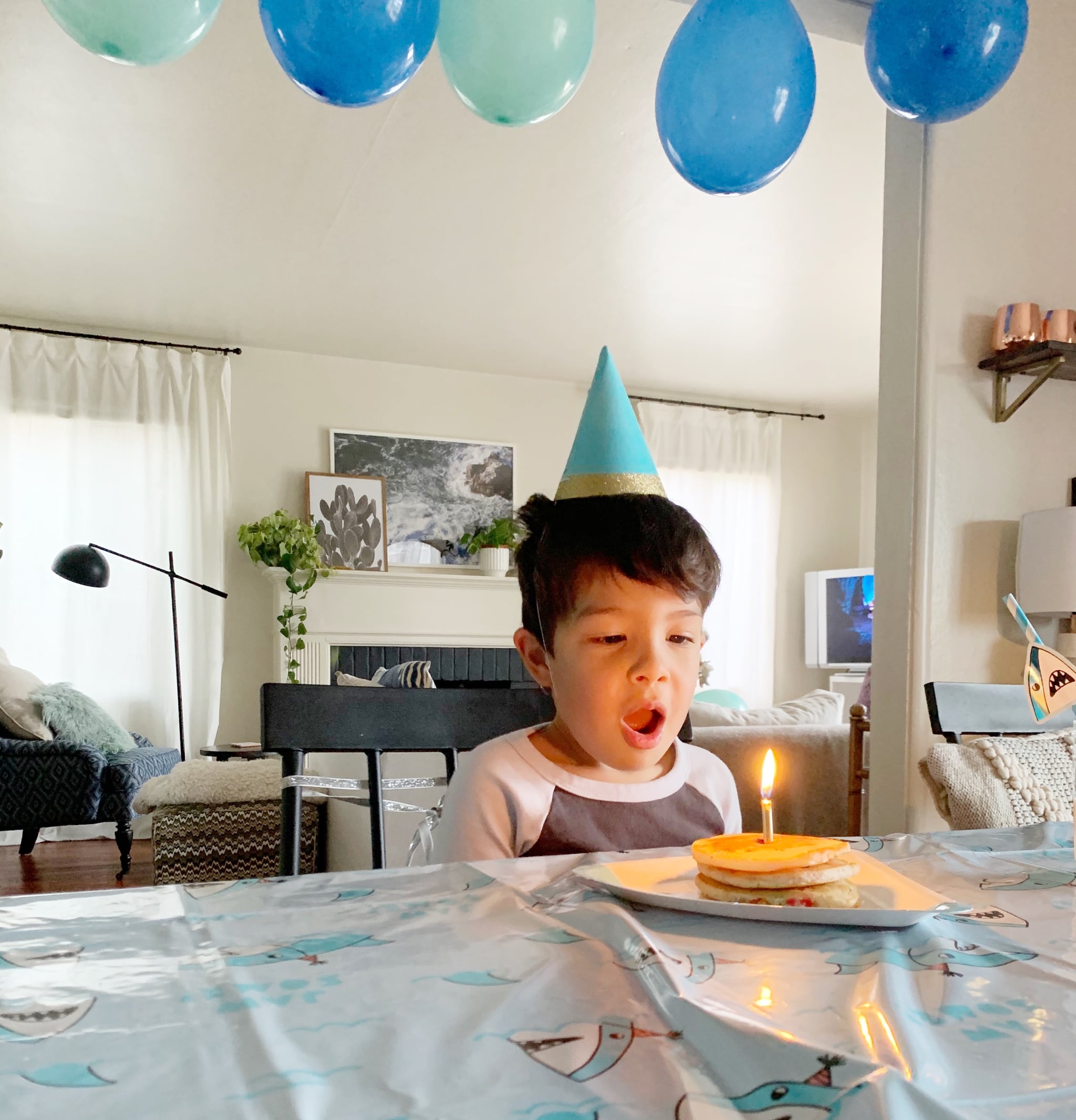 Last month, my oldest son turned 4. On the eve of his birthday, my husband and I ran around our dining room like bathrobe-clad birthday elves, blowing up balloons until we were breathless, squabbling about the best method for taping said balloons to the wall.
The previous few weeks had been filled with pandemic-fueled stress, as we juggled two kids under 4, my busy work schedule, and my husband's job as a first responder. As I placed party hats for the four of us at each table setting, I wondered if my son would recall the boisterous birthday party we had attended for his classmate just weeks before social distancing. I was relieved and grateful that my husband and I could still pay rent and buy groceries, let alone party decorations. I hoped that our efforts to weave in small, joyful moments would make the day feel special after spending weeks living our own version of Groundhog Day.
The next morning, we woke up to the sound of the birthday boy giggling and swatting the balloons we had piled in the small hallway outside of his door. When my husband, baby son, and I made our way into the dining room, our 4-year-old's eyes went straight to the shark-themed birthday table setting, and he lit up.
I didn't have the energy (or the flour!) to bake the cake I had pinned, but I did have a box of pancake mix, a bag of rainbow sprinkles, and a birthday candle. We whipped up stacks of funfetti pancakes and belted out "Happy Birthday" before he blew out the candle and devoured breakfast.
After breakfast, we kept him busy by leading him through a scavenger hunt to find his present. I was surprised by how many free printable scavenger hunts are available online. The hunt made the reward of finding his present that much sweeter.
After playtime, lunch, and his nap, we grabbed a kite that was collecting dust in the garage and headed to an open trail. The look on his face as he finally managed to catch a strong breeze was one I won't forget. I had forgotten how thrilling flying a kite could be. In a time when putting together a 1,000-piece jigsaw puzzle counts as a hot Friday night activity for adults, it makes sense how something as simple and old-fashioned as flying a kite could delight a child.
The next morning when my son woke up, he burst through our bedroom door asking why we hadn't placed balloons in the hallway outside of his bedroom. "They'll be there next year when you wake up on your fifth birthday," I explained. And every birthday morning until you aren't under my roof anymore, I thought.
I realized then what this COVID-19 birthday had given my son that he may have missed in birthdays past: my husband and me being totally present with him. Instead of his dad spending an afternoon flipping burgers and refilling the ice chest during his birthday party or me cleaning and taking care of our guests, we were freed up in a way we hadn't been before. In the process, we realized it wasn't the absence of family and friends but the quality time spent and new traditions created that we'll really remember.
Image Source: Angela Elias