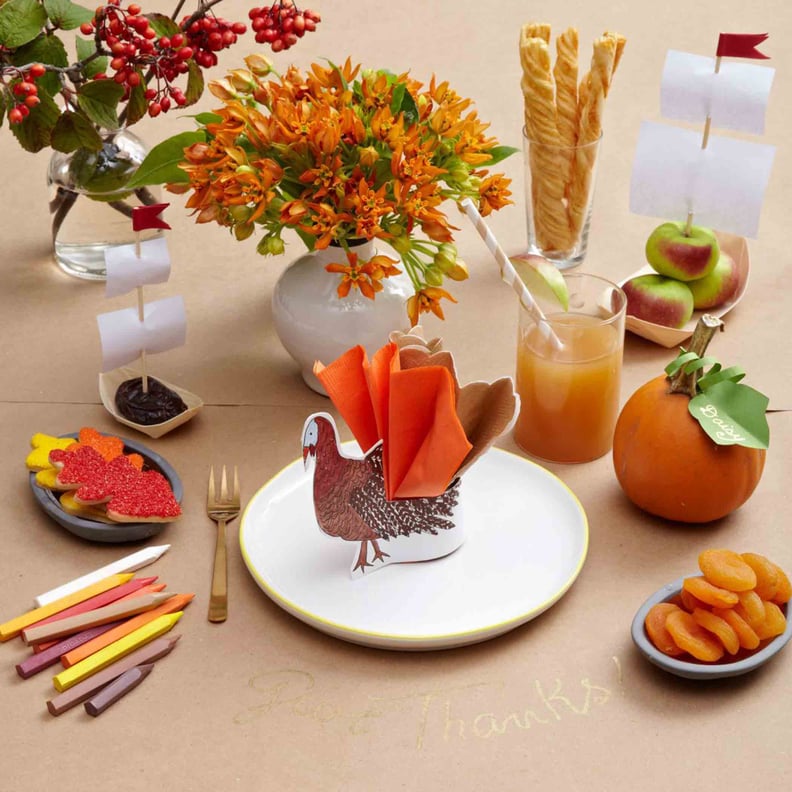 Darcy Miller
Lifestyle guru and author Darcy Miller knows a thing or two about throwing the best Thanksgiving ever. And while our first instinct is to make sure the bird — and every side dish that goes with it — are picture perfect, the table settings are just as important. And no, we're not only talking about the adult table — where your kiddos chow down is important, too.
Need a little inspiration to get the kids' table in tip-top shape? Check out some of Darcy's best tips to make the most of your kids' space.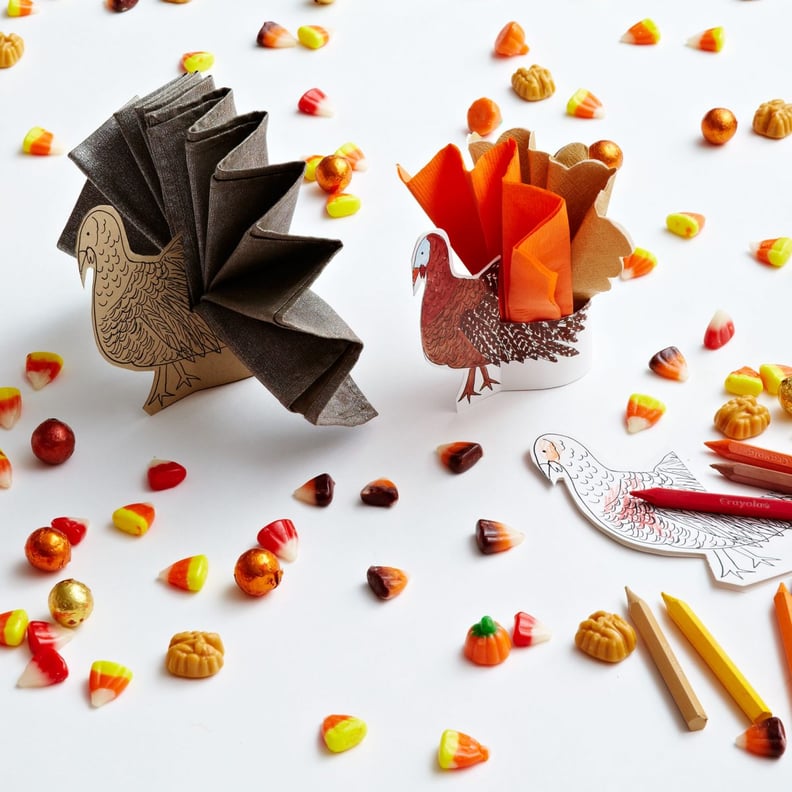 1. Talk turkey with napkin holders. "Since they've already got crayons handy, print out these turkey napkin holders made with my clip art. Once the kids have colored in their turkeys, making the turkey's tail is easy: just fold paper napkins into accordion shapes and get gobbling. Fun project to make ahead of time too — while you cook the Turkey, kids can make their own 'turkey.'"
2. Make Thanksgiving graffiti. "Lay down brown kraft paper as your tablecloth, and you'll open up a world of possibilities. Write messages ahead of time for kids to read when they sit down, or leave fill-in-the-blank sentences like "my favorite part of Thanksgiving is _________." Set out crayons and markers on the table so kids can color, draw, write notes, or even play tic-tac-toe and Thanksgiving hangman. Ask the older kids to write down something they're thankful for — and they can do it right on the table."
2. Have fun with place cards. "All you need is a square piece of paper and some tape to make cornucopia place cards. Simply roll them paper into a cone and secure shut. Fill it with nuts, dried fruit, and other treats, and set at each place so that kids can dig through before dinner is served. Personalize each one with kids' names (actually, these work great at the adult table, too)."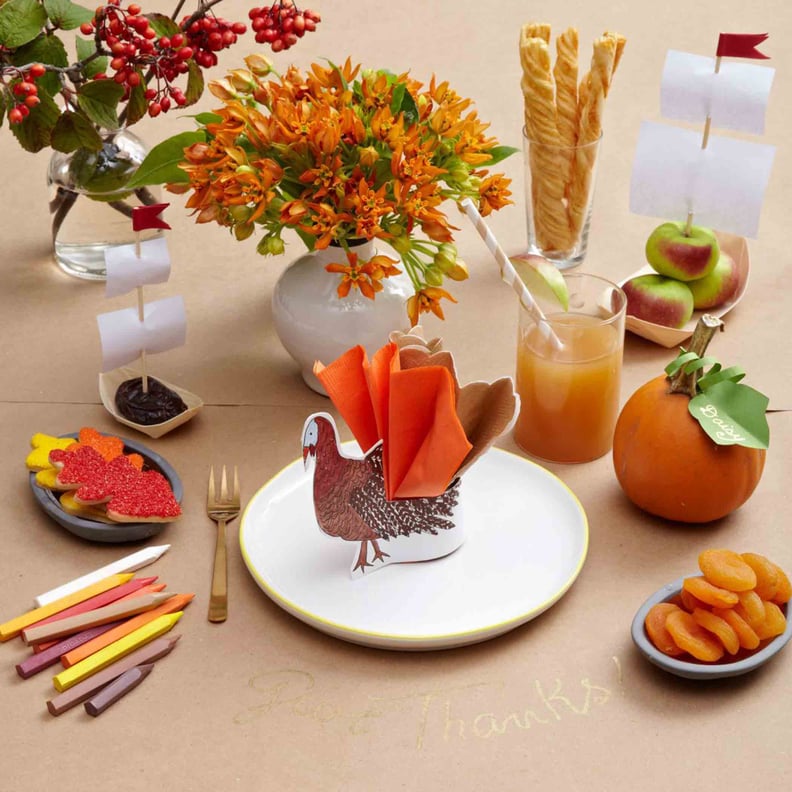 4. Make mini Mayflowers. "These mini Mayflowers are made with dates and crab apples. Download the templates and cut out sails ahead of time so that tiny pilgrims can put their own boats together, or set out already made and write kids' names on the sails to use as place cards."
5.Go crazy with cookies. "Plain sugar cookies, frosting, and a few kinds of sprinkles go a long way at the kids' table. Let kids DIY (and DIT — do-it-together!) decorate their own desserts, and dessert will last twice as long."
6. Make dessert pull double duty. "Cookies shaped like fall leaves, acorns, turkeys, or anything else of the season make great table decor and double as dessert. Place a few Thanksgiving-themed cookies around the table, and you can also use them as combination place cards (just write each kid's name on a tag) and favors, too!"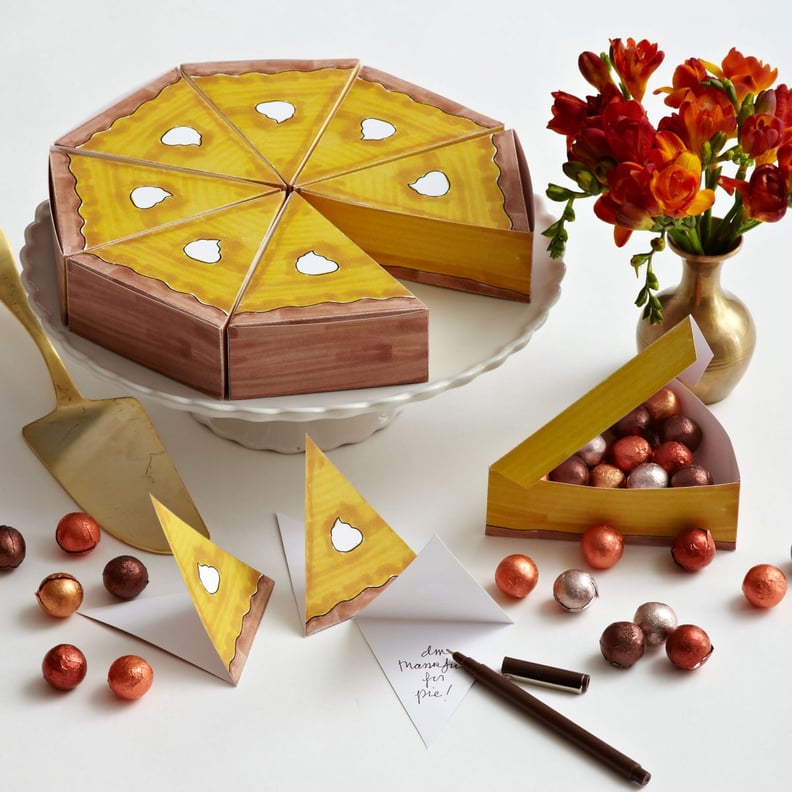 7. Make pie even sweater. "For a fun favor that kids (and adults) will love, fill each slice with a thankful card, a special message, and treats, and either set one out at each place or arrange together as a whole pie for guests to grab on their way out."
8. Show thanks. "Thankful cards are always tradition at our holiday table. Everyone writes what they're thankful for, we collect them, and the one person reads them aloud. It's fun to guess who wrote what."
9. Try out a mocktail. "One of my favorite parts of any celebration is the toast — it's the chance to hear what everyone is thankful for and to spread the love for the season. Kids like toasting, too! Set out a special mocktail so that they can get in on the action.