Is It Safe to Send Kids to School or Day Care During COVID?
Worried About In-Person School Amid Delta? An Expert Says These 4 Questions Will Empower Parents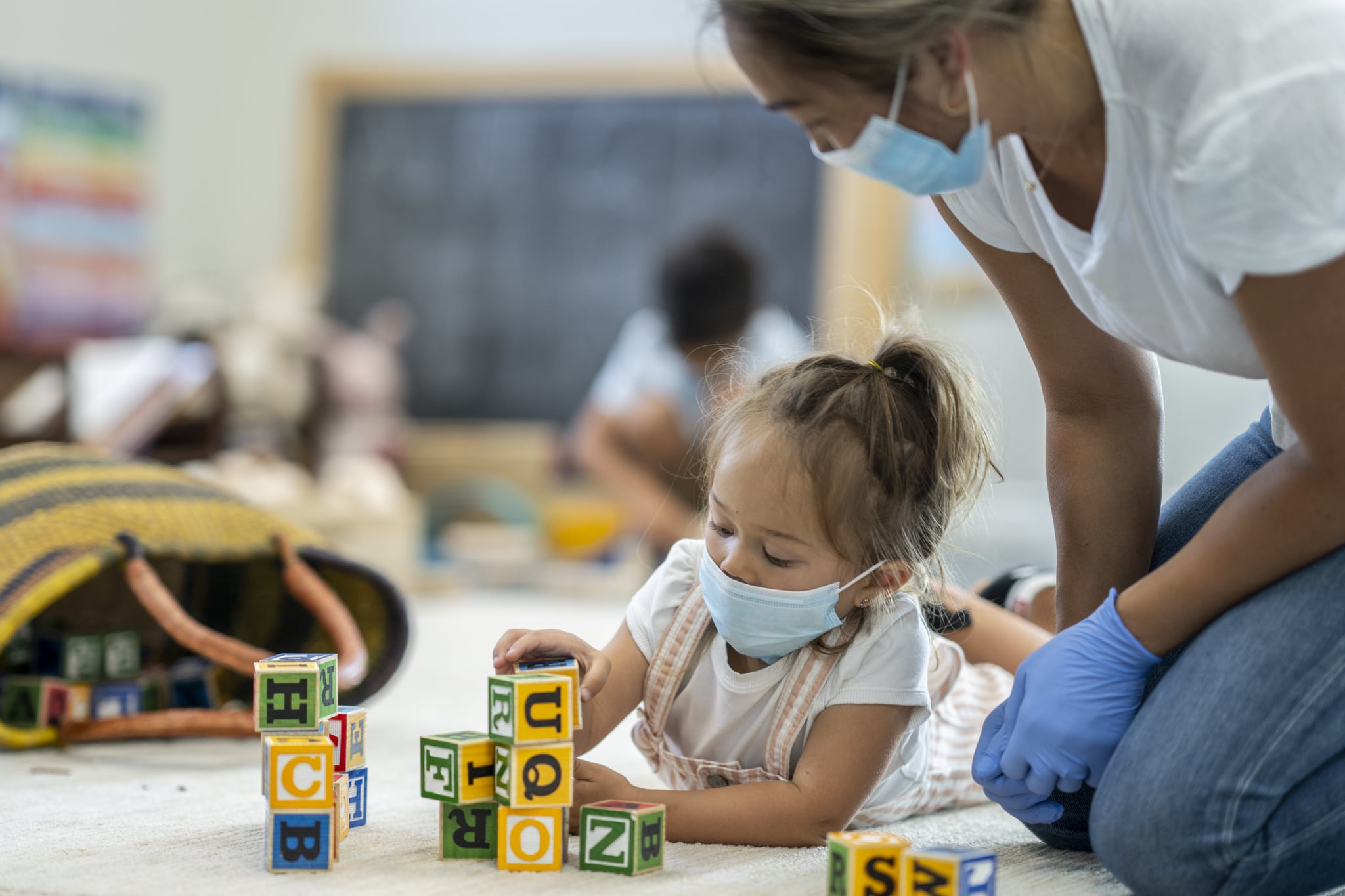 As parents wrestle with whether to return their children to school or enroll them in day care, the fact that this coming September feels just as — if not more — precarious than last year is not lost on Dr. Diego Hijano, a pediatric infectious-disease expert at St. Jude Children's Research Hospital.
"My wife and I talk about this all the time," Hijano, a parent to two young girls, told POPSUGAR. "We say, 'We did all this sacrifice of being virtual last year, and now we find that now we're sending them in person, in an environment that seems far worse than last year.'"
However, we aren't exactly right back where we started. Despite the surge in pediatric COVID-19 cases thanks to the highly contagious Delta variant, experts have an entire year's worth of data, research, and real-world intel on the safety of child care and schooling amid a pandemic.
"We did all this sacrifice of being virtual last year, and now we're in an environment that seems far worse than last year."
"Schools did very, very well last year," he said, noting how those institutions that layered safety precautions were not only safe but also often safer than the surrounding communities. That's promising, especially considering both the American Academy of Pediatrics and the Centers For Disease Control and Prevention support in-person learning, because, as he said, "we know that it's the most important emotional, psychological, and educational environment for our kids."
After a year of remote school, Hijano is sending his daughters in person this year, and "they are the happiest they've been in a long, long time," but he understands parents' fears in making a similar decision.
"Depending on where you live, it varies how safe or unsafe it will be to go in person, which is incredibly sad because of how much kids have suffered from the virtual system," he said. To that end, he outlined the four questions he advises parents to ask if they are unsure about what to do.
1. Where Does My Community Stand?
For Hijano, "Where do you live?" is the first question he asks when helping parents assess their risk. He implores parents to know their city's rates for cases, testing, and hospitalization as well as the vaccination coverage in their community.
"Some states have very, very high vaccine coverage, making the spread of the virus less likely," he said. "And some states have very, very low vaccine coverage and are seeing unprecedented cases like we have not seen, even early on in the pandemic."
2. What Is the School's Vaccination Policy?
Going even more hyperlocal, it helps to understand the vaccine policies of your child's particular day care or school.
"Are the vast majority of your teachers vaccinated or not?" Hijano said. "Some states do not allow parents to know that information, so sometimes you are just blind on that." If that's the case, he noted that teachers, like everyone else, are part of the community. "You can kind of extrapolate that if 70 or 80 percent of the population are vaccinated, roughly around 70 or 80 percent of the teachers will be, too."
3. What Additional Safety Measures Are in Place?
In addition to staff, caregivers, and teachers being vaccinated, understanding the day care or school's public health precautions for COVID is imperative.
Hijano listed some typical questions parents should ask: "Is the school enforcing universal mask? Are they providing physical distance for everyone? Are they doing contact tracing in the school to make sure that people are notified about exposures? Some schools are offering testing for asymptomatic children or for symptomatic children and upgrading ventilation systems."
Although many institutions are using all these tools, Hijano said, "the problem is when you're in a place where the school leaders are not making it" a safe environment.
Hijano's oldest daughter is 12 and vaccinated, but she is wearing a mask at all times at school, and he feels comfortable that she will be safe. His other child is in elementary school and awaiting vaccine eligibility. "We are obviously always worried about her, but in-person learning is just too important for them, so we are monitoring the situation closely. So far here in Shelby County, TN, you can opt out of masks in schools. She has about one or two kids in the classroom without a mask. I feel fairly reassured about that percentage, but it's still not the best situation."
He recommended asking for policies in writing and, because parents likely can't see these protocols in practice, doing what they can to follow up regularly on how certain mitigation efforts are going. And he encourages parents to speak up if they notice any measures that were in place last year that are no longer being employed.
"We did well last year because we put all the measures in place," he said. "We shouldn't back off right now. This is the time to actually be doubling down."
4. What Do I Need to Consider About My Own Kids?
Specific families have equally specific needs, so what do you do if you have a child with a preexisting condition? Or a 15-month-old toddler who can't yet mask, or a 3-year-old who won't consistently wear one correctly? Or children who spend time with grandparents who got the vaccine but still have compromised immune systems?
As parents have certainly come to understand, there's no straightforward answer to these final considerations.
"That's why, as a parent, you have to look at those things and say, 'OK, what is my community doing? What is my school doing? Then what can I do?'" Hijano said. "And then make the decision."
He offered an example: "Say you live in Shelby County, where vaccination coverage is very low and your school is not mandating masks for all kids. For your child, it may be safer to stay at home versus if you live in Washington State, at a district where every teacher is vaccinated and everyone is wearing their masks. It's a safer environment, so go ahead and do it."
He added that it may be an ever-moving target that requires parents to reassess their situation on a regular, or even weekly, basis, and he warned that just because you have otherwise healthy children, you should still actively consider all risk factors.
"Even if you have a healthy kid, that doesn't mean that they will not have severe COVID," he said. "It's much less likely than with adults, but we have seen healthy kids getting into the hospital and having complications. So the most important thing is to lay out the risks and benefits of child care or in-person learning versus remote and then lay out the context for your particular family."