Is the COVID Delta Variant More Dangerous For Kids?
Is the Delta Variant More Dangerous For Kids? An Infectious Disease Doctor Explains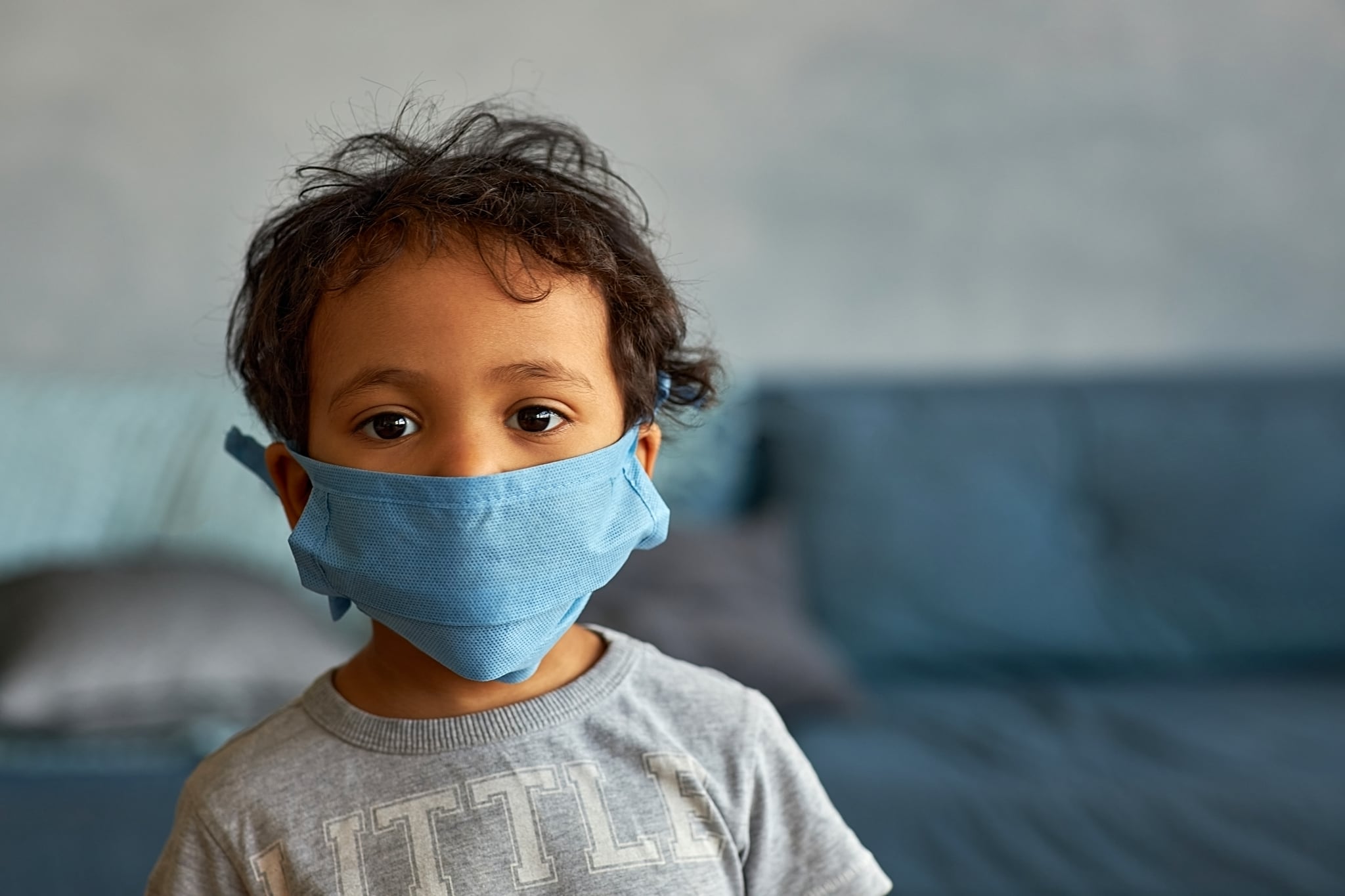 Just as families began to feel some hope that the hardest days of the pandemic were behind them, a new threat has cut a carefree – or, at least, a cautiously optimistic – summer short and turned the past few weeks into a frightening reminder of the power of COVID-19 and its latest mutation, the Delta variant. Adding to the anxiety: the surge is affecting children at rates the coronavirus never reached before.
"This may be the most dangerous time during the pandemic so far for our children."
Of course, children have been susceptible to COVID all along: more than 4.5 million children have been diagnosed with it up until now, which accounts for 14.6 percent of all cases, according to the latest data from the American Academy of Pediatrics. However, the AAP also documented 180,000 new cases of COVID infections among children in the past week alone, totaling more than 22 percent of all weekly cases. Considering that an early-summer decline led to just 38,000 cases the third week of July, that's a four-fold increase in the span of a month. Although children are much less likely than adults to develop severe COVID-19 or die from the virus, these numbers are on a startling, exponential upswing.
"This may be the most dangerous time during the pandemic so far for our children," Dr. Diego Hijano, a pediatric infectious disease expert at St. Jude Children's Research Hospital, told POPSUGAR.
Yet despite a dramatic surge in cases, medical professionals can't point to any hard evidence that the Delta variant is actually more dangerous for kids. Hijano, who specializes in infectious diseases in children and conducts research into the spread of respiratory viruses among pediatric populations, dissects what we know – and what we might never understand – about the new coronavirus strain that is reaching more kids than ever before.
The Delta Variant of COVID Is More Contagious
One thing that is clear is that Delta is more infectious.
"We know for a fact that this variant is much more contagious," Hijano told POPSUGAR. The reason this is "already proven" is that scientists have been able to assess the correlation of viral inoculum, or the amount of viral load in a person's nose, with infection. "What we have seen is that individuals infected with the Delta variant have a lot more of the virus in their noses. The more virus you have in your nose, the more symptoms you have, and the more likely you are to pass it on."
And a lot more people are thus catching the Delta strain. "It's two or three times more infectious than the first one," Hijano said.
For instance, in a completely unmitigated environment, where no one is vaccinated or masked, it's estimated that the average person infected with the original strain will infect 2.5 other people, but in the same environment, Delta would spread from one person to potentially four others.
"This is no longer a pandemic of the elderly and the ones with comorbidities or pre-existing conditions. The virus is moving along to the young, healthy, and unvaccinated."
When you consider that no child under the age of 12 is eligible for a vaccination, that vaccination rates for adolescents between 12 and 17 remain relatively low, and that many safety protocols, including mask mandates and social distancing requirements, have lessened in recent weeks, it's no wonder that children are being disproportionately affected by the Delta variant.
"The virus is going through the vulnerable population, which is the unvaccinated one," Hijano said. "I keep telling people that this is no longer a pandemic of the elderly and the ones with comorbidities or pre-existing conditions because those people by the vast majority have now been vaccinated and are now protected, so the virus is moving along to the young, healthy, and unvaccinated and all the children who are unvaccinated."
It's Unclear If the Delta Variant Is More Dangerous
While we know it's easier to contract this strain of COVID, Hijano said "conflicting data" can't help pinpoint if Delta is indeed making people sicker.
Early information about the severity of Delta included a study from Scotland that showed the Delta variant was about twice as likely as the Alpha strain to result in hospitalization in unvaccinated individuals, but other data has shown no significant difference. Moreso, reports from Europe and Canada of increased intensive care unit patients do not clarify whether it's simply a scenario with more cases versus one of greater severity.
"We are seeing a lot of severe disease but we are also seeing a lot of cases, so is it just a matter of mass?" Hijano said. "If you have more cases, then you have more hospitalization, and if you have more hospitalization, then you have more intensive care unit need, and if you have more intensive care unit need, you have more complications and more mortality."
Hijano continued: "Or is it that these mutations are making it more aggressive? When this virus changes and has these new capabilities – like, it's more contagious or it can evade the immune system or the vaccines – we wonder, are any of these changes to the virus giving it the ability to cause more severe disease? Do they have an increased capability of getting into your lungs, or an increased capability of spreading to other organs? That's what is not quite clear yet."
"We are seeing a lot of severe disease but we are also seeing a lot of cases."
It might remain unclear for the time being. Although the Centers For Disease Control and Prevention is working to determine a definitive answer to Delta's severity, Hijano isn't optimistic that scientists will arrive at one any time soon.
"Studies are coming out where people compare, before and after Delta, the amount of cases and hospitalizations and ICU and deaths in order to make a head-to-head comparison with each strain, but the problem is that those studies are difficult to do," Hijano told POPSUGAR. The research is complicated by the combination of increased cases, varying percentages of vaccinated people, and relaxed restrictions.
Even CDC director Rochelle Walensky commented on the difficulty of gleaning conclusive information: "The mitigation strategies that were used last summer, even in the winter, have not been employed in many of these areas that we are having surges right now," she said during a recent briefing.
Hijano did seem optimistic with the work happening in research labs around the globe – "as more experts work with animal models and cell cultures, they can add to the information in terms of what they see with different viruses in terms of affecting animals or cells" – but he still doesn't believe an answer is forthcoming.
"I don't know that we will ever be able to say, 'Yes, this virus is more aggressive than that one,'" he said.
Children's Risk of Serious Illness From Delta Is Low but Not Zero
"Over the course of the first year of the pandemic, people believed children never got very ill from COVID," Hijano said. "Now, the Delta variant is responsible for the surge in child COVID infections we did not see with the original COVID strain."
He labeled it an "ominous warning sign that couldn't come at a worse time." Children across the nation are heading back to school, many entering classrooms with higher community infection rates than this time last year yet without social distancing or mask mandates in place. Meanwhile, children's hospitals naturally get fuller now leading up through the winter months due to kids sick with other respiratory viruses, like severe colds, respiratory syncytial virus (RSV), or the flu.
"One death of a child with COVID is one too many."
Capacity limits seen in traditional hospitals have begun to reach the pediatric wing, especially considering recent data from the Department of Health and Human Services that shows pediatric hospitalizations for COVID are at the highest point since the agency began tracking them last year, when the rate was roughly one of every 100 cases.
"We are seeing healthy kids get into the hospital," Hijano said. At Le Bonheur Children's Hospital, just across the street from St. Jude, the emergency rooms are full, often with children with respiratory stress that requires oxygen. "The inpatient floors are full of patients with COVID-19. They have kids in the intensive care unit on mechanical ventilation."
As for the worst-case scenario, 402 children have died from COVID, out of 630,000 total US deaths, and in states reporting, zero percent to just 0.03 percent of all child COVID cases have resulted in death. The current average is 0.01 percent, which means the death rate is one in 10,000.
It's unlikely a healthy child would die from COVID, but Hijano doesn't care for those odds, ether, nor does he prescribe to the idea that those kids with pre-existing conditions can be written off as expendable statistics.
"When you look at hospitalization and mortality rates, percentage can be very deceiving because you see one percent or two percent, which is very low, but when you extrapolate that and you have over 300,000 cases in two weeks, and your mortality rate is 0.03 percent, that's still the potential for 90 kids dying of COVID. That, to me, is unacceptable. One death of a child with COVID is one too many."
The Delta Surge Has Not Yet Peaked in the US
Delta waves in India and the UK have since receded. For instance, India, where Delta first emerged in late 2020, confirmed COVID-19 infections have dropped by a factor of 10 in the past few months after peaking at nearly 400,000 daily cases in May. Although experts still remain baffled as to why the cases dropped so fast, data from these countries has made many wonder if the recent Delta-driven surge in the US will dissipate as fast as it emerged.
"That's why we call them waves or surges because they come, they peak, they plateau, and they decrease," Hijano said. "We are not yet closing to the peak."
He doesn't know when that peak will happen or how many cases will come with it, but he said he is "certainly expecting that for the next few weeks, cases will continue to rise."
His best estimate is that it will be several more weeks of rising cases.
"It's not something you can sit at home and wait out for it to be gone," he said. "It's not going to be a week or two that you can isolate and let it go and then go back to school. We have to live with this."
More Strains of COVID Beyond Delta Will Continue to Appear
"These variants will continue to appear as long as we don't decrease the amount of viral spread," Hijano told POPSUGAR. "People are already worrying about the Lambda variant, which has been spreading in South America."
"The way to protect yourself and your loved ones remains the same."
Some believe it is poised to outpace Delta, and although Hijano has no evidence regarding that as of yet, he warns that "there will be more variants that will bring more challenges" but that parents already know the key ways to keep their families safe. He echoed the typical public health measures of masking, physical distancing, and handwashing, and implored anyone eligible to be vaccinated to do so.
He said: "Regardless of what we found of each specific virus and whether they are more aggressive or not, the way to protect yourself and your loved ones remains the same."
Image Source: Getty / Tatiana Borovikova